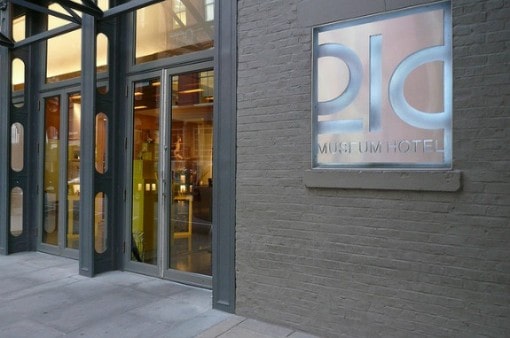 Louisville, Kentucky might be known to the world as home to the famous Churchill Downs and its prestigious Kentucky Derby.  Some might even know it as the birthplace of  America's native spirit, Bourbon.  Until recently Louisville would not have made my list of cities housing one of the top ten hotels in the world.  Still, sitting in the heart of downtown Louisville is exactly where you will find 21c Museum Hotel.
Unlike any hotel I have ever had the pleasure to visit, Louisville's 21c is a feast for the senses – part 90-room boutique hotel, part contemporary art museum, and part award-winning restaurant. Featuring a variety of rooms including balcony suites and a rooftop apartment, the accommodations are open and spacious with high ceilings, large windows and contemporary furnishings.   Exposed brick walls and reinforced wooden beams reflect on the hotel's past as it is centered within a pair of former 19th century Bourbon and tobacco warehouses.
The buildings were re-purposed to house not only the hotel, but the world-class gallery showcasing art produced by emerging and internationally acclaimed living artists of today – the name 21c refers to the 21st century. The museum features rotating exhibits and several permanent installations.  Among my favorites was the live video wall display known as Text Rain that stars anyone waiting near the elevator as alphabet letters rain down around them. It is amazingly addictive to strike a pose or attempt to catch a word in the palm of your hand.  The outdoor display by Ned Kahn entitled Cloud Rings periodically shoots giant smoke rings into the air and captivates visitors as well as those merely passing by.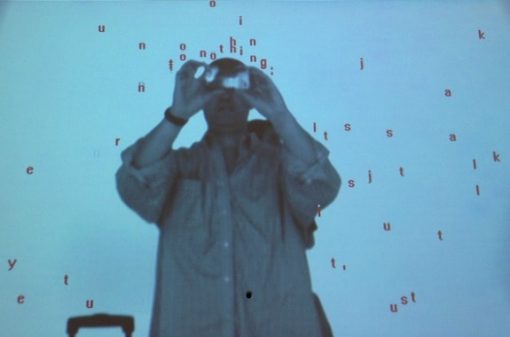 The museum offers free admission and is open to the public as well as hotel guests 24 hours a day, seven days a week.  Docent led tours, musical performances,  yoga classes among the artwork as well as other public events are held at the gallery.  With the open door policy,  security was something that crossed my mind.  While museum visitors can access the art on the lobby and lower level, reassuringly, elevators to the guest accommodations can not be activated without a room key.
In the guestroom the furnishings are stark and uncluttered, yet I wanted for nothing.  While the in room coffeemaker took a bit of finesse to operate without instructions, the selections of coffee and tea went well beyond a choice of regular or decaf.  The minimal contemporary design continued into the bathroom where I discovered the thin shelf provided was not wide enough to accommodate my make-up bag.  Yet, this seemed a mere fleeting frustration as the offering of soaps, shampoo and lotion from Malin & Goetz are so rich and pampering and the bathrobes so luxurious, without a doubt, I could live in one forever.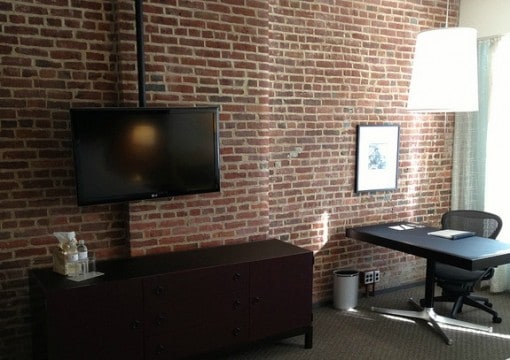 Room service is available from the in house restaurant, Proof on Main. While this option is tempting, given the desire to stay in the bathrobe and all, you must venture into the restaurant to share the experience of artful dining. Far from the average hotel restaurant, Proof has received numerous accolades on its own including nods from the James Beard Foundation.  Proof on Main prides itself on serving foods prepared from ingredients supplied by local farms including Woodland Farms, owned and operated by the same owners of 21c hotel.
Known by locals as the place to see and be seen, Proof Bar is great for people watching.  My visit was early evening before the rush of revelers and I found a calm and inviting atmosphere. A stop on Louisville's Urban Bourbon Trail, Proof serves more than 50 varieties of Kentucky Bourbon, some hand selected and privately  labeled. True to the philosophy of the restaurant, the bar stocks small batch craft spirits, while using infused alcohol, fresh fruit juices and house made tonics in their seasonal, signature cocktails.  Not being a Bourbon drinker, I was happy to learn that Proof Bar offers an award-winning wine list as well.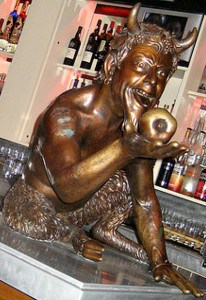 Much like the museum, the artwork in Proof rotates periodically and stimulates dining conversations.  One piece in the bar remains the same, however, the statue of Pan extending an apple to any would be taker.  Locals say a gentle rub on the apple will bring good luck.  If by luck they mean being served a delicious meal and craftily prepared cocktails, then I was one lucky customer.
Customer service is one of the categories in which 21c Museum Hotel has received high honors.  21c has been voted Conde´ Nast Traveler Reader's Choice Awards as #1 hotel in the United States, #1 hotel in the South and within the top ten hotels in the World for five years in a row.  Because of those five award-winning years, 21c has received the distinction of being named into Conde´ Nast 2013 Platinum Circle of  world hotels.  The atmosphere of the hotel could be quite intimidating to the average traveler, yet each and every employee that interacted with me during my stay was warm, helpful and accommodating, making me feel welcome rather than out of place.
Location: 700 West Main Street, Louisville, Kentucky
Rates:  Listed rates begin at $199, discounts and packages are often available
 Photo Credits: flickr: 21c, Sali Sasaki ; wall of words, Scott McLeod; brick wall, Scott McLeod; pan  Sean Biehle
NOTE: While the author was provided with a complimentary stay for the purpose of a review, the opinions expressed are strictly her own.
Having been transplanted numerous times, I have learned to explore the sites around our new found hometown, uncovering hidden gems and attractions. When vacation time rolls around, I enjoy traveling with my family and the occasional weekend escape with my husband, coming home to share our travel experiences with others. You can follow me on Twitter @JAIngersoll. My top three destinations are Walt Disney World Resort, the Midwest and any beach I can walk along.