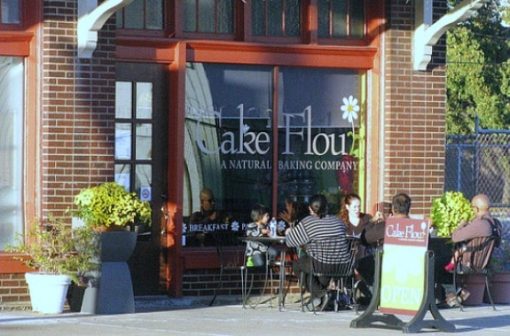 Hot Browns, Derby Pie, Kentucky Fried Chicken, Bourbon, and Louisville Slugger baseball bats — what do these things have in common?  They all claim Louisville as their birthplace.  While these regional favorites may be the first things to come to mind when you think of dining in the Derby City, food enthusiasts will devour a complement of independent restaurants serving the fresh flavors of locally grown food.  The locally grown trend has pushed Louisville into the food world prime time, with Southern Living Magazine ranking Louisville as one of the Top 10 Tastiest Towns.
Enjoying a recent weekend in Louisville, I marveled at the abundance of dining options throughout the city.  While wishing that I had more time, I decided to jump right into the food scene and began exploring the dining options centered in the downtown Louisville and surrounding areas.
In a diverse, reemerging neighborhood (just East of Downtown) known as NuLu sits Toast on Market (620 E. Market St.). Open for breakfast and lunch only, this charming spot was created by merging two well-aged storefronts and offers such an ample and creative menu, that I could scarcely decide what to order.
Breakfast started with cocktails – a crisp Apple Cider Mimosa for me and a spicy Cajun Bloody Mary for my dining companion – followed by a delightful plate of Lemon Souffle' pancakes with warm vanilla custard and blueberry compote. While I was concerned that the dish might be too sweet, one bite of these airy cakes and I knew why they are a customer favorite.
Opting for something a little more savory, my companion dove into a Greek omelet loaded with spinach, olives and feta cheese.  The food is paired with helpful and friendly service – the mere mention of wishing I could recreate the Mimosa at home prompted the return of the handwritten recipe from the bartender.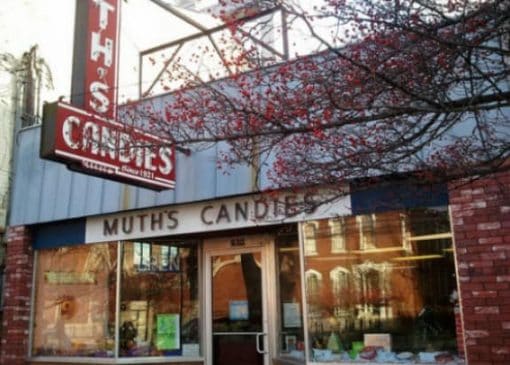 Walking through the NuLu area, we found lots to catch our attention, more restaurants and cafes, eclectic shops, and a real standout, Muth's candy store (630 E. Market St.).  Established in 1921, Muth's is famous for their irresistible Bourbon Balls made with 100 proof Very Old Barton bourbon and hand dipped in Dark Chocolate.  Greeted by the original owner, I was encouraged to sample many of the stores offerings, the tastes convincing me that I could not leave without purchasing another Louisville classic, the sinfully rich Modjeskas.  Created in the 1880s and named for a Polish actress appearing in Louisville at the time, a Modjeska is a butter cream caramel wrapped around a creamy marshmallow center. Simple deliciousness.
Near the end of the NuLu district is Cake Flour (909 E. Market St.), a natural baking company that has been featured on Food Network's The Best Thing I Ever Ate.  Cake Flour creates sweet indulgences using organic, and whenever possible, locally produced ingredients. I fell in love with the adorably decorated bourbon ladybugs, part cake ball, part bourbon ball, all totally delicious. The tiny shop offers a rotating variety of cookies, pastries, muffins, sweet and savory scones, breads, and quiche. While there are a few outdoor tables, most confections are grab and go.
In case you were beginning to think the NuLu district was filled with only sweet retreats, be sure not to miss the award winning Harvest Restaurant  (624 E. Market St.).  Harvest serves regionally inspired, seasonal dishes in keeping with the trendy farm-to-table movement.  Even the decor seems straight from the farm with log base tables and re-purposed wood.
For lighter fare,  Garage Bar (700 E. Market St.) features Wood-fired pizza, craft beer and southern snacks like boiled peanuts and pimento cheese sandwiches.  Housed in a former gasoline service station that served as a saloon in the early 1900's, Garage is the fun and funky cousin to another Louisville stand-out, Proof on Main.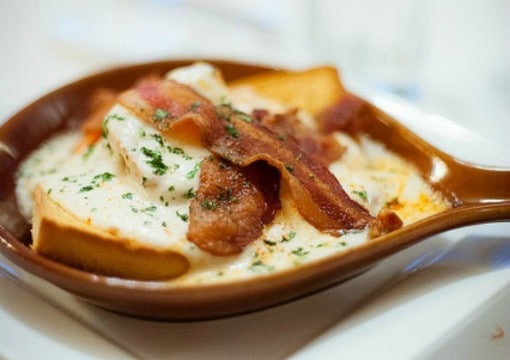 For a classic Louisville dining experience, head to the legendary English Grill restaurant in the historic Brown Hotel (335 W. Broadway St.).   It is at this hotel, in 1926, that late night revelers were served a new creation, an opened faced turkey sandwich, covered in a rich sauce with broiled cheese, then topped with bacon and tomatoes. It has become famously known as a Hot Brown.
With rich oak paneling and antique brass light fixtures setting the mood for a special dining experience, The English Grill adheres to a dress code of business casual, no shorts, t-shirts with writing, flip-flops or cell phone usage is allowed.  It is open for dinner only. Be sure to save room for the hotel's signature delight – the Chocolate Striptease – chocolate cake with chocolate mousse covered in ganache and chocolate shavings doused in 151 rum and served flaming. Like its name, it is truly something to be experienced — at least once.
Photos credits: All via flickr. Cake Flour: Hello Louisville, Muth's Candies: Hello Louisville,  Hot Brown : Pete Karl II
NOTE: While a portion of the author's trip was sponsored by Go Louisville, the opinions expressed are strictly her own.
Having been transplanted numerous times, I have learned to explore the sites around our new found hometown, uncovering hidden gems and attractions. When vacation time rolls around, I enjoy traveling with my family and the occasional weekend escape with my husband, coming home to share our travel experiences with others. You can follow me on Twitter @JAIngersoll. My top three destinations are Walt Disney World Resort, the Midwest and any beach I can walk along.