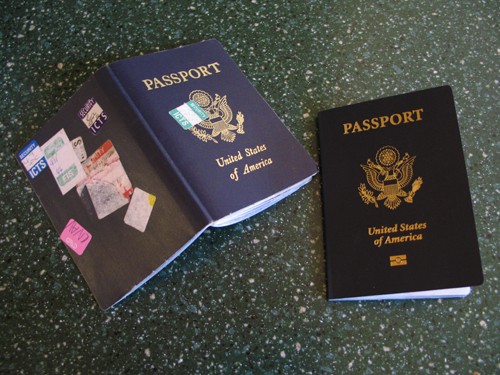 It took me almost three hours to change planes in Tel Aviv, Israel. No doubt part of the reason for the extra security measures: I'd presented an American passport with entry stamps to Muslim-majority Middle Eastern countries.
My suitcase was missing (it would arrive at my house, ransacked but intact, four days later). Still, everything in my carry-on — a bag I've toted with much the same contents across six continents — was completely emptied and inspected, over and over again.
One of the 17 (yes, 17) inspectors finally told me I could take only my purse and my cameras on board. I successfully negotiated for my contact lens supplies, but all the rest — umbrella, snacks, aspirin, notebook and pen, sleep mask, ear plugs, Kleenex etc. — were dumped in a box, sealed and hand-carried by security to be gate checked. (You can read the whole thing here.)
I was furious at this obvious harassment, and once I got back home, I asked my travel writer friends for suggestions on how to avoid the problem. Top of the list? Get a second passport.
I had no idea: American citizens can — legally — get a second passport to avoid situations such as the one I found myself in at the Tel Aviv Airport. Granted, they're only good for two years (instead of the decade that the first is valid), but one can segregate "suspicious" stamps into the secondary document.
Soon after my return from the Middle East, I attended a travel industry show in Los Angeles. The U.S. Department of State's passport office had a booth, so I asked the representative how I went about obtaining a second passport. He said had no idea, but promised to "look into it" and get back with me. Except he never did.
I went on line, but there's no information anywhere I could find on the passport page. There was, however, an email for questions.
I had to repeat my query three or four times (the answers are obviously copied and pasted from a template), but I finally got the relevant reply (thank you, Agent # 2097):
Requesting a Second Passport:

To request a second passport, the applicant must complete a DS-11 or
DS-82 (depending on whether or not they can send in the current
passport), include one passport photo, appropriate fees, and evidence of
US Citizenship and Identification. They must also include a signed and
dated statement explaining the nature of travel and why they need a
second passport. (See below)

Example of Statement to Accompany a Request for a Second Passport:

I intend to travel to _________ and ________. In view of the restrictive
entry requirements of one of the countries that I will be visiting, it
is impossible for me to complete my trip using my current passport.

Consequently, I am requesting the issuance of a second passport to
facilitate my travel to the countries mentioned above. I understand this
passport will be limited to two years and that it may be renewed at the
end of that period if my need to travel to the aforementioned countries
continues.

Should either of my passports be lost or stolen, I will report the
circumstances to the Passport Office or the nearest American Embassy or
Consulate immediately.

Signature

A second passport is valid for 2 years and can be renewed with a DS 82
form. The applicant cannot use the DS 5504 to extend the passport
validity.

For further information, please refer to our website
www.travel.state.gov or call (877) 487-2778, for TDD/TTY users
1-888-874-7793 (Mon-Fri 8:00AM to 10:00PM ET; excluding federal
holidays). If you need to contact us again by email, please include all
prior messages/correspondence in your reply so we can review what has
previously taken place.

Thank you.
National Passport Information Center
Agent # 2097
I filled out the form, penned the "signed and dated statement", wrote a check, added my original passport to the envelope and sent it all to the National Passport Information Center. Exactly one week later, I was the proud possessor of two legal U.S. Passports.
On my next jaunt to the Middle East, I'll check to see how the tactic works in practice.
Photo credit:  ©2013 Susan McKee, used with permission
Susan McKee is an independent scholar and freelance journalist specializing in history, culture and travel.