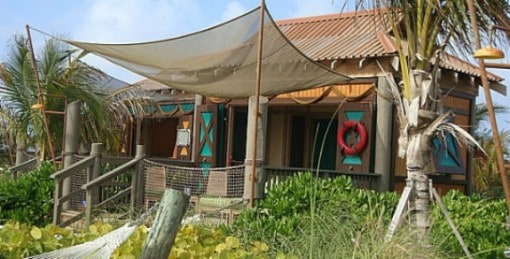 In 1996, with the goal to expand the Disney Cruise experience, Jim Durham, an imagineer for Walt Disney Corporation, was assigned to scout out an island location in the Bahamas where passengers aboard Disney Cruise Line ships would visit and enjoy at their leisure.  After purchasing the island property from the Bahamian government, Jim and his crew set out to create Disney's enhanced private port-of-call known as Castaway Cay.  On a recent cruise, I had the chance to speak with Jim on a tour of the island.
Disney Cruise ships that follow a Bahamian and Caribbean itinerary include Disney's Castaway Cay as one of the ports of call. With four ships now in the fleet of Disney Cruise ships, scheduled stops at Castaway Cay ensure only one ship at a time will visit the island, thus avoid overcrowding.
Like their cruise ships the Disney Dream and Disney Fantasy, Castaway Cay offers areas for specific age groups. Castaway Family Beach is an area open to all cruise ship guests.   Scuttles Cove allows kids time away from adults to enjoy supervised activities, while teens can enjoy music and beach volleyball in an area just for them.  And adults, age 18 and older, can relish in pure relaxation at Serenity Bay.
Once docked at Castaway Cay, cruise guests have the option to remain on board the ship or venture down the gangway to dry land. Welcomed to the island by Disney Characters, you'll find a wide array of  leisure activities including swimming, biking, and snorkeling.  Or – my personal favorite – merely basking in the warm sunshine, staring out across the crystal clear water, toes in the smooth white sand.  Don't forget your sunscreen!
Port adventures like parasailing, kayaking and bottom fishing can be scheduled while on board ship or, to ensure availability, in advance of your cruise.  An extra charge applies for these adventure activities.
I enjoyed participating in the sting ray encounter with a chance to feed and pet these gentle creatures.  Holding my hand flat on a board, shaped like Mickey Mouse of course,  I placed a bit of squid or a jelled rectangle of specially prepared food between my fingers.  Trained to know this board means dinner-time, the rays gently glide across your hand and hover long enough to slurp the food in one vacuum-like motion. Perhaps the biggest thrill for me was to slide my hand across their backs as they would glide by.  One particular ray had an abnormal looking lump on the side of its back –  it turns out that this lump was actually a developing baby ray; female rays carry their young not in their stomachs, but on their backs.
Beach towels are available to guests while equipment including bicycles, floats and inner tubes, snorkel gear, sea trikes and paddle boats may be rented.  Equipment cannot be reserved in advance and is available on a first come first serve basis.
Castaway Cay visitors may hop aboard a tram to move about various sections of the island.  And as you're exploring take a look at the wide paved path that leads to Serenity Bay.  This path was actually runway used by aircraft in the 1940s.
The adults only portion of the Cay, Serenity Bay offers a beach side bar, yoga classes and low to the ground sand chairs.  Pure serenity is relaxing to the sound of the waves as you enjoy an open air, ocean view massage in a secluded hut performed by staff from the on board Serenity Spa. This service must be booked in advance through the spa.
Enjoying time with family or newly made friends is an option in the private cabanas.  Accommodating up to six people, these are available to rent and are located adjacent to the family beach.  Each cabana offers a respite from the sun with cool beverages, fruit and snacks provided.  Outside, snorkel equipment, bikes, floats and sand toys are ready and at your disposal.  I found the beach hammock perfect for a quick siesta.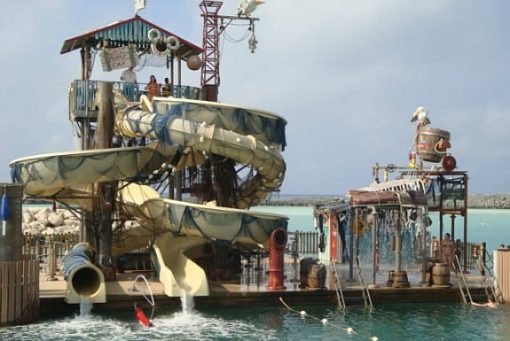 Since its opening in 1998, Castaway Cay has seen some additions of imagineering genius.  Spring-A-Leak, a fresh-water wet-deck features sporadically spurting fountains. Using reverse osmosis to obtain the jets of fresh water avoids the sting of salt water in the eyes of young cruise guests. Pelican Point, a floating water park located within the ocean, features two water slides, a kid-favorite "dump bucket" and refreshing lagoon swim area.
Food service is available at several locations and is included in your cruise package.  Cookies and Cookies 2 offer open-air BBQ style dining as well as a refreshing array of fresh fruit and frozen treats served at inviting stands near the family beach.  Adult beverages can be obtained at the Serenity Bay bar  and the Head's Up Bar at Pelican Point.  Named for the large number of pelicans that inhabit this area, be sure to keep an alert head's up avoiding any unwanted decoration, so to speak!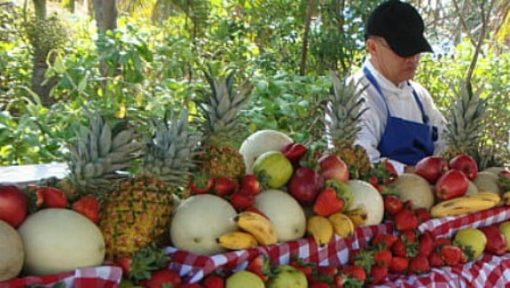 Of the 1,100 acres on Castaway Cay currently only 100 acres are being used.  I asked Jim if a Disney resort on the island was in the future.  His eyes twinkled as he replied, "With Disney, anything is possible!"
Photo credits: author's personal photos
NOTE:  The author was given a complimentary cruise for the purpose of a review; the opinions expressed are strictly her own.
Having been transplanted numerous times, I have learned to explore the sites around our new found hometown, uncovering hidden gems and attractions. When vacation time rolls around, I enjoy traveling with my family and the occasional weekend escape with my husband, coming home to share our travel experiences with others. You can follow me on Twitter @JAIngersoll. My top three destinations are Walt Disney World Resort, the Midwest and any beach I can walk along.