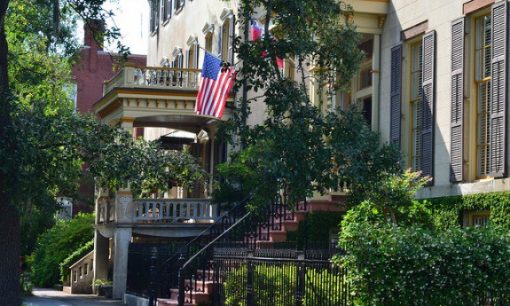 When it comes to historical cities, there are some places, like Philadelphia, that look historical.  Then there are other places, like Washington, DC, that are rich in history because of the past that it holds.   In Savannah, Georgia,  I could not only visit and see the historical sites, but I could actually feel the past that surrounded me.
Diving into the remarkable past of this Southern town, I rented an apartment in the Historic District of Savannah.  The base for my weekend adventure would be the garden level, and once servants quarters and kitchen, of an 1875 brick townhouse in a neighborhood within walking distance of the Savannah River and  historic landmarks.  Strolling the brick paved sidewalks on streets lined with Live Oaks draped in Spanish Moss and looking at Civil War era homes adorned with ironwork, I felt like a welcomed friend, not a visitor.
Although themed guided tours abound, ranging from historical, architecture, ghost walks, Pub crawls and dining establishment tours, I chose to explore on my own.  By downloading a map of the Historic District in advance, I was able to plan out my route for the day, maximizing the historic landmarks I wanted to visit and avoiding the frustration of wandering about aimlessly. If time allows, I recommend taking the Horse Drawn Carriage tour or Trolley Tour to familiarize yourself with the city before setting out on your own.  For a reasonable price you can get the lay of the land, and have a fun time, too.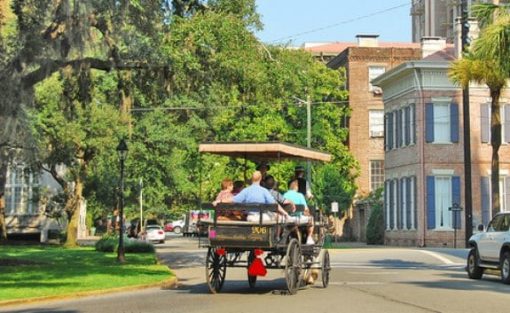 Founded in 1733 by General James Oglethorpe, Savannah became the first U.S. planned city.  Among those plans were grids of land with wide streets and Squares that provided an open area in the center of the grid for the public to meet and conduct business.  Of the 24 original grids, 22 are still in existence, the grids making it extremely easy for visitors to travel throughout the historic center of the city.
Named for notable figures of Savannah, these shady Squares provide an excellent place to rest and consult your map before continuing on with your exploration. Don't be surprised if gracious  Savannah residents, taking note of your map consultation, offer up directions, assistance and insider information.  One friendly resident joined me on my walk adding many historic insights, even introducing me to the granddaughter of Mrs. Wilkes of the famed Mrs. Wilkes' Dining Room.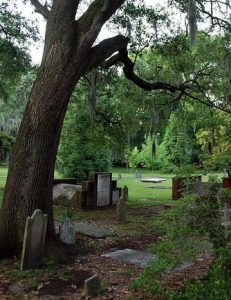 One thing will become very obvious – or not so obvious as the case may be – signage is very understated, forcing visitors to keep an observant eye for sights of historic significance.  Blending in with their surroundings are the Mercer Williams House (once owned by songster Johnny Mercer and made famous by the book and film Midnight in the Garden of Good and Evil), and Girl Scout founder, Juliette Gordon Low Birthplace .  Strolling through the popular park-like Colonial Park Cemetery, it is sad to note the yellow fever epidemic that struck in 1820 killing nearly a tenth of Savannah's population.
On a much livelier note, River Street and the River Walk area, once the bustling hub for the shipping and cotton exchange, is today made famous for housing numerous shops, themed restaurants and taverns.
The River Street Inn and Factors Walk are a history lesson all their own.  An integral part of the cotton trade, this area is complete with alleys, walks and bridges once used by the "factors" to oversee and judge the quality of cotton.  The buildings and streets are constructed of the stone used to create ballast in European ships that was dumped upon arrival in Savannah.  This dump accommodated the returning load of cotton.  Referred to as ballast stone, the uneven pavement makes for difficulty in walking – comfortabe, even soled shoes, are a must in this area!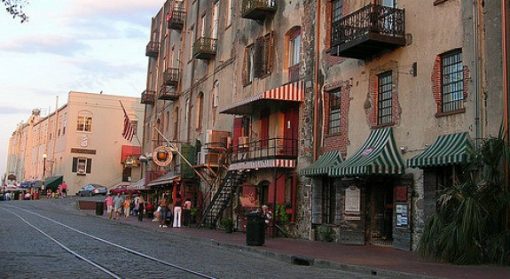 Through the mix of souvenir shops, shoppers will find some local favorites.  My favorites were the honey and bees wax products offered by local  Savannah Bee Company, and River Street Sweets where you can watch the famous sugary sweet southern pralines being made.  All that walking and shopping left me with quite an appetite, a perfect excuse to check out the area restaurants.  Plentiful and appealing, the eateries offer everything from pizza to pub fare to fresh and local seafood.  A extra bonus is that many of the restaurants are independent and locally owned.
I happily selected The River House Seafood & Bakery that is housed in an 18th century cotton warehouse.  Known for serving regional dishes, I could have made a meal on the warm bread and sinfully delicious bleu cheese butter which is perfect for soaking up a generous glass of the house specialty, Chatham Artillery Punch.  With a recipe dating back to 1786, this punch was rumored to have been created by ladies of the Artillery Guild and served to President George Washington.  As there is always more to the story, it appears the officers serving the Artillery took it upon themselves to add various hard liquors to fortify the punch.  The result must surely be the first recorded "trash can" punch ever served.
Other street level and elevated drinking establishments provide not only a variety of cocktails but marvelous views of the River as well.  The appropriately named Warehouse, slides back a warehouse style door at the opening of business to welcome guest into the small exposed brick bar for the "coldest, cheapest beer in town."  Popular in several Southeastern cities, Wet Willies serve adult beverages from a bank of  slushie machines that line the wall and offer up an icy flurry of  Daiquiris in every flavor imaginable.  Very refreshing on a warm southern day.
Savannah provides a wealth of attractions waiting to entertain families, couple on romantic weekends, girlfriend getaways, and most of all history buffs like me.
Photo credits: flickr:  Adam Detrick, street scene;  Fang Guo, carriage ride; Brian Hillegas, cemetery; Josh Hallet, riverfront;
NOTE:  The author was provided a discounted rate on accommodations for the purpose of visiting Savannah; the opinions expressed are her own.
Having been transplanted numerous times, I have learned to explore the sites around our new found hometown, uncovering hidden gems and attractions. When vacation time rolls around, I enjoy traveling with my family and the occasional weekend escape with my husband, coming home to share our travel experiences with others. You can follow me on Twitter @JAIngersoll. My top three destinations are Walt Disney World Resort, the Midwest and any beach I can walk along.