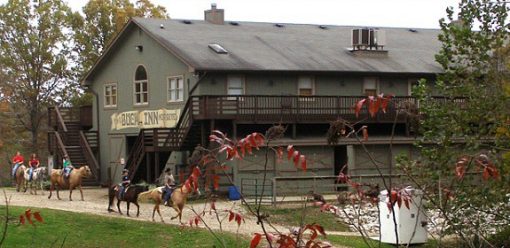 The closest thing I've come to riding a horse has been the carousel at Walt Disney World Resort,  so I thought it best to ease into the saddle, so to speak, before undertaking a dude ranch vacation.
Rawhide Ranch, located in Brown County, Indiana, is close to home (just one hour from Indianapolis) and offers daytime activities as well as overnight accommodations in a guest ranch setting.  This guest ranch was the kind of low level commitment that this tenderfoot was willing to undertake.
Accommodations range from primitive tipi camping that can accommodate up to eight people sleeping in an actual tipi, to private ranch houses or a room in The Buck Inn, an 11 room "hotel" sitting atop a 16-stall horse stable.  It's roughing it, the front desk is actually up the hill and down the road, but yet not too rough with comfortable beds and private baths in each room.
Yes, I said sitting above the stables, I know what you are thinking, and I have to confess it was a concern of mine, what about the smell from the stables?  During my visit, the stable area below the inn was not used for horses, but merely storing equipment and holding receptions or meetings.  Although the corral is located just outside the Inn, (guests can stand on the balcony to watch riders saddle up) the fragrance was not noticeable inside.
The 11 individual rooms at the inn have blended modern amenities with a western theme.  The rooms are all climate controlled and non-smoking, and share two common areas that are decorated in western ranch style with massive fireplaces, leather furniture and animal trophies proudly displayed.
Since the whole purpose in visiting Rawhide Ranch is to experience the great outdoors, there are no televisions or wi-fi connections available.  The common area is a great place to get to know your fellow "ranchers" and participate in low-tech activities like playing cards or board games (I discovered a very limited selection are tucked away in a cabinet).
Each of the rooms have a different configuration to accommodate from 2-6 people.  They all have a private bathroom and all linens and towels provided.  My room had two queen beds, and could accommodate four people, while  others offered kings, twins and even log built bunk beds.
At either end of the main room are two dining areas. Here guests will find a coffeemaker with a limited supply of coffee (I was glad I brought my own), microwave, toaster oven and refrigerator.  While there is not any running water in this area, making it slightly difficult to make coffee, guests can retrieve water from the bathroom in their room.  Although not ideal for cooking a full meal, with groceries brought from home, the area is perfect for making snacks, sandwiches and continental breakfast.
Guests wanting a larger, more substantial meal can head into Nashville, Indiana, just three miles away.  Groups wanting to share a meal can make arrangements through a catering service.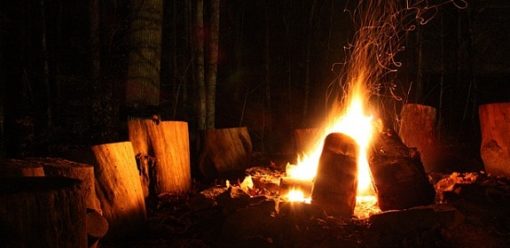 Once settled in, I was ready to explore.  Rawhide Ranch is located on 54 acres and offers a variety of activities complimentary to overnight guests including  Geo-caching,  hiking, horse-shoes and a nightly bonfire.  Mountain biking and fishing (two available ponds) are options if you bring your own equipment.   Other experiences like trail rides, zip-lines, hay rides and pony rides are available for a fee.
With a romantic image of a cowboy riding off into the sunset in my head, I  headed to the tack room to start my trail ride.  Our trail ride group was a mix of adults and children (anyone under age 7 must ride tandem with a paying adult). We were greeted by Dusty, the friendly and patient ranch hand, and given safety instructions for riding our horse.  Then it was up in the saddle for our ride.
Heading out of the corral proved to be a little more difficult than John Wayne made it appear. It seems there is a pecking order for these stable horses and they know who is the leader and who the follower.  A concept, the youth of our group couldn't quite understand.  Honestly,  it wasn't me  butting in line, it was my horse!
The toughest part of starting out seemed to be keeping these gentle creatures on the trail and away from the tempting green grass in the meadow.  Just like driving driving a car, pulling on the left reign will turn them left and right reign right.  A gentle, but firm, nudge to the side of the horse would get them moving and pulling back on the reigns would bring them to a halt.  With these simple instructions and donning not a ten-gallon hat, but a helmet for protection, I was ready for anything.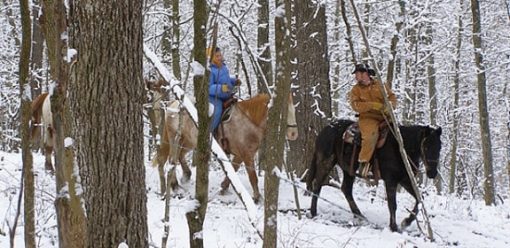 Once on the trail, the beauty of the rolling Brown County hills won me over.  I tried to imagine which season would be more picturesque — fall with the colorful turning leaves, the crispness of winter and quietly falling snow or the bright, refreshing greens of spring?
Although not a true working ranch, guests can get the feel of being a ranch hand by helping feed the horses in the morning and evening, leading them to and from the corral, as well as help in the grooming and saddling of these beautiful animals.  If you really want to know what life is like on a ranch, they'll gladly hand you a shovel!
Perfect for this city-slicker, the  Indiana-style dude ranch experience offered by Rawhide Ranch was great fun and a close-to-home adventure. Am I ready for the wild, wild west?  Umm … maybe not quite yet!
Location:  1292 Indiana 135, Nashville, IN 47448
Hours: open daily
Prices: vary according to accommodations and activities
Photo credits: by permission Rawhide Ranch
Having been transplanted numerous times, I have learned to explore the sites around our new found hometown, uncovering hidden gems and attractions. When vacation time rolls around, I enjoy traveling with my family and the occasional weekend escape with my husband, coming home to share our travel experiences with others. You can follow me on Twitter @JAIngersoll. My top three destinations are Walt Disney World Resort, the Midwest and any beach I can walk along.