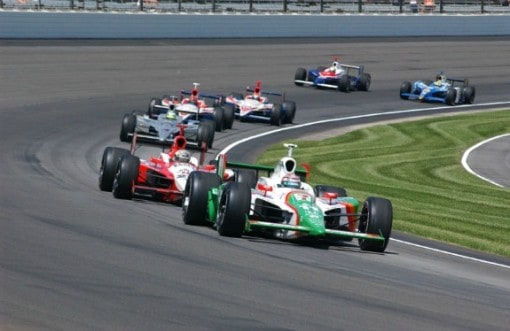 The Indianapolis Motor Speedway is legendary in the racing world. Maneuvering the banked curves of the famed oval was once an experience known only to the most competitive driver's in the world.  Today, though, it is available to everyday car-poolers and commuters.
Indy Racing Experience allows everyday drivers to feel the thrill of racing.  There are several options to choose from:  Taking the drivers seat, participants can feel the rush of driving a low to the ground IndyCar as they take a three lap drive around the famous track. A two-seater option is available, with a Dallara chassis extended to make room for a back seat whirlwind ride while a professional handles the wheel.  These modified IndyCars have actually seen 500 race day action.  The Ultimate Experience includes both a ride and drive.
Participants arrive one hour prior to their scheduled drive session and are directed to the Formula One Garage Area of the Speedway.  Walking to the "Pit area of Turn One" race fans will immediately recognize the iconic images seen during the Indianapolis 500.  Stepping foot onto the 2.5 mile track the realization that you are about to drive where elite racers dream of driving is overwhelming.  As I watched the events take place around me, I got caught up in the thrill; it was infectious.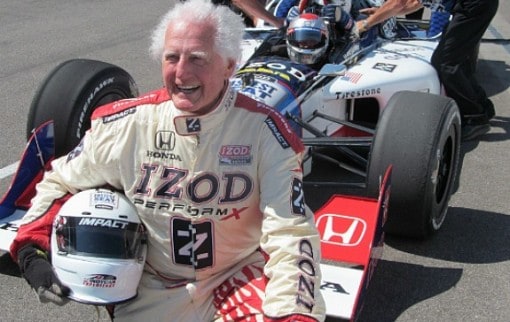 Donning a complete fire suit which consists of a logo emblazoned racing jumpsuit lined with fire-proof protection, black  fire shoes, helmet and gloves, in my minds eye, I looked like Danica Patrick.  Fortunately there are no mirrors to squash this image.  The instant I slipped into the suit, the heaviness of it compounded the heat of the day, and with the tight fitting bands around the wrists and ankles I felt sealed in and protected.  But I was sweltering.  No wonder these suits are one-use only before they are dry cleaned.
Special note:  The sizing of available fire shoes began at size 7.  Since I was not a driver this day, I wasn't concerned, however if you wear a smaller size and plan to drive, this may be something to discuss when booking your reservation.  While we are on the subject of size, it is important to note that all participants must be at least 18 years of age, under 6′ 5″ and not over 250 lbs.  The necessity of the latter two restrictions will be apparent once you are seated and strapped into the tight fitting car.
All Indy Experience drivers are given a class shortly before taking the track.  The class provided detailed visuals, plenty of time for questions and answers, and there was a simulator available for participants to sit in and practice using the four pedals (dead pedal, clutch, brake and throttle).  Still, my heart was pounding and I felt a sense of panic.  I became sure that the Two-Seater Experience was the only option for me.
Guests participating in the Two-Seater Experience feel the same g-forces and speeds of an actual race.  Sitting inches off the ground, riding behind current or former IndyCar drivers, speeds during this three-lap thrill can reach 180 mph.  The drivers on this day were two-time runner-up IndyCar Series Champion Davey Hamilton and veteran Stéphan Grégorie, other drivers have included nine former Indy 500 winners as well as popular racers like Tony Kanaan and Michael Andretti.
The volume of safety precautions convinced me that the high speeds this experience offers are not taken lightly.  I was comforted to learn the same safety crews and track spotters who carefully monitor the track on official race days are also on handing keeping a clear watch throughout the Indy Experience as well.  Additionally, a medical team was at the ready. . . just in case.
Most participants brought along friends and family to observe this momentous event.  Although the entire experience lasts only a few hours, your observers may want to bring along a few things to make it a more comfortable experience:  a chair or blanket to sit upon, a cooler packed with water, ear-plugs to lessen the noise, and by all means, your camera!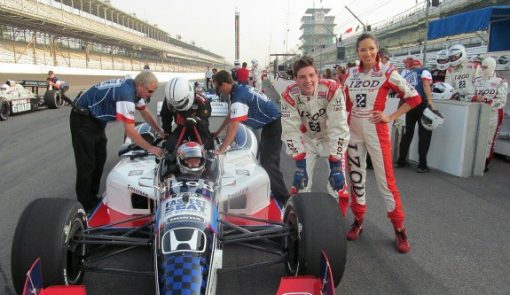 Running May-October, the Indy Racing Experience operates on ten select dates.  With limited spaces you will need to make your reservations made well in advance.  Reservations for each upcoming year begin booking in January, and guests really do plan that far in advance.  While the track cannot be driven if wet, guests should arrive on time, rain or shine, as every effort will be made to dry off the track or reschedule your experience.
Given my bout with the heat, I feel the fall would be an excellent time to schedule a ride.  However with the thrill that surrounds Indianapolis in May, you just never know who might be there during that time to give you a ride!
Indy Racing Experience is available not only at the historic Indianapolis Motor Speedway, but also Walt Disney World Speedway in Orlando, as well as at many of the cities that host the IndyCar Series races.
While not an inexpensive experience, what price can you truly put on an adrenaline rush of a lifetime?
Location: Indianapolis Motor Speedway, 4790 W 16th St., Indianapolis
Prices: Ride – $499; Drive – $1000; Ultimate Experience (ride and drive) – $1200
Photo Credits: courtesy Visit Indy, (track) Indy Racing Experience
Note:  The author was a guest of Indy Racing Experience for the purpose of a review; the opinions expressed are her own.
Having been transplanted numerous times, I have learned to explore the sites around our new found hometown, uncovering hidden gems and attractions. When vacation time rolls around, I enjoy traveling with my family and the occasional weekend escape with my husband, coming home to share our travel experiences with others. You can follow me on Twitter @JAIngersoll. My top three destinations are Walt Disney World Resort, the Midwest and any beach I can walk along.