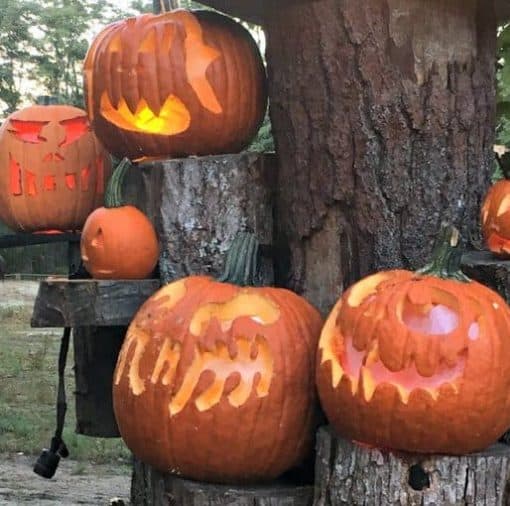 Carving Jack-O-Lanterns is a fall family tradition. You find the perfect pumpkin in the perfect patch and bring it home to carve a perfect masterpiece. For one family, the craft of carving the perfect pumpkin has turned into an art form and a showcase they share with thousands of other families. The Jack-O-Lantern Spectacular  has grown in such popularity that it is now held in two cities.
For John Reckner and his family, the love of carving pumpkins began as a family outing to a New England fall festival and viewing a coordinated neighborhood display. Believing his family could do something similar, they hosted their first Spectacular in 1988 as a fundraiser for a school. The event was a huge success and drew larger crowds each year forcing it to finally move to a new location.
In 2001, the Jack-O-Lantern Spectacular was held for the first time at the Roger Williams Park Zoo in Providence. Honoring the victims of 9/11 was a major theme that year. Themes play an important role in the Spectacular, in fact, planning for the October event begins in January. The theme for 2016 American Treasures highlighting famous faces from history, music, movies and heroes that have appeared on United States postage stamps.
As guests traverse the pathways lined with pumpkins they will encounter areas of special interest highlighted with accompanying music. For instance, an area giving nod to endangered animals plays tribal music in the background, while a section devoted to late rock stars like David Bowie and Prince plays their music as well. A favorite area is known as the Laughing Tree where smaller pumpkins are carved and placed within the tree's branches all the way to the very top.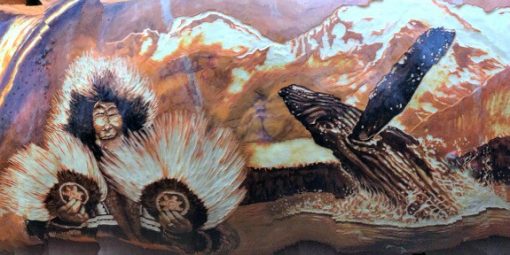 In all, over 5,000 pumpkins are on display at one time during the Spectacular that runs until the Saturday following Halloween. As the wheels in my head began turning, I wondered, how are these pumpkins able to last nearly a month when the pumpkins on my front porch rot after a week? The truth was revealed. They don't last any longer than mine. Once a pumpkin has been "gutted" it begins to deteriorate and must be replaced every 4-5 days. If you quickly do the math, 5,000 pumpkins replaced every 4-5 days equals over 30,000 pumpkins that are carved and displayed throughout the course of the event.
It takes a dedicated team to create these works of art. So much so that when Reckner's son Travis moved to Louisville, Kentucky, he took along his passion for carving pumpkins and created Louisville Jack-O-Lantern Spectacular. Held in Louisville's Iroquois Park, the quarter-mile trail also features over 5,000 pumpkins nightly and runs through the first weekend in November.
Both locations draw large crowds, especially on weekends. Traditionally, for smaller crowds visit on weekday nights or the week following Halloween. Tickets can be purchased in advance and in both cases, the events are held rain or shine.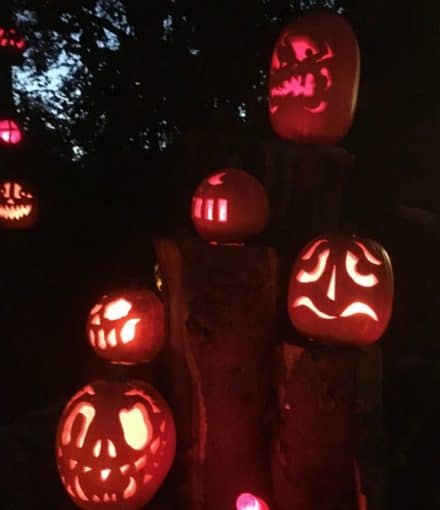 Standing back looking at even some of the more simple carvings I wonder why when I attempt to create a jack-o-lantern the finished project never quite turns out the way it looked in my head. I was told that perhaps it wasn't totally my fault, but perhaps the pumpkin I was carving. Pumpkins purchased at a farm stand or store traditionally have a tougher skin, protecting them during transportation. The pumpkins used for these intricate carvings are specifically grown for their softer skin. Big Mac Pumpkins are a favorite variety for carving as are Prize Winner and Atlantic Giant, which tend to last a bit longer, but don't give off the same glow according to the experts. I discovered there is a trick to the glow of a jack-o-lantern also. Once carved, line the inside with parchment paper for a more even display and use a light source other than a candle.
Other tools and tricks to the carving trade, according to John Reckner, include a stencil and oil based Sharpie that will not smear on the skin. Clay tools work well to take layers off the pumpkin skin and to create fine lines, while sandpaper can create a variety of finishes.
Seeing the amount of dedication devoted to these organic art works, perhaps my simple triangular eyed Jack is fine for my front porch. When I want to truly appreciate the art of pumpkin carving, I will visit the Jack-O-Lantern Spectacular.
Photo credit: J. Ingersoll
Disclaimer: The author was a guest of Jack-O-Lantern Spectacular for the purpose of a review.
Pin this article to your favorite travel, fall, or Halloween Pinterest board.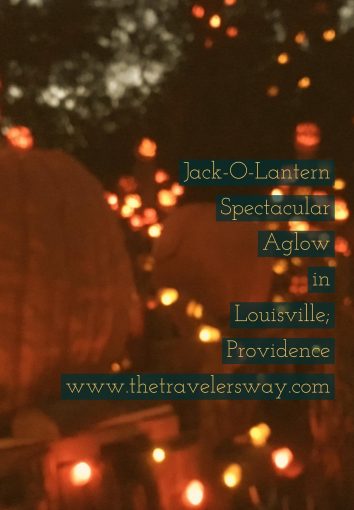 Having been transplanted numerous times, I have learned to explore the sites around our new found hometown, uncovering hidden gems and attractions. When vacation time rolls around, I enjoy traveling with my family and the occasional weekend escape with my husband, coming home to share our travel experiences with others. You can follow me on Twitter @JAIngersoll. My top three destinations are Walt Disney World Resort, the Midwest and any beach I can walk along.