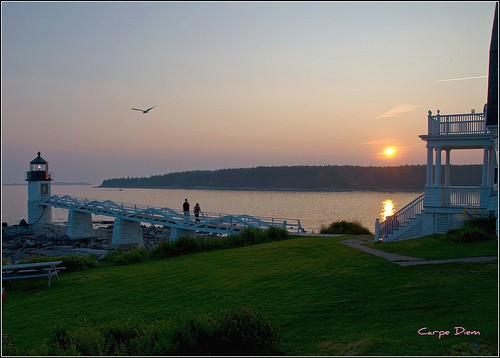 Anytime is a good time for shopping, and this portion of Maine seems to have the corner on that market. The towns of Kittery and Freeport are known for their abundance of outlet style shopping.  Shopping the Freeport outlets is not your average strip mall experience, as many of the famous brand stores are stand-alone shops lining brick-paved sidewalks. Take home a piece of Maine with a gift made from recycled sails at SeaBags or confections from Wilbur's Candy Shoppe. Don't worry about saving time to visit L.L. Bean's flagship stores, also located in Freeport, they are open 24 hours a day. During the holiday season L.L. Bean hosts festive activities including a model train village, reindeer barn, and horse-drawn wagon rides.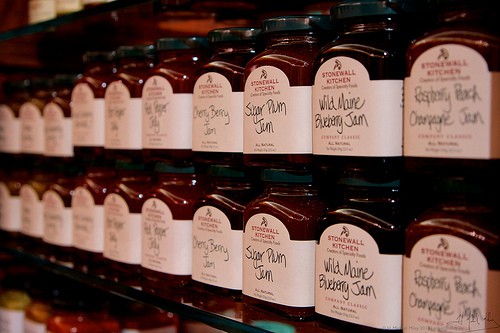 Stonewall Kitchen Company Store in York is a specialty food shop that began as a stand at a local farmer's market 25 year's ago and has now developed into an award winning company. The Company Store offers a vast array of food products from their original recipe Blueberry Jam to preserves, syrups, and spreads to kitchen utensils and decorative items.  Stonewall Kitchen provides tastings of most of their products straight from the jar or as an ingredient in dishes from an exhibition cook top.  The cafe offers eat in or carry out breakfast and lunch items (read reviews here). With a little planning, visitors can attend the popular Stonewall cooking school. The registration fee includes not only the demonstration cooking class but tastes of all that is prepared.
Whether toasting to friendship or enjoying a leisurely cocktail,  Southern Maine is known for its craft beverages and independent companies that produce specialty spirits.  The Maine Brew Bus based in Portland showcases tastings and tours of local wineries, breweries, and distilleries. If you don't have several hours for a full tour, many other single stop wine and beer tours are available including Maine Mead Works and Shipyard Brewery in Portland.
The lodging options in Ogunquit are quite varied with Bed & Breakfast, seaside hotels, and motels that appear to trapped in time. Inn by the Bay in the heart of the Old Port District in Portland is within walking distance of shopping and dining. The Inn offers complimentary shuttle service for those stops a little further. Driving to nearby towns is made simpler with the benefit of in and out parking privileges.
Maine and lobster seem to go hand in hand when dining out, but don't shy away from the many other tastes of the area. The farm to table movement is very popular with a large number of organic farms, local catch seafood and fresh air dining available. For breakfast, a Portland locals favorite is Becky's and Sinful Kitchen (read reviews here) offers hard to find gluten-free options. An offering of real maple syrup will produce a small individual bottle, for an additional charge, but is yours to take home.
Asking where to eat fresh seafood, more than a few area residents responded J's Oyster (read reviews here). A casual spot in Old Port District, the waterside restaurant boasts "If it swims, we've got it on our menu".  Another Portland spot, DiMillo's on the Water (read reviews here), was once a car ferry now a floating restaurant with water views from nearly every table.  Much like the options for lodging, the options for dining are numerous, so let the tastes of your group and the advice from locals be your guide.
Getting away to rekindle relationships and perhaps forge new ones is important for everyone's well-being. No matter where your Girls Getaway takes you, one thing is clear, enjoy your time together to laugh, relax and celebrate friendship.
Disclaimer: The author was given a discounted rate on lodging for the purpose of a review. The post contains affiliate links; clicking through or making a purchase or booking helps sustain this site.
Photo credit: Tony Fischer Photography, Mike Miley
Planning a getaway with your Pinterest pals? Share with them on your favorite travel board.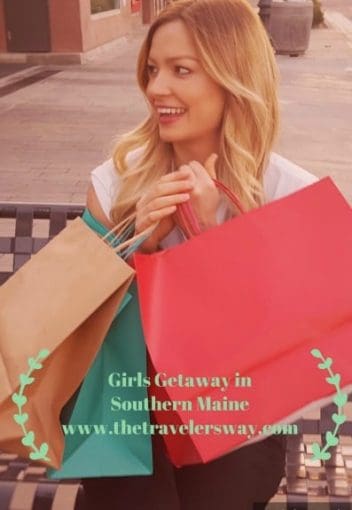 Having been transplanted numerous times, I have learned to explore the sites around our new found hometown, uncovering hidden gems and attractions. When vacation time rolls around, I enjoy traveling with my family and the occasional weekend escape with my husband, coming home to share our travel experiences with others. You can follow me on Twitter @JAIngersoll. My top three destinations are Walt Disney World Resort, the Midwest and any beach I can walk along.