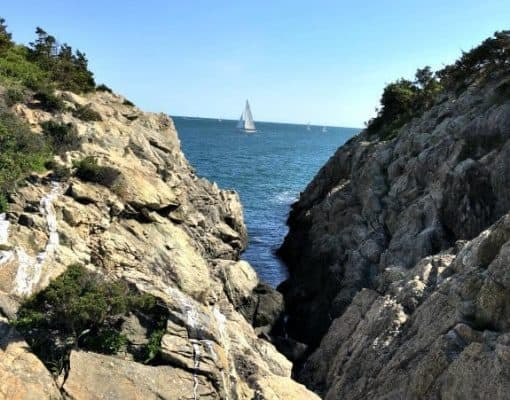 Rhode Island is the smallest state in the United States measuring a mere 37 miles wide and 48 miles long.  With 400 miles of coastline, one thing L'il Rhody is not short on is beaches. In fact, it is said that between the waters of the Atlantic Ocean and Narragansett Bay, every resident of Rhode Island lives within 30 minutes of the shore.
When we first moved to Rhode Island from the Midwest, we made a pact to explore a new beach every weekend. We gathered a list of named beaches and set out upon our quest. Unlike the beaches of the Southern United States where a sandy strip goes on for miles and miles, the beaches of New England are broken up by rocky points and outcroppings. A larger Rhode Island state beach could have several sections ranging from sandy seaside to a cliff-edged coastline to a shoreline dotted with pebbles and rocks worn smooth by the waves. It became very obvious, very fast that we had our work cut out for us.
Another quick lesson learned was that each beach has a significant personality. Some are quiet and laid back, some are bustling with people and attractions and some are reserved for specific activities like snorkeling and diving, cliff jumping, kite flying and surfing. Beaches may be private, member-only clubs, others are maintained by the State Parks Department offering seasonal lifeguards and a range of facilities, and some beach locations are a well-kept secret, with locations passed only between friends.
Since I consider you friends, let me share a few of my favorite spots: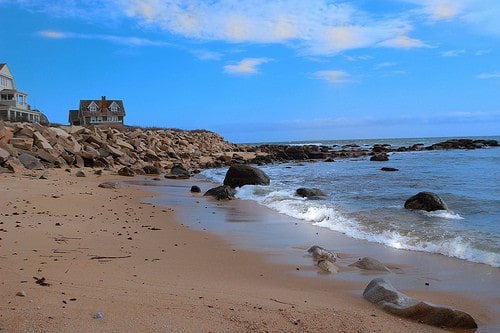 Goddard Memorial State Park is perhaps known more as a city park, offering a nine-hole golf course, game fields, picnic areas, horseback riding and wooden hiking trails within its 490-acre property. Situated on a cove of Greenwich Bay, Goddard Park provides a quiet beach with few waves, perfect for swimming, sailing, and kayaking. Seasonal lifeguards, restrooms, a snack shop and ample free parking make Goddard a very popular summer destination.  Away from the "swimming section" of the beach, however, it is easy to find a peaceful stretch of sand. On summer Friday mornings, the park hosts a farmer's market providing a variety of produce, baked goods, and food to enjoy before or after a day of sunbathing.
East State Beach is located in Charlestown, RI and the least developed of the State Park beaches. With three miles of untouched sandy coastline, East Beach remains my favorite for relaxing day.  It offers several changing/restrooms and some seasonal lifeguards but is very limited on parking. Extremely popular on weekends and holidays, I can not stress the importance of arriving early or risk being turned away. An Annual State Parks Pass or fee is required for admission.
Fort Wetherill State Park contains the most diverse set of beach areas. Situated high above granite cliffs across the water from Newport, Rhode Island on Eastern Narragansett Bay, Fort Wetherill was once a coastal defense site. Portions of the Fort, although fallen into disrepair, remain for adventurous guests to climb to the battery sites for amazing views of the Bay. Less adventurous folks can and everyone should drive to an additional location offering panoramic views of ships sailing from Newport Harbor. Numerous trails lead down to the water revealing sun drenched rocky beaches. One such beach is a designated as a snorkel and scuba diving spot used year round by New England Dive Clubs.
Easton Beach might also be referred to as Newport's Town Beach and is a wide sandy public area. Shopping, dining, and attractions including a 1950's carousel and Save-The-Bay Exploration Center and Aquarium are nearby. Seasonal resources are available to the public including restrooms, showers, first-aid, and beach wheelchairs. Visit Rosie's Beach Store for souvenirs or to rent boogie boards and beach chairs.  Don't forget to pack your walking shoes with your beach gear as Easton Beach is the starting point for the Cliff Walk, a 3.5-mile trail that follows the path between the Atlantic Ocean and the Mansions of Newport with stunning views of both. When it is time for lunch or dinner head to Flo's Clam Shack, serving up fried clams since 1936. Order at the window and eat at picnic tables or take your food back to the beach. Just be patient, the lines can be long and all items are made to order.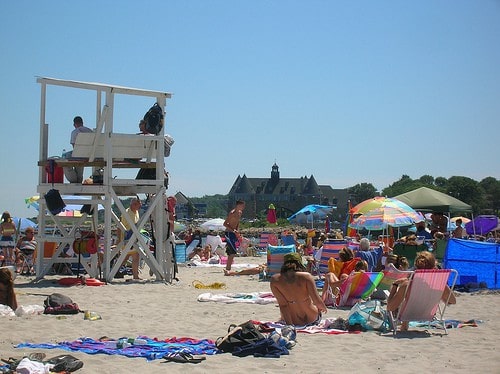 Perhaps the most popular town beach with Rhode Islanders and tourists alike is Narragansett Beach also known as Narragansett Pier. The rolling waves of the Narragansett Bay provide surfers with plenty of action, with other nearby attractions, concessions, and fishing all adding to a day of fun. Right in the center of town, there are approximately 1,000 parking spots close to the beach making it easy to see how attendance can reach close to 10,000 beachgoers soaking up every inch of its 19 acres of sandy shore. Like many of the beaches, there is a day rate for parking. Just because the sun is going down doesn't mean you have to leave. Narragansett Beach is the site of many nighttime events like Food Truck Festivals and Movies on the Beach.
Pin to your favorite Pinterest Boards.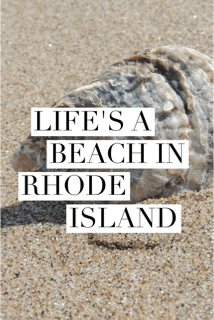 Disclosure:  This post contains affiliate links. If you click through for more information or to buy a product it may result in a small commission coming our way. Thank you for supporting this site.
Photo credit: J. Ingersoll,  joesphotos930 cho_kettie
Having been transplanted numerous times, I have learned to explore the sites around our new found hometown, uncovering hidden gems and attractions. When vacation time rolls around, I enjoy traveling with my family and the occasional weekend escape with my husband, coming home to share our travel experiences with others. You can follow me on Twitter @JAIngersoll. My top three destinations are Walt Disney World Resort, the Midwest and any beach I can walk along.