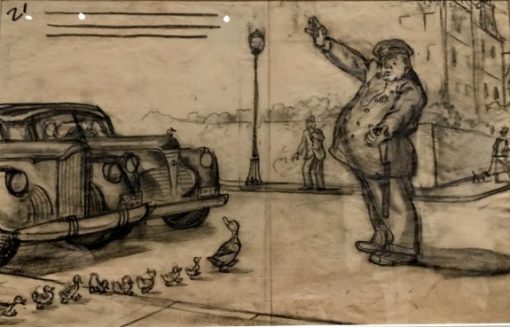 I have always loved reading with my children. Some books they selected, I disliked reading repeatedly, others we all happily knew by heart. One such book was Make Way for Ducklings by Robert McCloskey. The story of a family of mallard ducks that make a home in Boston Public Garden. This year marks the 75th anniversary of the publication of the children's classic and The Museum of Fine Arts, Boston is celebrating with a special exhibit Make Way for Ducklings: The Art of Robert McCloskey.
Robert McCloskey was a gifted artist and studied art in both Boston and New York City. He turned to illustrating children's books to provide a more steady income. Seeking advice, he was told to draw what he knew best. Recalling a time when as a student in Boston, he walked through the Public Garden and watched a family of ducks attempting to cross the street snarling traffic, the inspiration for Ducklings was born.
Originally drawn in pencil, the artwork for the book was to be printed as watercolor illustrations. But with the price of printing in color at that time too expensive, the sketches remained in pencil and printed in brown ink. The illustrations from each page of the book are featured in the exhibit with careful notations as to where the words would be printed. For the final printing, McCloskey himself drew all of the award-winning illustrations in reverse on lithograph plates.
The exhibit shares some of McCloskey's very first pieces of art to the preliminary drawings and final illustrations for his seven books. Continuing to use the people and places closest to him, McCloskey drew on his experiences of summer vacations in Maine with his wife and daughters, Sally and Jane creating Blueberries for Sal and One Morning in Maine among others. Also within the exhibit are the models for the Boston landmark statue, Make Way for Ducklings by Nancy Schon. The larger than life bronze mother duck and ducklings were installed in the Boston Public Garden in 1987 and can be found near Beacon and Charles Streets. While the original model included Officer Mike, the police officer who aids in the duck's street crossing but was eliminated from the Garden installation because of his proportional, giant-like size.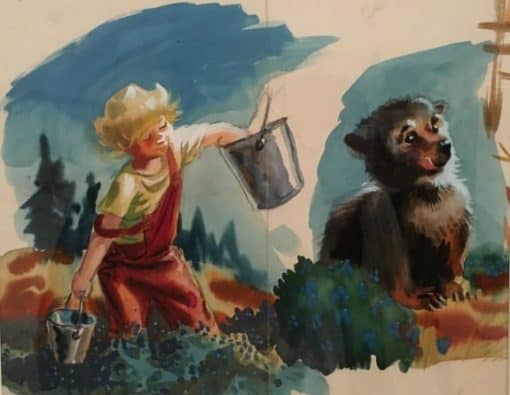 While the Art of Robert McCloskey exhibit will only be on display through June 18th, guests to the Museum of Fine Arts will be drawn to other exhibits featuring over 350,000 items. A large display of silverwork created by American patriot, Paul Revere is in the Art of Colonial America's Gallery.  Within this gallery are also the portraits of George Washington, used for the printing of the one dollar bill, and an unfinished portrait of Martha Washington, not completed because she didn't like it. A prerogative to be sure of the first, First Lady.
Fans of impressionist art will be thrilled to discover the MFA holds the largest collection of Claude Monet's work outside of France. Other galleries are dedicated to art from specific areas, periods and styles around the world as well as mediums ranging from jewelry to musical instruments. April through October, an outdoor Japanese garden is available for guests to explore art in a natural setting.
Rarely, do I think of dining within a museum as part of the experience, however with the options available at MFA, one might even consider eating first, art later.  The Garden Cafeteria provides a good family option, offering sandwiches, salads, desserts and value meal dining with seasonal outdoor seating. For lighter fare with handcrafted flare, Taste also serves wine and craft beer. New American Cafe' is listed as one of the best museum dining spots in the United States by Food & Wine magazine. And Wine Spectator gives Bravo an Award of Excellence for its wine list and is thought by locals to serve one of the best brunches in Boston. Reservations are accepted and parking after 5:00 pm on weekdays can be validated at Bravo by the wait staff. Museum members also receive a dining discount.
Admission to the Museum of Fine Art is free for children under 17 weekdays after 3:00 pm, and all day weekends and school holidays. A variety of activities and art cart talks are available to spark interest for young museum guests. From art connection cards, materials bingo and family guides to not only the Museum but to specific exhibits, I found myself enjoying and even learning more about the artwork.
The MFA is open daily, Saturday-Tuesday, 10-5 and Wednesday-Friday, 10-10. Hourly paid parking is available at two lots and a nearby parking garage, but on busy weekends, all fill rapidly. HINT: The Museum of Fine Arts is a ten-minute walk from Fenway Park, the parking here is at a premium during the Red Sox season. For a full day of Boston fun, combine the Fine Arts with the fine art of baseball!
Photo Credits: J. Ingersoll
Disclaimer: The author was given complimentary admission for the purpose of a review. This post contains affiliate links. Clicking through for more information or to make a purchase may result in a small commission coming our way. Thank you for supporting this site and our authors.
Post this article to your favorite Pinterest board: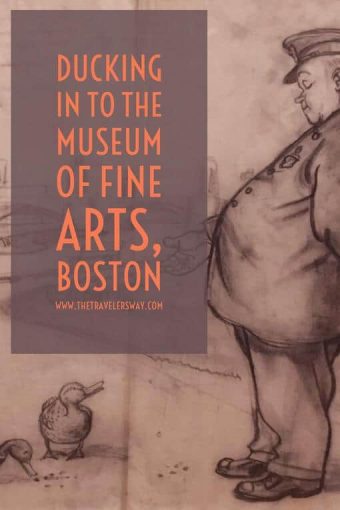 Having been transplanted numerous times, I have learned to explore the sites around our new found hometown, uncovering hidden gems and attractions. When vacation time rolls around, I enjoy traveling with my family and the occasional weekend escape with my husband, coming home to share our travel experiences with others. You can follow me on Twitter @JAIngersoll. My top three destinations are Walt Disney World Resort, the Midwest and any beach I can walk along.