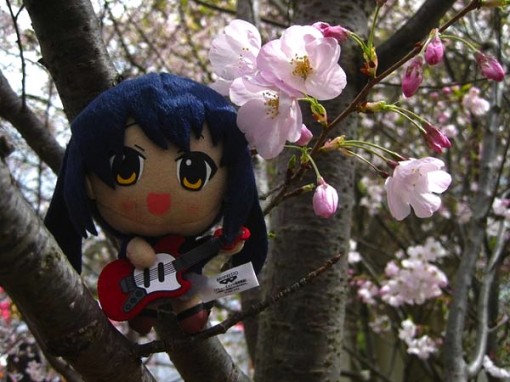 Known as "Nihonmachi," or JapanTown in English. this area of San Francisco has been around since the early 1900s, so it's certainly not new to the map of the city. In fact, at first glance, it even looks a little rough around the edges. But if the idea of some Japanese style shopping, eating, and relaxing sounds tempting, it's well worth a visit. Here's why.
Putting some random "kawaii" into your shopping experience
Japan is famous for its fascination with all things "kawaii," or cute.  From stationery goods to kitchen utensils, you can find items adorned with all the popular anime or cartoon characters. When you combine this cuteness with the Japanese equivalent of a dollar store, it's possible to spend a whole afternoon on some random kawaii shopping in JapanTown.
It's random shopping because of the nature of these types of stores. You'll find chopsticks nestling next to post-it notes. And Hello Kitty goods sharing space with bento boxes. It's like going into a huge bric-a-brac store that's stuffed to the rafters with Japanese goodness. And you just can't help picking things up and making the appropriate noises, before moving onto the next interesting item that catches your eye.
There are two stores in JapanTown that hit the mark if you're looking for this particular kind of 'kawaii' shopping experience. They are Ichiban Kan and Daiso, both located at 22 Peace Plaza inside the Miyako Mall off Post Street.
And then, when you've had enough of cuteness for the day, why not try some grocery shopping to get you in the mood for food.
Food shopping at the Nijiya Market 
Nijiya Market is a place where you can wander up and down the aisles exploring many of the typical ingredients that are used in Japanese dishes. The store is stocked with products that have come straight from Japan, right down to the labels that are all in Japanese. But don't worry if you don't understand everything. Half the fun is in trying to work out how some of these things are used.
If you need a more compelling reason to visit Nijiya Market, however, their choice of fresh products may just tip the balance. Items readily available include pre-packed bento boxes, sushi trays, onigiri (Japanese rice balls), teriyaki, or seaweed salad. For dessert, try a green tea Kit-Kat, or whatever the current Kit-Kat flavor of the month is in Japan. If you want to eat Japanese cuisine while you're in JapanTown without paying restaurant prices, put some of these items in your shopping basket and you've got a picnic ready to go.
For a map and directions to the market, along with more reviews of what's on offer, see this Nijiya Market page.
Eating out in JapanTown
Japantown, as you would expect, has lots of restaurants offering various versions of Japanese food. Menus are clearly displayed so it's easy to get an idea on price and what each one is offering. The trouble is, if you're not from the area, how do you know which places are good?
Well, one restaurant that consistently gets good reviews is Kappa Japanese Restaurant at 1700 Post Street.  Kappa is a small restaurant with an intimate setting. It seats a maximum of 14 − 15 people so it's important to reserve your place in advance. The menu is seasonal, and the dishes are presented to you one by one. Even better, if you don't know the top of a Japanese menu from the bottom, there's the option of what's called an omakase (oh-mah-kah-say) menu. With omakase, the chef chooses your menu for you and you can just sit back and enjoy each dish as it arrives.  Read what other people are saying about their own experiences here.
And now that you're done with shopping and food in JapanTown, where can you go to get a bit of pampering and unwind a little?
Relax with a Japanese springs and spa experience
The Kabuki Springs and Spa is one place in San Francisco where you can experience the traditional community style bath as you would in Japan. If you're not familiar with this concept, in hot spring culture when you visit a Japanese onsen or bath, you're required to do it in the clothes you were born in. Yes. That's naked to you and me.
In Japan, most hot springs separate the male and female baths so it's not as embarrassing as it first sounds. In JapanTown, the Kabuki Springs manages this by opening the communal baths to one sex or the other on different days. You need to check their schedule for this so that you're not disappointed if you want to give it a whirl. In addition to the hot springs, Kabuki also provides many different spa options including Japanese massage, facials, body treatments, and acupuncture.
Kabuki is located at 1750 Geary Boulevard and is open daily from 10 am – 9:45 pm.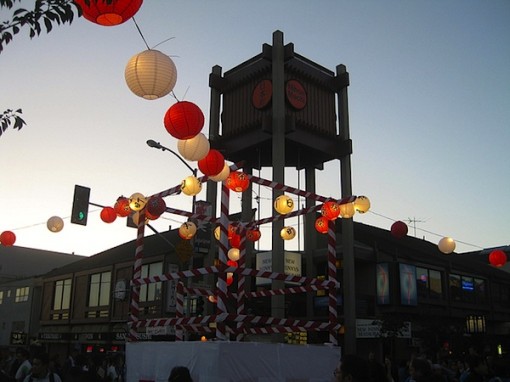 One last essential tip and how to get there
If you've decided you'd like to include JapanTown on your San Francisco itinerary, you're going to need some directions. The area as a whole is one mile west of Union Square. To get to JapanTown, you can either walk or catch the number 38 bus from Geary Street, or numbers 2, 3, or 4 from Sutter Street. Get off at Buchanan, Laguna, or Webster Street. If you're driving, see the official JapanTown page for directions.
What's that one last essential tip? Make sure you've got some cash on you. Many shops and restaurants in JapanTown do not accept any kind of plastic. If you've got no cash you won't be able to buy those kawaii souvenirs that you've just got to have.
P.S. If you know somewhere in JapanTown we've missed that deserves a recommendation, we'd love to hear from you. Add it in the comments and help future travelers have a great San Francisco vacation.
Photo credit: coolmikeol (Azusa, top); Juneelyn B (food); 
Honor has lived in Japan for 10 years and traveled extensively in Asia, South America and Europe, as well as some areas in the USA. Her favorite reasons for travel are to get a peek inside a culture through visits to local events and festivals, and learning more about the history and people of a place. Then there's always food. Of course! And the journey itself is just as important a part of her adventures. Honor's top three travel destinations are Japan, Uruguay, and Jordan.