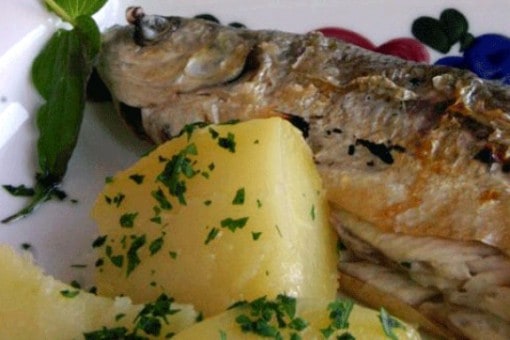 There's no arguing with a good schnitzel. Done right, it's crispy on the outside, moist on the inside, and oh so satisfying. In a concession to those that prefer to avoid pork or veal, many Austrian restaurants will also serve up a turkey schnitzel.  If it's properly prepared, it shares those same perfect schnitzel qualities — a nice crunch wrapping a tender cutlet that's been hammered to massive, plate obscuring proportions. Yum. Often, your schnitzel comes with a side of… nothing, you really should order some salad, man can't live on fried meat alone.
But there's more than schnitzel (and the ubiquitous sausage) to Austrian food. Austria used to control a vast empire and while her grand days of ruling Europe are gone, the country has retained the flavors of the empire in her cuisine. In addition to the cosmopolitan nature of her food, Austria has always prided herself on using local, fresh, organically produced ingredients. Grass fed beef, artisanal  cheeses, organic greens, trout plucked right from the clear freshwater lakes… Austria got her fixings from the farmer's market long before your supermarket had an organic veggies section. At the intersection of empire and organic, that's where Austrian food sits. It's delicious, but be warned: You're going to need room for dessert.
Wild Mushrooms: Those forested hillsides are perfect for foraging. In Tyrol, the mountainous province that borders Italy and Switzerland, you'll see polenta with wild mushrooms — in season — on the menu. Stop when you see a sign that says "Schwammerlzeit!" That means it's mushroom time. In Styria and Salzburg, it's more common to get a mushroom goulash, often featuring wild chantrelles accompanied big round bread dumplings.
Strudel: Apple or apricot, sure, and it's not unusual to be served a dessert strudel as a main meal in an Austrian home. But there's also savory strudels, the flaky pastry filled with cabbage and caraway seeds, or spinach, or a delicate sheep cheese. It may be swimming in a puddle of a creamy chive sauce, if you're lucky.
Cordon Bleu: Austria's continually changing borders mean that she claims this is hers, while others — the French, the Russians, even — claim they invented it. Never mind who's responsible, it's often on Austrian menus. Like a good schnitzel, it should be crispy on the outside. Cordon Blue includes a filling of ham and cheese, but it should be a paper thin slice of each, not a big meaty breakfasty slab of ham.
Schlutzkrapfen: This Tyrolean specialty says nothing quite so clearly as "Italy, that used to be ours." It's a ravioli and depending on where you get it, it's filled with a delicate ricotta or that ricotta with spinach, too.  The best ones are made in-house and are smothered in melted butter.
Nockerl, Kaese or Spinat: The German equivalent is probably the spaetzle, or gnocchi, for the Italians. When questioned, Austrians insist that they're not the same. No matter, the cheese or spinach nockerl is the equivalent of a gooey plate of mac and cheese — sort of. Replace the cheese with something fragrant from from a small mountain dairy and the mac with handmade pasta, somewhat lumpy and fluffy at the same time. Sometimes this comes with speck, big chunks of bacon, but don't be shy about asking for the vegetarian version, it's just as calorie choked.
Fresh water fish: The deep clean lakes of Austria make perfect homes for the alpine equivalents of trout and perch and other fresh water dwellers. Lakeside restaurants will serve up beautifully fresh grilled or lightly fried whole fishes with a side of parsley potatoes. There's also smoked fish, excellent with soft spreadable cheese on brown bread and a side of greens.
Game: Carnivores have the options beyond pork and beef. There's elk on the menu, served up in an pan browned onion gravy or in a ragout. Deer — venison — is widely available too, you'll see sausage and meat balls and various kinds of stew in deep little ceramic dishes with potatoes and carrots and a rich sauce.
All these dishes sound calorie laden, and indeed, Austrian food doesn't lean toward light. It is ideal when you've been striding about the grand alpine nature of the country, though, either in boots or on skis. It's food to fuel activity, even if that activity is a four museums in one day tour of Vienna.
It's a great pleasure to sit down to a fine Austrian meal. Roadside guest houses are often a safe bet — they serve up wholesome, fresh, Austrian home cooking at its finest. The service may be a bit slower than North Americans are used to, but you're there to dine, to enjoy your meal and your companions, not to simply eat. Peek at the menu — usually posted outside the front door — and then, as they say in Austria, "Mahlzeit!"
Four places to try traditional Austrian food
Gasthof Hotel Post, Strass im Zillertal, Tirol. Website in German, only. A nice stop if you're driving East from Innsbruck. Yummy Tyrolean specialties on the menu.
Piburger See, Piburg. Visiting the Oetztal? Dine lakeside, the trout on your plate comes from the lake, the garnish from the flower boxes on the balcony.  Website in German, only — ask locally for directions.
Gasthaus Krenn, Puergg, Styria. Website in German, only. In the center of a tiny, well preserved hillside village, right in the middle of Austria. Park outside the village and walk in.
7 Stern Brau, Vienna. Easily reached by the subway; your taxi driver should know the place. A little touristy, but good traditional food.  Website in English.
Photo credit:  Courtesy of the author.
Pam Mandel is a freelance writer and photography enthusiast from Seattle, Washington. Pam's top travel destinations are wherever she's heading next, but she loves Hawaii and the Pacific Northwest.
After a recent a trip to Antarctica, she joined the unofficial Seven Continents Club. She's on the web at Nerd's Eye View.