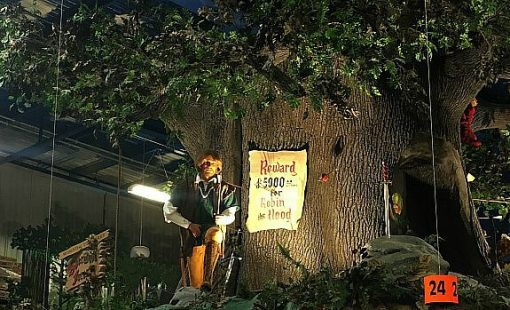 Jungle Jim's International Market is a self-proclaimed "International Food Lovers' Paradise". Not bad for an international grocery store outside of [easyazon_link identifier="1681060523″ locale="US" tag="thetravelersway-20″]Cincinnati, Ohio[/easyazon_link]. But to call Jungle Jim's a grocery store is a disservice. Jungle Jim's is a grocery experience!
Like all experiences, it is best to plan ahead for a visit to Jungle Jim's. First of all, know there are two locations. While the products housed within are relatively the same, the "attractions" are different. For example, the Fairfield store boasts an antique fire truck perched above the rows of hot sauce, a singing animatronic [easyazon_link identifier="140271257X" locale="US" tag="thetravelersway-20″]Robin Hood[/easyazon_link] guarding the International food division and a live fish bio-tank.  While the Eastgate store features a 1968 Airstream Camper marking the way to the natural foods area, a full-size Jelly-Belly car highlights the candy aisle and a tasting bar with over 40 beers on tap.
Jungle Jim's literally contains miles of grocery aisles all lined with edibles from around the world making it slightly overwhelming for a first time visitor. I recommend scheduling a tour in advance. Tour guides will take you on an hour-long walk through the store, explaining the history of Jungle Jim's, exploring the aisles and sampling food along the way. A nominal fee is charged for the tour, but participants are given a discount coupon for purchases. If a tour is unavailable, another great option is to pick up a map at the entrance and follow the dotted line for a thorough, self-guided tour.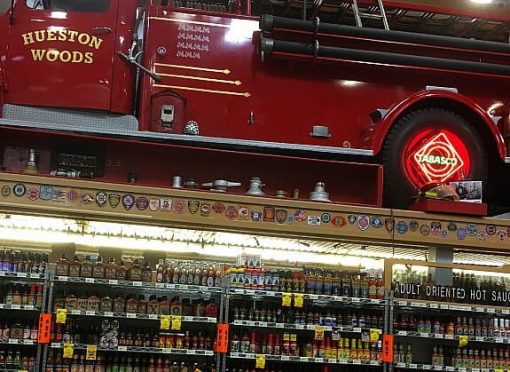 Make sure you have enough time to truly explore the six-acre foodie village. Not only will you want to take it all in, but the staff within each department is so helpful and well informed on the products you should relish the opportunity to hear their descriptions and suggestions. Not even a fan of hot and spicy food, I found myself purchasing three bottles of [easyazon_link identifier="B000FIBBWS" locale="US" tag="thetravelersway-20″]hot sauce[/easyazon_link] after exchanging recipes with the head of the department.
Another suggestion is to bring along a cooler or insulated bag to protect perishable items. The cheese selection alone is situated within four aisles and divided into categories by milk type and country of origin. There is an entire ten-foot, manned deli case devoted to fresh Mozzarella cheese alone. A variety of cheese balls, dips, and spreads, both savory and sweet, are also available for purchase. My only regret is that they were not offered in smaller containers or that I didn't bring a larger cooler.
Conveniently located next to the cheese department is a selection of charcuterie with smoked and cured meats, pates, salami, and prosciutto. The adjacent Olive Pit is loaded with assorted types of marinated, stuffed and even dried olives and other Mediterranean brined vegetables and antipastos. Following the
Following the map, you will arrive at the bakery with a tempting display of bread to round out this picnic fare. The bread I selected, a multiseed sourdough, was still warm as they handed me the package. Be sure you notice the cases curve to reveal the cakes, pastries and all variety of sweet treats including Sinful Sow cake pops made with chocolate, bacon, caramel and pecans.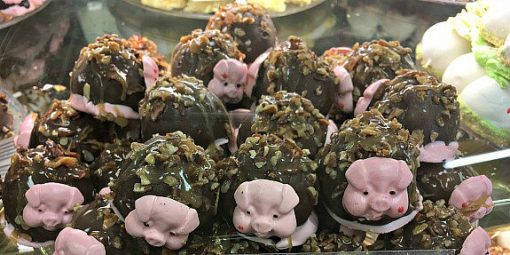 A few steps further you find the beer and wine. It would be hard not to find something you don't like with the selection of over 4,000 specialty, international and featured craft brews. Tastings from Ohio, Kentucky, and microbreweries beyond allow customers to sample and sip pints or take home growlers in two sizes. Attend a $3 Pint Night and keep the glass as a souvenir. Wine lovers fear not, over 12,000 wines will greet you with everything from local organic fruit wines to premium collector bottles.
Fresh seafood is available from the deck of a real boat marooned within the store and comically named the S.S. Minnow. While some might question the term "fresh seafood" in Ohio, when you see the large tanks of fish swimming before your eyes, you know you can't get much fresher. Even the smoked fish is created in store.
Local shoppers could purchase their weekly groceries from the American Groceries section as I found the variety of the items on the shelves and prices listed on the weekly sales flyer to be comparable to any chain grocery store. With the added bonus of the specialty bakery, fresh seafood, and extensive deli area, I know this would be my go-to store if I lived nearby.
Beyond shopping, tickets are available for a variety of food fests and food events like the recent Bacon & Cheese Festival offering unlimited samples of food creations featuring, you guessed it, bacon and cheese. Other events feature beer, wine, and seafood. For those that like their food hot, plan to attend the upcoming 10th annual Weekend of Fire, the largest fiery food festival in the Midwest, held October 7-8, 2017.
Hands-on and demonstration cooking classes are also offered for registered participants. Seasonal class offerings include a single food item prepared multiple ways, to full meals centered around a theme, or pairings and tastings for wine, beer, and alcohol from around the world. Couples classes like the popular, Couples at the Grill, provide an interactive twist to date-night.
Photo credits: J. Ingersoll
Pin to your favorite Travel or Foodie board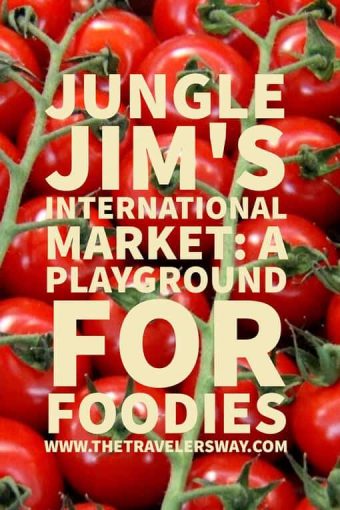 Disclosure:  This post contains affiliate links. Clicking through for additional information or to make a purchase may result in a small commission being paid. By doing so, you help support this site and its authors, and we thank you.
Having been transplanted numerous times, I have learned to explore the sites around our new found hometown, uncovering hidden gems and attractions. When vacation time rolls around, I enjoy traveling with my family and the occasional weekend escape with my husband, coming home to share our travel experiences with others. You can follow me on Twitter @JAIngersoll. My top three destinations are Walt Disney World Resort, the Midwest and any beach I can walk along.