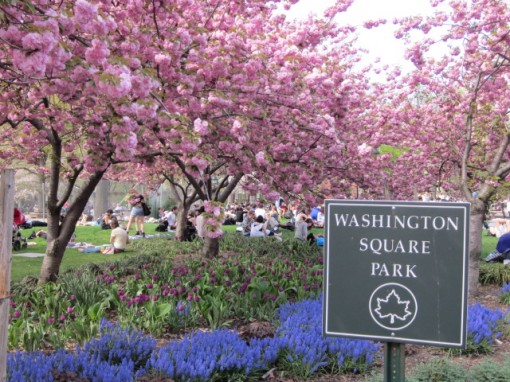 Spring finally has a firm grip on New York City, and after a long winter one thing has captured this New Yorker's imagination: eating outdoors. There are many wonderful restaurants with back gardens and tables on the sidewalk, but another option for eating outdoors is to plan a picnic in the park. Musicians and blooming flowers will give your picnic some extra atmosphere too.
If you're visiting New York, there are many wonderful places to stock up on picnic supplies. While budget travelers might first think of a grocery store, there are many other affordable options that are a bit more fun. A picnic can be just as full of character and exciting flavors as sitting down at a restaurant – if you know where to look.
Here are some suggestions of my favorite places to pick up picnic supplies, in a range of prices. Let's start with the decadent first:
1. Murray's Cheese
This Greenwich Village cheese institution has been getting New Yorkers addicted to a wide range of cheese since 1940. While a cheese shop might not be the first place you think of to stock up on picnic supplies, you'll see what I mean when you cross Murray's threshold. They have loaves of gorgeous breads and a wide range of artisan crackers to accompany your cheese. They also have a selection of olives, charcuterie, and even a few small cheese plates complete with fruit and nuts if you're feeling lazy and don't want to assemble a whole picnic yourself. If you've got a big appetite, take a peak in the window where toasty treats like square pizza slices are waiting to be gobbled up. Walk a few blocks to nearby Washington Square Park for your picnic.
Murray's Cheese, 254 Bleecker Street (between 6th and 7th Avenue). Prices: Loaf of bread $2 – $4. Small pre-packaged cheese plate $10. Price of individual cheeses vary wildly; you can spend as much as you like on a picnic from Murray's.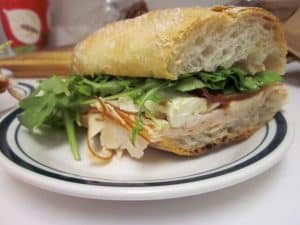 2. Alidoro
There are some sandwich shops that are so special, so irresistible, that they are worth a wait. If you arrive at Alidoro on a leafy street in SoHo any time between 12:30 and 2 pm, you can expect to join a line that usually extends out the door. It's a small shop though, and the line for these Italian sandwiches is never much longer than 10 or 15 minutes. If it is your first visit to Alidoro, you will be glad to have the time to make a decision on your sandwich of choice. You order here by name (the Pavarotti, the Puccini, etc.) and the list of sandwiches is full of temptations. Depending on your appetite, one sandwich is actually enough to feed two people. Walk a few blocks along Spring Street, and across the West Side Highway, to enjoy your taste of Italy in Hudson River Park.
Alidoro, 105 Sullivan Street (between Spring and Prince). Prices: $10 – $13 for a sandwich that can feed two. If you have a larger appetite, order two sandwiches for two people and try different options.
3. Shake Shack
If you've ever strolled through Madison Square Park and not known about Shake Shack, your first reaction would be: what are all these people waiting for? The line for these famous burgers, hot dogs, fries, and shakes is often over 100 feet in length. Yet many New Yorkers, proclaiming their love for everything Shake Shack, say they would happily wait an hour or more for the treat. The trick is to arrive early or late. Plan a picnic for 12 noon and you won't have to wait an hour for the perfect burgers. If you had a large breakfast, show up around 4 pm and only a handful of people will be ahead of you in line. While that burger and fries are hot, take a seat in beautiful Madison Square Park for a look up at the historic Flatiron Building.
Shake Shack, Madison Square Park (corner of 23rd Street and Madison Avenue). Prices: $4.50 for a single shack burger, $2.65 for fries, $5.00 for a basic shake.
4. Chelsea Market
The green space in Manhattan with the most recent buzz is the High Line Park. Transformed from an elevated train track to a gorgeous park complete with tables and chairs, and even some sun loungers, this is one of the best places in the city for a picnic. Luckily Chelsea Market is right nearby for picking up supplies. Enter Chelsea Market on the 9th Avenue entrance, and by the time you emerge at the 10th Avenue entrance with your goodies, you will be steps away from the entrance to the High Line. Every visitor will be drawn to different picnic items, but some of my favorite vendors in Chelsea Market include Amy's Bread, Ninth Street Espresso, and the Lobster Place Seafood Market.
Chelsea Market, 9th Avenue between 15th and 16th Street. Prices vary widely depending on whether you buy a loaf of bread, a sandwich, or something more decadent. Options for every price range.
If you're lucky enough to visit New York during these days of perfect weather, spending an afternoon over one of these picnics might just be better than any restaurant meal.
Photo Credit: All photos from the personal collection of Jessica Colley.
Jessica Colley is a freelance travel and food writer based in New York City. She proudly called Dublin home from 2008 – 2010 and writes frequently about the city and Ireland. Three of Jessica's favorite travel destinations are Ireland, Italy, and Berlin. Find her online at www.thegreatamericantraveldream.com and on Twitter @jessicacolley.