It's magic mushroom time in Mendocino County with the 14th annual Mushroom,Wine, and Beer Fest. From the rolling hills of Yorkville Highlands to the Pygmy Forest of Van Damme State Park, the seasonal forage for local porcinis, chanterelles, and candy caps hits a high note this fall.
Straddling historic Highways 1 and 101 with nearly 2,500 square miles of coveted live oak and redwood forest, the region is a natural hotspot for some 3,000 mushroom varieties. Add a cache of artisanal chefs, 85 wineries, an evolving craft beer and hard cider scene and the annual salute to Mr. Fungi sprouts into action November 1-10, 2013.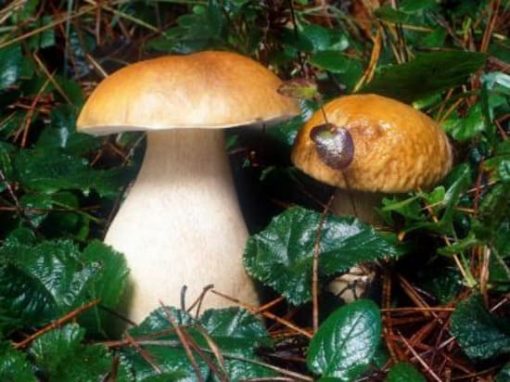 The bounty of the county rolls out with wild mushroom foraging excursions, farm-to-table mushroom-infused menus, educational seminars, art exhibits and annual Skunk Train trek and cook-off deep in the depths of the Noyo River Canyon and forest. To cap the adventure, regional restaurants and lodging properties from Boonville to Willits, Mendocino to Point Arena are offering special menus and packages. Take a look at some of the key events of the 2013 event.
Mushroom, Wine & Beer Train – For the ultimate outback experience only accessible via train, hop aboard the iconic Skunk Train. Departing from both Fort Bragg and Willits, the adventure includes fungi hikes, wine tasting and culinary capers making a move with mushrooms. A Mighty Mushroom Weigh-Off, finale cook-off and judging as well as a presentation by local mushroom expert Eric Schramm wrap up the day. November 2nd, 2012, 10 am-5 pm. $95 per person/inclusive.
Room at the Inn – From "Shrooming" packages to "Fungi & Girl" spa getaways, you'll find lodging deals across Mendocino country. Check in and check out with a stay at the recently opened Heritage House Resort in Little River (rates start at $189/double), bunk down in an 1886 former water tower at the Abalone Tower & Weller House Inn (rates start at $300/2 nights, double), or soak up the local culture with Little River Inn's "Mushroom Mania" ocean-front cottage package (rates start at $139/double). Other top accommodation packages include Baechtel Creek Inn & Spa's "Fungi & Girl" package including two spa treatments, premium guestroom and passes to the annual Mushroom, Wine & Beer Train event (rates start at $499/double) and Dennen's Victorian Farmhouse just outside of the village of Mendocino offers a flat 25 percent discount (rates start at $135/double). Restrictions and blackout periods apply, based on availability.
Power to the Porcini – From stuffed mushroom ravioli with Pennyroyal Farm Laychee goat cheese and truffle cream to Porcini pizza at the new Stone & Embers or full tasting menu at Stanford Inn's award-winning Ravens' Restaurant, the options for putting a fork into friendly fungi abound. Throughout the county, 32 restaurants are offering special menus during the festival. In addition, two passports are offered featuring 40 wineries and breweries showcasing special mushroom pairings, events and entertainment.
Fungi Foraging – Rain means wild mushrooms, and nowhere are they more prevalent than along the coastal forest and dense redwoods of Mendocino County. During the festival, guests can take to horseback, bike rides, kayaks and mycologist tours.
Ride with the Hunt – Mushroom hunts on horseback are offered at Ricochet Ridge Ranch every day of the festival.
Liquid Fusion Kayak Mushroom Paddles – Tour the calm waters of the Noyo River in search of wild mushrooms while you enjoy the quiet solitude of the Noyo River, fall scenery, colorful migratory ducks, and mysterious mushrooms. Liquid Fushion Kayak is offering these 3-hour guided adventures on November 3rd and 10th, 2013.
Hunt for the Wild Mushroom Mountain Bike Ride – Put the "fun" in "fungi" with daily bike tours offered with local experts on November 2-3, and 9-10.
Mushrooms at the Mendocino Coast Botanical Gardens – Join the the staff mycologist for a series of weekly mushroom workshops and walks at the Botanical Gardens. (Mycology is the branch of science that studies fungi.)
Beginner's Mushroom Identification Walk, Talk and Tasting –  Author (Mushrooms Demystified) and wild mushroom expert David Arora helps guests become more knowledgeable on a walk offered November 16th, 10 am-4 pm. 10:00 am–4:00 pm
#MendocinoGoneWild Instagram contest – During the festival, an Instagram contest will share images of wild-found edibles throughout Mendocino County using the hashtag #MendocinoGoneWild.
Mendocino is located about 114 miles north of San Francisco and is easily reached via three area airports:  San Francisco (SFO), Oakland (OAK), and Sonoma Country (STS).
Photo credit:  Courtesy of Visit Mendocino and KOLI Communications
Mary Jo Manzanares is a founder and the editor-in-chief of The Traveler's Way, an online travel magazine proving informational and inspirational travel recommendations for curious Baby Boomer travelers. She has been a speaker at various industry events and has a personal travel blog at Traveling with MJ. When she's not traveling, Mary Jo likes lingering over a cup of coffee, wandering in a museum, sipping wine at a cafe, and sharing it all with friends and readers. Mary Jo's top travel destinations are Italy, Portugal, and the Caribbean.