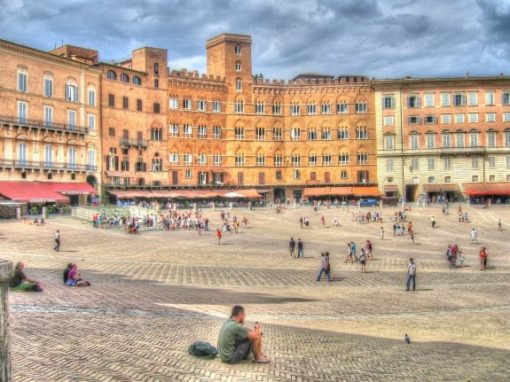 From the Kentucky Derby to the United Kingdom's Derby Stakes, horse racing captures the attention of fans around the world as they cheer their favorite around an oval track. While those races may be held on a wide open track, the Palio de Sienna is a racing derby held in the city square. It's got the same thrills, perhaps with more spills, however, and the twice yearly race and accompanying pageant and spectacle, attracts fans from around the world.
Jockeys gather in the Piazza del Campo, representing parts jockeys from all parts of Siena. The race is as much for boasting pride as it is for the loving cup, with community rivalries that date back to the medieval era.
Palio di Siena is also considered the most dangerous horse race in the world.  Jockeys ride without saddles, separated from spectators by a thin barrier, as they race around the square in crowded conditions. Falls and trampling are not uncommon, but this is a ride for the glory of community. 
And when the race is over, and the debris is cleared away, the plaza resumes it peaceful and relaxing state. This photo, taken the day after the race, looks like nothing had ever happened.
Photo credit:  Courtesy of Mary Jo Manzanares 
What I love about traveling is that you can learn about new cultures, explore new places, taste their food and get the chance to meet exciting and interesting people. I love going to the beach. I want to go to places that have snow since we have a tropical weather here. I always wonder what it feels like!