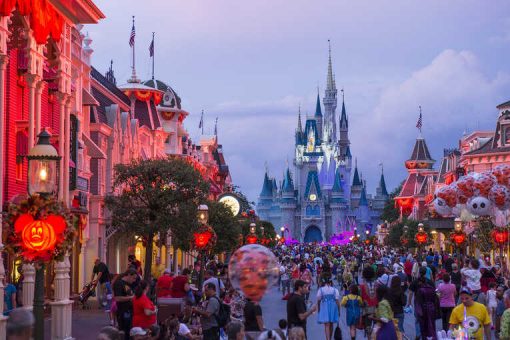 In a two-month Celebration with over 130 nights of activities, [easyazon_link identifier="1628090308″ locale="US" tag="thetravelersway-20″]Orlando, Florida[/easyazon_link] becomes the Halloween Capital of the World featuring every type of activity imaginable – from extreme adult scares to kid-friendly frights. You'll find popular villains from movies and television, as well as the U.S.'s largest horror convention, Spooky Empire.
Here is a showcase of events that will get you prepared for the spooky season.
Sinister Celebrations for Teens and Up
Some may be surprised at the breadth of adult- and teen- focused frights in this destination known for family-friendly fun. Haunted houses with cutting-edge technology, cinematic-grade scares, an outdoor haunted forest, and a zombie walk are just a few of the adrenaline-pumping options guaranteed to send even the biggest "kids" screaming, and then coming back for more.
Halloween Horror Nights 26 at Universal Orlando Resort, bringing nightmares to life for hair-raising entertainment. On select nights September 16 – October 31, visitors can explore nine all-new haunted houses, featuring characters from fan favorites like "[easyazon_link identifier="B00A3Z3BSK" locale="US" tag="thetravelersway-20″]The Exorcist[/easyazon_link]", "[easyazon_link identifier="B00NN57F34″ locale="US" tag="thetravelersway-20″]The Texas Chain Saw Massacre[/easyazon_link]" and the popular television show "[easyazon_link identifier="B005LAJ1O0″ locale="US" tag="thetravelersway-20″]American Horror Story[/easyazon_link]". Even outside the houses, guests aren't safe from spooks, as monsters prowl the streets between in "Scare Zones". This year, Universal takes the horror experience even further with a new add-on virtual reality horror experience, "The Repository".
Spooky Empire, the largest horror convention in the nation, taking place October 7 – 9. Bigger than ever, this year's lineup of celebrity guests includes Millie Bobby Brown from the hit Netflix series "[easyazon_link identifier="B01JVW2TVA" locale="US" tag="thetravelersway-20″]Stranger Things[/easyazon_link]," and popular comedian and musician, Weird Al Yankovic. Other thrills and chills at the convention include a tattoo festival, costume contest, zombie walk and film festival.
A Petrified Forest, bringing the demented to life with two outdoor scare trails, live music, food, and more on select nights, September 30 – October 29. This year, the unsettling haunt invites guests to relive their childhood fears, from monsters under the bed to the darkest "scary" tales imaginable. A demented dream land beckons visitors in, but when – or if – they return is anyone's guess.
Howl-O-Scream at Busch Gardens Tampa Bay, select nights September 23 – October 30. For those who can't get enough of menacing mayhem, Howl-O-Scream is just a quick trip outside Orlando. Offering haunted houses, creepy characters and a lot of dark corners, this year's "Evil Encore" theme includes two new haunted houses and the eerie fantastic Fiends Show.
Orlando Ballet: Dracula at Dr. Phillips Center for the Performing Arts, October 28 – 30. Michael Pink's internationally renowned Dracula combines the fascinating horror of [easyazon_link identifier="B01BTITH9G" locale="US" tag="thetravelersway-20″]Bram Stoker's 1897 classic[/easyazon_link] with expressive, dramatic choreography, well-placed theatrical effects, a colorful score by Philip Feeney and intriguingly dimensional sets.
Ghoulish Events for All Ages
Orlando's family fun reflects a mischievous mood in the fall with a boo-nanza of events where kids can celebrate with monsters and villains, dress in costume and trick-or-treat in some of the world's most beloved locations.
Mickeys Not-So-Scary Halloween Party at Walt Disney World Resort. On select nights between September 2 – October 31, the Magic Kingdom comes alive with jack-o-lanterns, special characters, and entertainment for the whole family to enjoy. Come dressed for the occasion,and trick-or-treat throughout the park and meet your favorite Disney characters. Guests can groove with Disney-Pixar film characters from [easyazon_link identifier="B00BHU9CCO" locale="US" tag="thetravelersway-20″]Monsters, Inc[/easyazon_link]. at the Scream-O-Ween Dance Party, sing along at the Hocus Pocus Villain Spelltacular and end the night with fireworks nothing short of boo-tacular.
SeaWorld's Halloween Spooktacular, where guests are immersed in an underwater "fantasea" that includes up-close animal encounters, trick-or-treating, playful pumpkin fish, and sea-themed arts & crafts. Guests can also reserve seats for Sesame Street's Countdown to Halloween for the chance to interact with beloved characters. The fun takes place at SeaWorld, every weekend in October.
Brick or Treat at LEGOLAND Florida Resort, select nights from October 1-31. At this spooky, kooky celebration, guests can trick-or-treat, participate in [easyazon_link identifier="0756686067″ locale="US" tag="thetravelersway-20″]LEGO building activities[/easyazon_link] and even join a scavenger hunt through the park. Other highlights include the world's largest LEGO jack-o-lantern, LEGO Halloween characters like Vladimir the Vampyre and a bewitching Halloween-themed fireworks show at Pirates' Cove.
The Crayola Experience, featuring "monster mania," where guests can trick-or-treat while exploring 25-colorful-hands-on attractions including creating monster-ific crafts and taking pictures with their ghostly characters during the whole month of October.
Zoo Boo Bash at the Central Florida Zoo and Botanical Gardens, offering a night full of ghoulish fun in the wildest neighborhood in town. Guests can trick-or-treat, enjoy face painting and participate in costume contests on select nights, Oct. 22-30.
I-Drive 360 will cast an orange illumination on the Coca-Cola Orlando Eye in celebration of Halloween October 29-31. In addition, trick-or-treating, a live DJ and costume and dance contests create fun for the entire family.
For help finding the right Orlando hotel for your Halloween vacation, read these reviews here.
Pin this to your favorite Halloween or Travel Pinterest board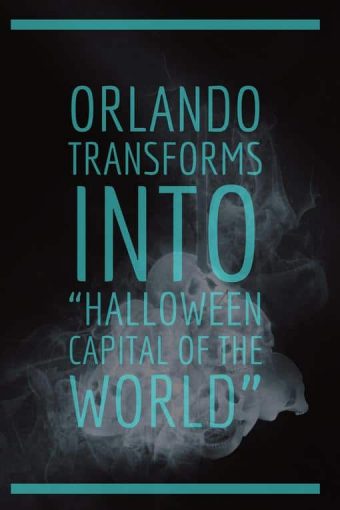 Photo credit:  Courtesy of Visit Orlando.
Disclosure:  This post may contain affiliate links. You can click through to get information or make a purchase (at the same low price), and in return, it supports this blog.
Anthony has found travel provides a healthy balance to his day job as a criminal defense attorney. Living on the periphery of blogging for years, he's now decided to flex his creative muscles with a little writing and photography of his own. Anthony's favorite travel destinations are the Caribbean, Italy, and Ireland.