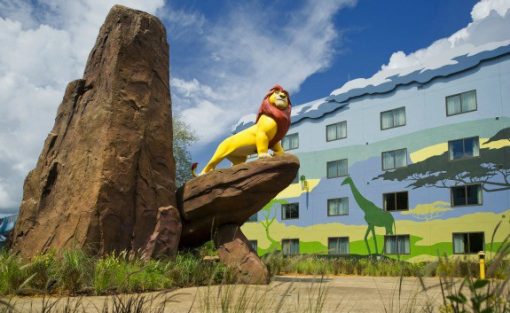 A new Value Resort property has opened at Walt Disney World allowing vacationers to feel immersed in some of the most popular Disney-Pixar films.  Art of Animation Resort opened in phases between May and September 2012, with four separate wings each celebrating the rich stories, characters and animation of The Lion King, Finding Nemo, The Little Mermaid and Cars.
The Resort displays the entire animation process, from black and white pencil drawings to final artist sketches that create the spirited characters and colorful themes of our favorite movies.  From the moment I arrived at the gated-entrance I noticed the bright colors from the artist palette that decorate the Resort's exterior.  One of my favorite touches came from group of gentlemen that used a bucket of water and long handled paint brushes to create "water painted" images on the sidewalks throughout the resort. Just outside the lobby, young guests can create their own images of Disney characters by following the how-to instructions posted on a set of easels.  It's a great way to keep excited youngsters occupied during the check-in process, which can be lengthy.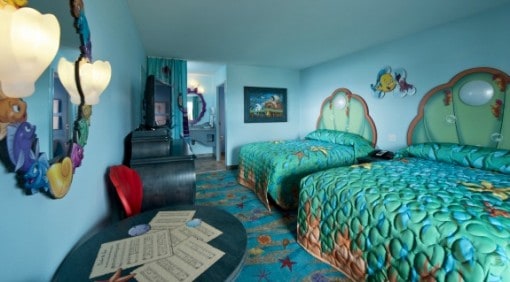 Three wings feature family suites and The Little Mermaid wing has standard guest rooms.  I stayed in one of the family suites in the Cars wing.  Walking down the paved walkway, painted gray with yellow stripes down the middle, I felt like I was traveling Route 66.  The outside of the buildings are painted in colors and style reminiscent of the desert, accented by the plant life and landscaping.  I felt a rush of excitement, as if I had run into a celebrity, as I discovered life-size replicas of Doc Hudson, Filmore, Luigi, Guido, Sheriff, Flo, Sally, and, of course, Lightening McQueen – all are parked along the path.
Perhaps my favorite features within the Cars area is the pool.  Instead of umbrellas that shade vacationers from the sun, guests can enjoy the shade provided by giant orange traffic cones.  Available on a first come first serve basis, each cone holds four lounge chairs and has small windows cut in each side. The traditional hole at the top of the cone provides enough air flow to keep the area cool, even in the desert sun.  Two lifeguards stood vigil over the pool, walking their assigned route continuously, even though no one was in the pool at the time. Your little ones will be safe here.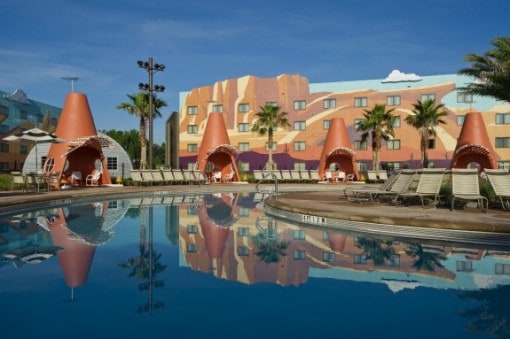 Our suite had two full bathrooms, one featured a shower and the other a tub/shower combination with separate toilet and sink area. It's a perfect layout to get several family members ready at the same time.  A hair-dryer and ample supply of soap and shampoo is provided to guests, however no hand/body lotion – which I found I really missed. A small kitchenette with microwave, coffee maker (coffee and tea provided, but no creamer) and refrigerator help to accommodate light meals and snacks.
The room description can be a bit deceiving as it states "three sleeping areas".  Instead you will find one separate bedroom, a sleeper sofa, and Murphy-style bed that pulls out of the wall to rest on a table-top. All are located within the living area of the suite.  Three beds, yes, but two are within very close proximity of each other.  I found the Murphy bed to be quite comfortable and loved the dimmer light and small ledge where I could conveniently place my reading glasses, book and alarm clock.  Still, situated close to the door of the suite, I was awakened several times by noise from other guests in the hallway. I would not advise assigning light sleepers to this bed. And if you have a large family or group, it may be a bit too much togetherness for comfort.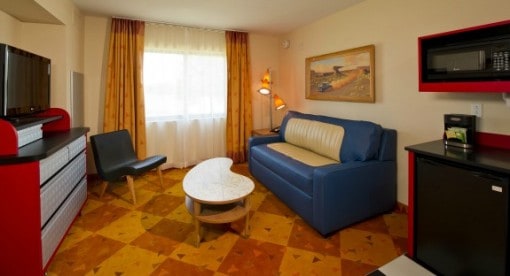 While the layout is basically the same for each suite, great detail was carried out in the decorations fitting the theme of each wing.  For instance, the shower in a Lion King suite is tiled in such fashion and color to depict an African sunset.  The shower curtain in the Nemo suites features a larger than life likeness of Bruce, the shark, and the image displayed when the Murphy-bed is lowered depicts a sleeping Nemo and his father Marlin.
There are convenient and well-marked queues for riding the complimentary Magic Express buses to all theme parks, water parks, and Downtown Disney.  If you are located in one of the outlying buildings, however, there is a great bit of walking to reach the bus stops.  If someone in your party has difficulty in walking, I would suggest you mention this when making your reservation. The Resort seems to be conveniently located within Walt Disney World and the length of the bus ride for all parks were relatively short.
The Resort features a rather large gift shop, arcade filled with video style games, a playground, a splash area known as a sprayground, and pools with scheduled activities.  Resort keys must be used to access the pool areas, so guests might want to tuck-in a waterproof key holder in their suitcase.  Guests can also take part in daily scheduled art classes, or a one hour tour of the Resort property.  And the nightly "Movie Under the Stars" is a real treat and great way to wind down a wonderful day.
Meals can be purchased at the on-site restaurant, Landscape of Flavors.  Serving breakfast, lunch, dinner, and snacks from five stations you'll find a variety of fresh made menu items. Or try The Market where you can purchase milk, juice, baked goods, beer and half-bottles of wine as well as healthy snack items including a clever (and economical) kids yogurt platter or sweet and savory cheese platter.
Perhaps the greatest convenience was the ability to use the Resort Airline Check-In.  Open daily from 5 am-1 pm, guests are able to check-in for their flight (no less than three hours prior to departure). Similar to curb-side check-in of the past, guests can confirm their flight, print boarding passes, pay any luggage fees, and check your luggage.  What a relief to merely head to the security check-point upon arrival at the airport!
Photo credit: WDW News
NOTE:  While the author was provided a complimentary stay for the purpose of a review, the opinions expressed are strictly her own.
Having been transplanted numerous times, I have learned to explore the sites around our new found hometown, uncovering hidden gems and attractions. When vacation time rolls around, I enjoy traveling with my family and the occasional weekend escape with my husband, coming home to share our travel experiences with others. You can follow me on Twitter @JAIngersoll. My top three destinations are Walt Disney World Resort, the Midwest and any beach I can walk along.