As autumn winds swirl, full moons rise and black cats come out to play, it's time to book a visit to the legendary Winchester Mystery House, one of America's most legendary haunted mansions, as it introduces Halloween Candlelight Tours. In a chilling and Gothic atmosphere, this all-new immersive experience lets guests' imaginations guide them through the storied 160-room Victorian mansion noted for its paranormal activity.
For nearly 100 years the Winchester Mystery House has stood as a testament to the ingenuity, persistence of vision and lore that surrounds its namesake, Sarah Winchester (heir to the Winchester Repeating Rifle fortune). A true pioneer who crisscrossed the United States via steam train many times during the waning days of the "wild west," Sarah Winchester lives on in legend as a grieving widow who continuously built onto her small farmhouse to appease the spirits of those killed by the guns manufactured by her husband's firearms company.
The mansion is renowned for its many architectural curiosities and paranormal activity. From 1884-1922 construction never ceased as the original farm house grew into the world's most unusual and sprawling mansion (24,000 square feet built at a then astronomical cost of $5 million), featuring: 160 rooms, 2,000 doors, 10,000 windows, 9 kitchens, 13 bathrooms, plus 47 stairways and fireplaces.
On this new guided tour, candlelight provides the only illumination through the bewildering maze of rooms, frozen in a state of arrested decay or still resplendent in Victorian grandeur. Although festive Halloween touches have been introduced, the atmosphere is still heavy with foreboding as an unseen presence seems to be watching at all times.
Unnerving? Perhaps. But after all, what can you expect from a home that is 132 years old and shrouded in paranormal legend. You never know who has decided to permanently behind.
The Winchester Mystery House is open year round and has often been called one of the most haunted places in the world. This nighttime tour of the intimidating mansion overlays a macabre atmosphere to an already creepy location. Let your imagination run rampant, and see if you connect with what many call an eerie presence.
The Winchester Mystery House is listed on the National Register of Historic Places and is also a California Historic State Landmark and a San Jose City Landmark. It is located at 525 South Winchester Boulevard, San Jose, California.
Brave souls can experience Halloween by candlelight at Winchester Mystery House during only 10 evenings in October 2016 (October 7 and 8, 14 and 15, 21 and 22, and 28 – 31). Ticket prices vary from $35 – $49, advance purchase is recommended.
If you're staying in the area, these hotel reviews may be helpful in making the right selection for your preference and budget.
Pin this to your favorite Halloween or Travel Pinterest Boards.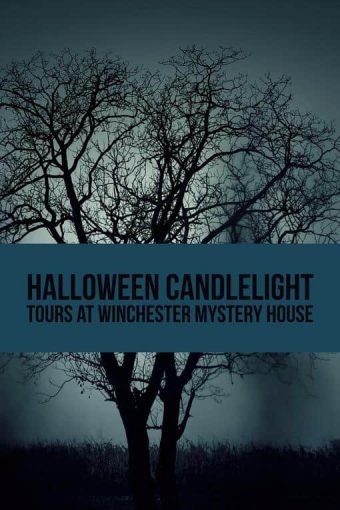 Disclosure:  This post may contain affiliate links. You can click through to get information or make a purchase (at the same low price), and in return, it supports this blog.
Photo credit: tkksummers
Anthony has found travel provides a healthy balance to his day job as a criminal defense attorney. Living on the periphery of blogging for years, he's now decided to flex his creative muscles with a little writing and photography of his own. Anthony's favorite travel destinations are the Caribbean, Italy, and Ireland.