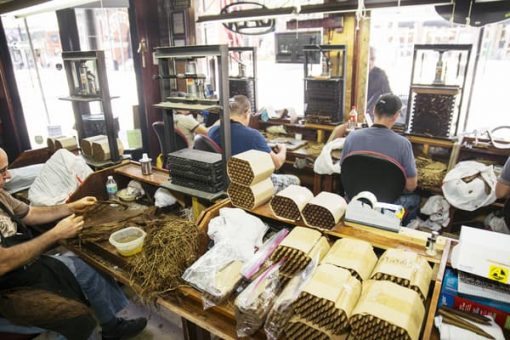 With all the emphasis on travel to [easyazon_link identifier="B00K1F4SK2″ locale="US" tag="thetravelersway-20″]Cuba[/easyazon_link] – and yes, we really do want to go there – don't overlook the Cuban food, history, and culture that you can find right here in the United States.
Most travelers typically think of [easyazon_link identifier="B00GZCYW92″ locale="US" tag="thetravelersway-20″]Miami's "little Havana"[/easyazon_link] when it comes to Cuban culture in the U.S., but Tampa Bay's relationship with Cuba precedes Miami's, dating back to the 1880s. The relationship was strained during the Cuban embargo imposed in 1962 although, fortunately, the vibrant culture of the Cubans living in Tampa Bay kept it alive.
Here are just a few ways you can get a taste and feel of Cuban culture in [easyazon_link identifier="B003AU5WX2″ locale="US" tag="thetravelersway-20″]Tampa Bay[/easyazon_link]. No passport required!
Take a walking tour of historic Ybor City. Tampa Bay's Latin Quarter was founded by cigar magnate and Cuban exile Vicente Martinez Ybor, who moved his cigar business there in the 1880s. In the following decades, Tampa Bay became a magnet for Cubans, building deep social and commercial connections between Tampa and Havana. Today's brick streets, iron balconies, and strong cafe con leche hark back to those earlier days.
Cuban torcedores still roll hand-made cigars along Seventh Avenue (La Séptima) as they did when Tampa Bay produced millions of cigars using tobacco grown in Cuba, making us the Cigar Capital of the World. Today, the tobacco comes from Central America, but the skilled hands are all Cuban. Sample a smoke over Cuban coffee and listen – or join in — while the Spanish-speaking locals debate the issues of the day at a sidewalk café.
The world famous Cuban sandwich has developed many permutations over more than a century, but the original was invented here at Ybor City's El Pasaje hotel to feed all those Cuban cigar workers. Don Vicente himself approved the final recipe. To wash those sandwiches down, Florida's first commercial brewery opened in Ybor City in 1897, shipping much of what it produced to thirsty residents of Havana.
Step into Cuba without a passport when you visit José Martí Park. The oldest piece of Cuban-owned soil in the U.S. – still officially international territory – the park commemorates the connection between el "hombre sincero" and Tampa Bay. The [easyazon_link identifier="1920888748″ locale="US" tag="thetravelersway-20″]Cuban poet and freedom fighter[/easyazon_link] found support for his 1890s revolution against Spain among Ybor City's army of cigar workers. Marti survived an assassination attempt in Ybor City and recovered with the help of local supporters. The José Martí Trail gives a self-guided tour via your smartphone.
Striking silver minarets make downtown's former Tampa Bay Hotel a local icon. Now part of the [easyazon_link identifier="B015XTMX9S" locale="US" tag="thetravelersway-20″]University of Tampa[/easyazon_link], the historic Moorish-inspired building was the headquarters for the US military in the run-up to the [easyazon_link identifier="B01LYV5MO1″ locale="US" tag="thetravelersway-20″]Spanish-American War[/easyazon_link], which ultimately freed Cuban from Spanish rule. The invasion of Cuba launched from the Port of Tampa. Then-Lt. Col. [easyazon_link identifier="1931082650″ locale="US" tag="thetravelersway-20″]Teddy Roosevelt's Rough Riders[/easyazon_link] left an indelible impression on Tampa Bay.
If your discoveries in Tampa Bay have you itching to visit Cuba, Southwest Airlines has a daily flight from Tampa to Havana (TPA-HAV) that will let you visit as a day trip. This is an attractive alternative for travelers who have an interest in visiting the island nation, but who aren't ready to tackle the intricacies (and often difficulties) of overnighting. The flight schedule will give you about 10 hours to enjoy the island, perhaps just long enough to convince you to make a return visit.
For Tampa hotel information, rates, and booking details click here.
Pin this to your favorite Pinterest boards.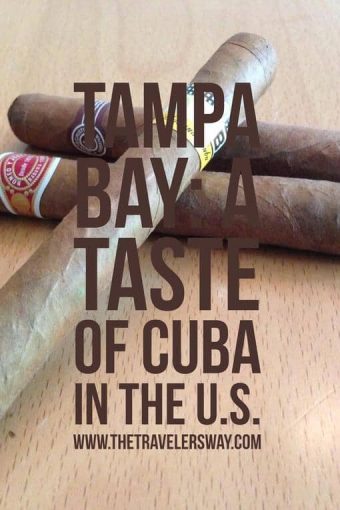 Disclosure:  This post contains affiliate links. Clicking through for additional information or to make a purchase may result in a small commission being paid. By doing so, you help support this site and its authors, and we thank you.
Anthony has found travel provides a healthy balance to his day job as a criminal defense attorney. Living on the periphery of blogging for years, he's now decided to flex his creative muscles with a little writing and photography of his own. Anthony's favorite travel destinations are the Caribbean, Italy, and Ireland.