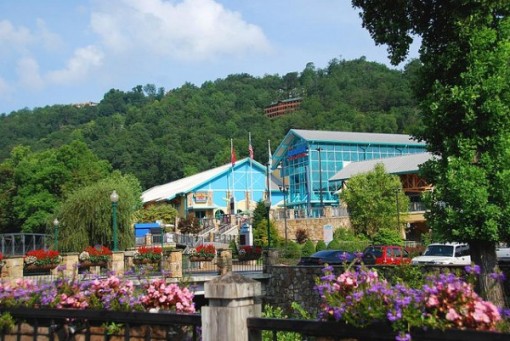 Gatlinburg!  To some, the mere mention of the Tennessee town conjures up images of a countrified tourist destination.  True, the downtown streets of this Smoky Mountain village are lined with knick-knack stores, fudge shops and "Believe It or Not"  museums, but it is these features that give Gatlinburg its charm.
I first visited Gatlinburg as a young girl with my family, and while not all of my memories are crystal clear, I do recall seeing young bear cubs playfully lumbering in a field, and eating pancakes and handmade taffy until I had a tummy ache.  You know, the kind of vacation memories that truly stand out to a child.  I returned, many years later with my own children, seeking those same fond memories of Gatlinburg for them.
The route to Gatlinburg had adjusting to the hectic highway,  filled with bumper to bumper traffic, and the flashing neon signs of Sevierville, Tennessee.  Once a sleepy town and home of Country Music legend, Dolly Parton, Sevierville is now reminiscent of a crowded, attraction-loaded beach town.  This is not the fun part of the road trip.
Yet, with patience and perseverance, the chaos fades away as natural beauty takes over on the portion of the drive known as the Parkway.  Cut through the surrounding mountains of the adjacent Smoky Mountain National Park, this curvy and wooded byway offers glimpses of bubbling streams and occasionally, wildlife.  It provides as instant calm and sense of welcome that only nature can give.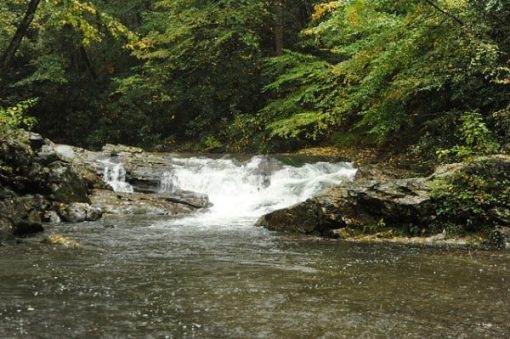 Entering the city limits of Gatlinburg, you are met once again with numerous tourist attractions, although in a controlled, more manageable way.
Our family's favorite of the Gatlinburg attractions is Ripley's Aquarium of the Smokies.  Boasting more sea life housed in the Aquarium than people living in the town of Gatlinburg, the Ripley's facility offers a glimpse of the oceans, rain forest and coral reefs.  I could stand for hours mesmerized by the undersea life on display in the floor to ceiling tanks.  Perhaps the best feature is the Shark Lagoon where visitors stand on a 340 foot "glidepath" or conveyor that slowly meanders the acrylic tank as various sharks swim beside and above you.
If you want to save a little money you can purchase a package that includes admission to the aquarium and at least two additional Ripley's attractions.  Nimble footed mini-golfers might want to try their luck at Hillbilly Golf that follows a course DOWN the side of the mountain.  On a little more level playing surface, our family enjoyed Ripley's Davy Crockett Mini-Golf.
With mini-golf under our belt, our family ventured into Ripley's Believe it or Not Odditorium.  Three stories of darkened rooms full of odd curiosities left my youngest frightened and scampering for an exit.  There is one light-hearted section that allows guests to laugh at each other.  A display relays the facts and percentages of humans that can or cannot contort their tongue.  Curiosity being what it is, everyone attempts these feats in a mirror, totally unaware they are  providing an amusing spectacle to the guests on the other side.  My laughter instantly stopped, however, as I realized, I too had attempted the sideways, back-curling tongue roll.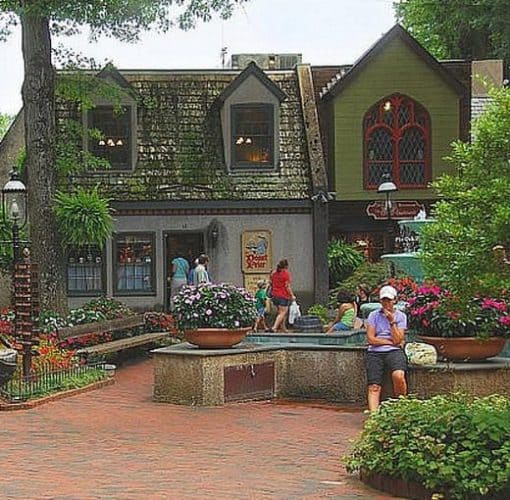 There is a dining craze still quite popular in this area — pancake restaurants. With several options available, our family favorite remains The Pancake Pantry in the heart of downtown Gatlinburg.  Open for breakfast and lunch, this Smoky Mountain icon has provided 24 varieties of pancakes for over 50 years.  Though my favorite since childhood have been the silver dollar pancakes, my mouth waters thinking about the Apricot Lemon Pancakes.  If you are not a breakfast eater, the Pantry also offers soups, sandwiches and burgers.  NOTE:  Part of the nostalgic charm of The Pancake Pantry is that it is a cash only restaurant and does not take reservations; the wait can be quite long so go early.
Another dining icon and popular spot to visit while in Gatlinburg is The Donut Friar.  Located within a shopping area known as The Villages, the Friar has been producing heavenly donuts, cinnamon bread and pastries since 1969, and opens daily at 5 am.  Though I have tasted my fair share, I am hard pressed to choose a favorite. And a bit of good news — donuts can be packed, frozen and enjoyed later at home.
For a souvenir that will raise a few eyebrows as well as a few glasses, Ole Smoky Moonshine is produced in Gatlinburg at the first federally licensed distillery in Eastern Tennessee.  Far from the white lightening that has been produced in this area for over 200 years, this Moonshine has been distilled six times to promote smoothness and I must admit is amazing in lemonade.
While numerous options are available for accommodations — we opted to rent a mountain cabin.  On the plus side it was a beautiful and relaxing escape from the crowds, yet we had to traverse the mountain road, maneuver the parkway and attempt to find parking once in town.  A great option for avoiding traffic is to hop on the Gatlinburg Trolley which I found to be both clean and convenient.  Still guests to Gatlinburg enjoying shorter stays might wish to explore the options available  in town.
No trip to Gatlinburg should be without a visit to Great Smoky Mountain National Park.  As a portion of the Blue Ridge Mountains, the Smoky Mountains create the border between Tennessee and North Carolina and became part of the National Park system in 1930.  Several destinations within the Park offer experiences like history, hiking, wildlife and all are a photographers dream.  My favorite is Cades Cove a popular destination known for an abundance of wildlife, including deer, turkeys, ground hogs and black bears.  It was on a slow drive through this area, stopping to take photos and sometimes hike along the way that my family caught a glimpse of black bear cub and a flashback to my youth.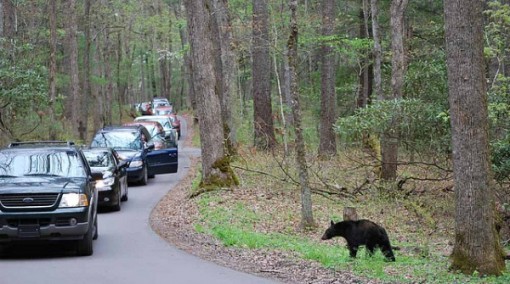 With our Smoky Mountain adventure behind us, I am thrilled that it was the vacation I recalled from my youth and that I was able to share my memories with my children. and help them create there own.  Some day, I hope they will take their children too.
Pin this to your favorite Travel Boards on Pinterest.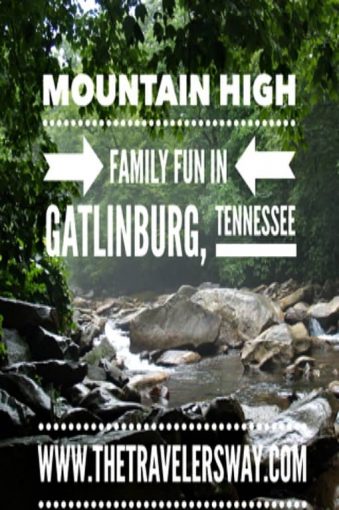 Photo Credits:  All from flickr, Gatlinburg, TN, mountain stream , Village shops, bear cub
Having been transplanted numerous times, I have learned to explore the sites around our new found hometown, uncovering hidden gems and attractions. When vacation time rolls around, I enjoy traveling with my family and the occasional weekend escape with my husband, coming home to share our travel experiences with others. You can follow me on Twitter @JAIngersoll. My top three destinations are Walt Disney World Resort, the Midwest and any beach I can walk along.