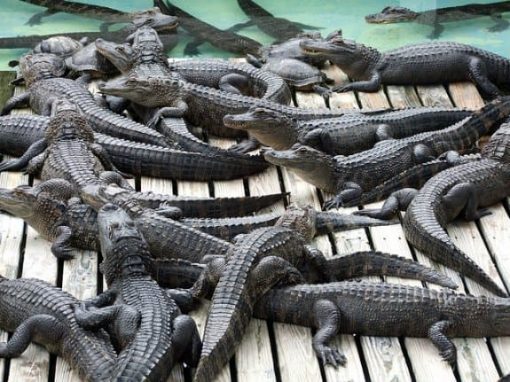 Central Florida could be considered by most people to be theme park heaven.  Home to Walt Disney World Resort, Universal Resort, Sea World and the recently opened Legoland Florida, the area around Orlando is every fun-filled vacationers dream.  Yet, despite all these new theme parks and attractions cropping up, theme parks have been a part of the area for decades.
Over half a century ago, before Walt Disney even conjured up the notion to build his World, Owen Godwin created Gatorland.  A resident of the Sunshine State, Godwin noticed that travelers often stopped their autos to watch the alligators that could be seen on his marshland property.  An avid hunter and savvy businessman, Godwin realized that many people had probably never seen a live alligator.  And, he ventured, those people would probably pay to get a close up look.  Placing an alligator on a trailer, Godwin drove up the East Coast of the United States and charged curious customers one dollar for a peek at the reptile in his cage.  Expanding on this venture, he returned to his Florida property and in 1949 created a theme park and wildlife preserve still known today as Gatorland.
Packed with pure unsophisticated fun, Gatorland is a short 20 minute drive from the major theme parks in the Orlando/Kissimmee area.  The 110-acre nature park is a flashback to "old Florida" and is home to hundreds of alligators.  From feisty and aggressive youngsters to the oldest resident gator better known as Pops, I personally fell in love with the babies and was thrilled at the chance to hold one.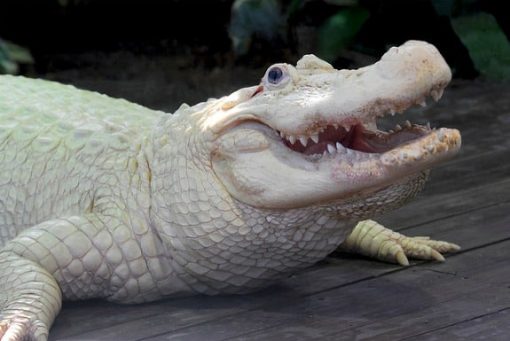 Gatorland also holds the largest collection of rare white alligators in captivity.  Not to be confused with albinos, white alligators are odd looking creatures with splotchy pigmentation that come from a secluded area deep in the swamps of Louisiana.  For their protection they are housed in a special enclosed, shaded, area of the park.
Entering the park you will receive a map and time schedule for live animal shows including Gator Wrestlin' (where I had my photo taken sitting on an alligator), Up Close Encounters, and the not to be missed Gator Jumparoo.  Like nothing, I had ever seen before, alligators actually jump from the water to reach up and snatch the chicken meat strung on a pulley and dangling over head.  For this and all other Gatorland experiences, be sure to have your camera ready.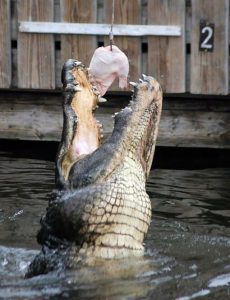 It's not all gators, though, and plenty of other animals call Gatorland home – including snakes, tortoises and a mix of domestic animals in a petting zoo.  The trees surrounding the alligator breeding ground hosts numerous nesting birds with many visible from an observation tower and boardwalk running through this portion of the property.
One of my favorite spots in the park was the Very Merry Aviary.  Filled with colorful budgie birds, these free flying beauties line rows of shelves along the walls and ceiling just waiting for visitors to enter their enclosure.  For a nominal price, guests purchase a feeding stick, and almost instantly these tiny birds will be eating out of your "hand".  If you are not a huge fan of birds, this is an experience you should avoid as it is slightly overwhelming as they eagerly flock to greet you.
It bears repeating that this adventure park is not like the high tech theme parks visitors to the Orlando area may be accustomed to.   Yet, the Godwin family has attempted to keep alive the traditions, while adding features to keep the park fresh and interesting including the latest Screamin' Gator Zipline  and Night Shine experience.
As much fun as spending the day at Gatorland can be,  I couldn't imagine the thrill of an adventure among the gators at night.  During the Night Shine,  guests gather in the main building for a short educational program and opportunity to hold a few of the residents.  As dusk turns to night, participants are led by guides through the darkness of the park for an unnerving surprise.  Having seen this area in the daylight took a little of the uneasiness out of this twilight adventure.
Armed with flashlights, we hiked  the pathway to the breeding area and were instructed to keep our voices low. Once at our destination we were instructed to shine our lights up into the trees.  During the day the trees held empty nests, now at nightfall they were amazingly filled with large, beautiful white birds.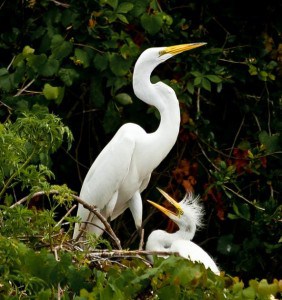 Holding our flashlights at eye level and shining it upon the calm water, I noticed a few pair of scattered red dots.  Our guide explains that those are the reflections from the alligators eyes.  With this realization, I noticed more than a few pair of eyes looking back at me.  As our guide calls out to the gators, they recognize his voice and suddenly the pairs of eyes become rows of red dots swimming right toward us.
The gators are quite familiar with his voice as he is the one that feeds them on a daily basis.  Not wanting to tease them with the call, it was our turn to feed them with small pieces of turkey franks we tossed to the side of their heads.  A task that was more difficult than it sounds as these large animals thrashed their heads from side to side as they eat.
For a full day of fun, I would suggest you make arrangements to visit Gatorland during the day and  while you are in the area, head to downtown Kissimmee and Dakin Avenue.  Here you can treat yourself to side by side delights with dinner at Chef John's Dockside Inn and a relaxing glass of wine at Vintage Vino, returning to Gatorland to participate in the Night Shine.  All in all it is truly an experience you will never forget!
Photo Credits:  All from flickr  gators , white gator ,  jumparoo  , nest
Note:  The author received complimentary admission for the purpose of a review, the opinions expressed are strictly her own.
Having been transplanted numerous times, I have learned to explore the sites around our new found hometown, uncovering hidden gems and attractions. When vacation time rolls around, I enjoy traveling with my family and the occasional weekend escape with my husband, coming home to share our travel experiences with others. You can follow me on Twitter @JAIngersoll. My top three destinations are Walt Disney World Resort, the Midwest and any beach I can walk along.