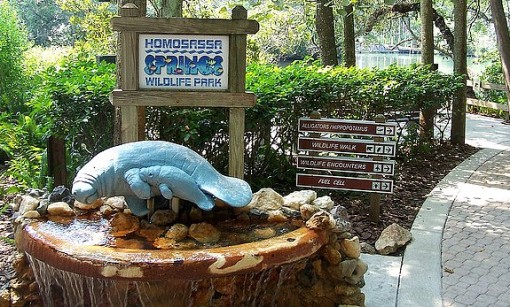 My family and I shared a wonderful experience when we went swimming with the Florida Manatees in the Crystal River at Homosassa Springs, Florida. Truth be told it was a little more wonderful for some than others.  Like most family adventures that begin before dawn, there was more than one grumbling member of our party. despite being all packed up for Florida and ready to go. I did my best Little Miss Sunshine impersonation and encouraged everyone that this was going to be an adventure that would be well worth a little lost sleep.
As we drove to the dock to meet our tour, I boldly reminded everyone that this was a natural experience, not a zoo, and there were no guarantees of seeing the gentle marine creatures. "Don't be disappointed," I said, "it's all about the adventure!"  When our guide pointed us in the direction of a group of lumbering sea cows, we slipped into the chilly water to await our experience.  When a manatee briefly brushed my foot, I became excited beyond belief and could not wait to share my experience with the others.
Back on shore, recounting our adventure, my excitement began to dwindle. My earlier words of encounters with nature came back to haunt me, as it seemed my brief brush took a back seat to the manatee that repeatedly nudged my husband to swim along beside him or the pair of manatees frolicking before my daughters.  Don't get me wrong, I loved every minute of our adventure and I was excited for them, I just longed to see more.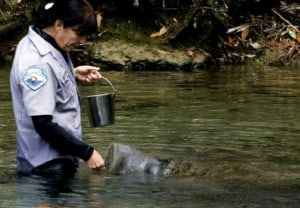 A sure way to avoid any disappointment and see manatees up close is to visit the Ellie Shiller Homosassa Springs Wildlife State Park.  The Park is home to several manatees that are visible from an underwater viewing area affectionately known as the Fish Bowl.  Additionally, manatee programs are held three times daily when a park ranger shares information about the endangered marine mammal as well as discussing the park's important manatee rehabilitation program. Guests to the park sit in bleachers for these experiences allowing for great views.
A variety of other animals both native and transplanted to Florida are visible along a path that winds through the Wildlife Park. The 1.1-mile self-guided tour reveals black bears, otters, alligators, flamingos, American Bald Eagles, and a bobcat or two.
One of my favorite residents of the park is not a true native of Florida, but instead an exotic animal.  Lucifer, an African Hippopotamus with a long-standing career in movies and in the television show Daktari now, calls this state park home. Lucifer is so popular that the Governor of Florida declared him an honorary citizen of the state.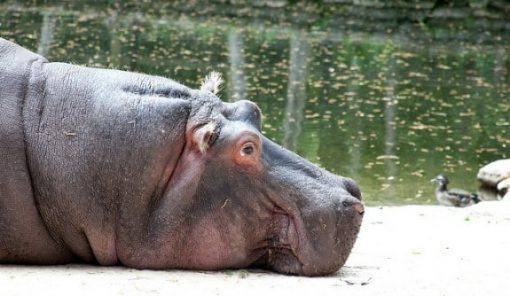 Guests should allow from several hours to a half-day to fully experience the Wildlife State Park. While a small cafe and picnic grounds are available for visitors, we decided to explore Homosassa a little further.
Less than a mile away we discovered Homosassa Riverside Resort.  Situated on the Homosassa River, the Resort offers lodging, a marina, and several unique dining options.  The Yardarm Lounge is the oldest establishment in Citrus County and rightly boasts a panoramic view of the river as well as a 65-foot bar made of copper.
The family-friendly Riverside Crab House offers fresh seafood selections, steaks, and pasta.  Always looking for a regional specialty, we tested the "fish dip" appetizer.  Served with crackers, the dip resembles and has the consistency of tuna salad, yet had a delicious smokey flavor.  I attempted to inquire about the ingredients, but was told it was simply "fish dip".  In any case, it was a new treat I sought out for the remainder of our trip.  A third dining option comes in the form of a laid-back two-story, outdoor tiki bar known as the Monkey Bar.  The lower level offers free rounds of pool while the remainder of the bar is so casual I kept looking around for Jimmy Buffet.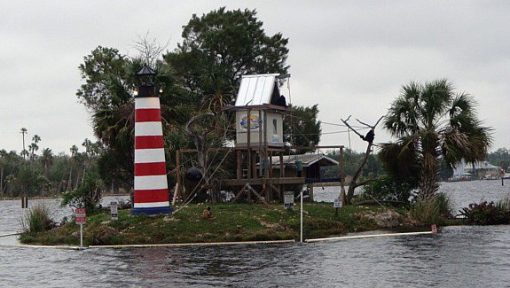 Perhaps the most unique aspect for all of the establishments at the Riverside Resort is the amazing view.  Not the view of the adjacent marina or the boating traffic traversing the river, but the small island just offshore and the monkeys that have made this area their home.  According to the lore of Monkey Island, the inhabitants were brought to the resort to enjoy their retirement following the completion of their job as research animals for the polio vaccine.  With time on their hands, they proved to be rather naughty monkeys, breaking into cars and stealing food from resort guests.  Afraid to cross the water, their home on the island keeps them out of trouble on the mainland.
A town full of riverside resorts and cafes, we discovered another popular dining spot for locals, The Shed at McRae's of Homosassa.  Established in 1917, McRae's offers everything from a motel to the bait shop and boat rental to riverside bar.  Attached to a seafood packing warehouse, The Shed, offers cold libations, bar snacks, and fresh off the boat steamed or deep-fried seafood at very reasonable prices.  Carry-out seems to be a popular option as we saw numerous boats arrive to pick up a meal. The kind of place where no one is a stranger, live entertainment is offered on the weekends, however, we were more than entertained by the mischievous squirrels that maneuvered the beams of the tiki bar to snatch bites of food from accommodating customers.
Located a mere 90 minutes away from the bustling, organized chaos of theme park filled Orlando,  no-frills Homosassa Springs provides a casual vacation with the perfect blend of activity and relaxation.  As such, the two vacation destinations complement each other perfectly when combined in a "best of both worlds" adventure.
Photo Credits:  From flickr; Homosassa Springs Wildlife Park, Lucifer manatee program,  and J. Ingersoll
Having been transplanted numerous times, I have learned to explore the sites around our new found hometown, uncovering hidden gems and attractions. When vacation time rolls around, I enjoy traveling with my family and the occasional weekend escape with my husband, coming home to share our travel experiences with others. You can follow me on Twitter @JAIngersoll. My top three destinations are Walt Disney World Resort, the Midwest and any beach I can walk along.