Bam! I saw the firecracker flash just before I heard it.
Pop! Pow! Bam! The trio of explosions echoed off the office buildings lining the narrow downtown street. The boys throwing the noisemakers toward my feet then giggled and ran off. I stepped over the still-smoking debris and continued on my way.
It was just another day during Las Fallas in Valencia, Spain. Daffodils, anthropomorphic rabbits and dyed Easter eggs aren't sufficient to signal to the end of winter in this part of Europe.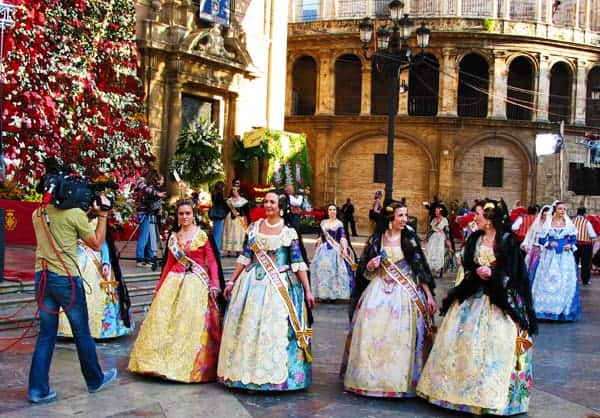 For Valencians, welcoming spring does includes flowers (and great masses of 'em), but it also includes lots of firecrackers, cannons, fireworks and flames. And don't forget the paella in Valencia, lots and lots of paella.
Fallas, which runs from March 14 through 19 each year, is a ritual rooted in Pagan times that's been recast as a Roman Catholic celebration of spring centering around St. Joseph, the husband of Jesus' mother. His feast day is March 19.
It's hard to imagine how any work gets done in this city of 820,000 during those six festival days.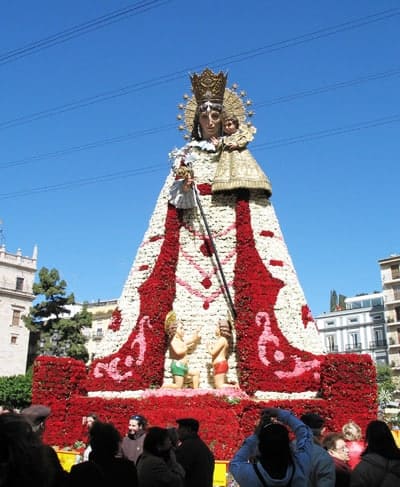 First come the flowers. On March 17 and 18, hundreds of thousands of blossoms are carried through the streets of this Spanish coastal town during two days of elegant ritual. Men, women and children dressed in traditional costumes — accompanied by bands playing everything from boleros to rock music — parade through the center of town carrying floral offerings to the plaza in front of the Basílica de La Virgen de Los Desamparados.
There, a temporary 46-foot-tall representation of the city's patron saint, Our Lady of the Forsaken (one of Mary's names), awaits. A dozen costumed workmen scramble up and down the wooden framework of the Madonna's enormous cape, catching the flowers tossed to them at the end of the parade and arranging them by color to create an elaborate design. More blossoms are used to create tapestries rising high on either side of the door to the basilica.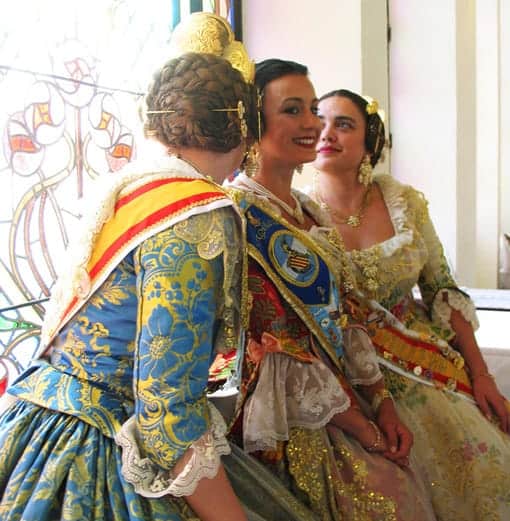 A queen and her court are chosen from among the thousands of elegantly costumed women, and they are fêted at a gala luncheon downtown on the second day of the parade.
There is also the omnipresent noise. Throughout Fallas, one is assaulted by music, firecrackers, cannons and fireworks. More than 300 bands march around the streets, playing from morning 'til night – when fireworks light up the sky.
At 2 p.m. each afternoon in the center of downtown, crowds gather to watch the boom of the mascletàs, with rockets bursting overhead sending down streamers, and gunpowder exploding into cannon fire — mercifully without the cannon balls. During this time of day, one can't walk down the street without being attacked by firecracker-wielding kids and adults.
Since Las Fallas means "flaming torches" in Valencia's Catalan dialect, it's logical that fire is the crowning touch to this boisterous festival. Centerpieces of the annual festival are some 700-plus combustible constructions of firecracker-filled papier-mâché, styrofoam and cardboard layered over wooden frames. (This is the fortuitous connection to St. Joseph, whose profession was that of carpenter.)
Each falla is designed, financed and produced by some 700 neighborhood associations in line with a mutually agreed upon theme for the year. Most are small – just a few feet tall — but the biggest and most expensive rise up more than 65 feet right in the center of key intersections in the central city. The fanciful confections, peopled with figures called ninots (grotesque figurines) offer satirical commentary on the popular topics of the day.
As midnight approaches on March 19, La Cremà begins. Huge crowds gather in the streets. Fire fighting equipment rounded up from every corner of the country stands ready. Then, each of these highly flammable structures is set on fire. The flames crackle and leap, starting slowly but spreading quickly to engulf every inch of the massive constructions. Cheering spectators are showered with ash, and firefighters are kept busy hosing down rooftops until dawn.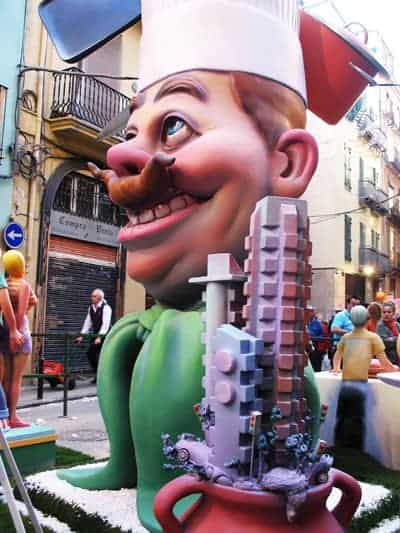 Traditionally, one of the fanciful structures is saved each year by popular vote, and put on permanent display in the Fallas Museum.
Photo credits: All (c)Susan McKee; used with permission.
NOTE: The author's journey to Las Fallas was hosted by the Tourist office of Spain; the opinions expressed here are her own.
Susan McKee is an independent scholar and freelance journalist specializing in history, culture and travel.