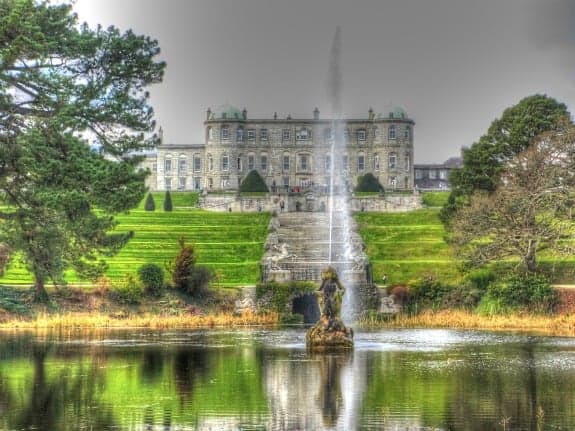 A scenic view of 13th century of majestic courts and splendid gardens impresses visitors to the historic and luxurious Powercourts Garden, located on the outskirts of Dublin. Situated on the hilltop of Enniskerry in Wicklow County, Ireland, this grand estate gives you a look at the glory days of old Ireland. Its commanding view from the top was a perfect refuge during the feudal times.
The Palladian castle was built by a noble by the name of La Poer, who used to lord over these parts of the country during the middle ages. The main mansion was built with more than 60 rooms, including reception rooms established on the second floor of the house. This was a design oddity at the time, but one that afforded guests a scenic view of the entire estate.
The magnificent gardens also add to the plush atmosphere of the place. The gardens feature eclectic oriental and western influences, using a variety of styles. The Japanese gardens are one of the main attractions, containing a Zen-inspired landscape that offers a perfect place for relaxation and meditation. The Mediterranean-styled Italian gardens are also a favorite with visitors. The luxe-class Ritz-Carlton Hotel has a 200 room resort nearby, with a golf course that seems to continue the decadence of the landscape.
Walk around a bit and soak up the spaciousness and regalness of these gardens that are now open to the public. Allow enough time that you don't have to rush. Be sure to bring your camera – there are some great photography opportunities.
The Powerscourt Gardens are open year round, from 9:30 am to 5:30 pm, closing at dusk during the winter. Entrance fees run approximately $11 for adults, $6.50 for children. (Price will vary based on exchange rate).
Photo credit:  Courtesy of Mary Jo Manzanares
What I love about traveling is that you can learn about new cultures, explore new places, taste their food and get the chance to meet exciting and interesting people. I love going to the beach. I want to go to places that have snow since we have a tropical weather here. I always wonder what it feels like!