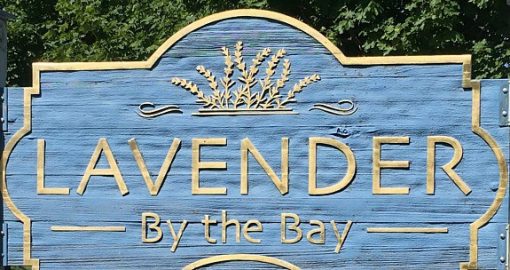 Lavender By the Bay is New York's premier lavender farm. The family run site has been in operation since 2002 expanding over the past 15 years and is now one of the largest in the United States. The farm is located in East Marion, on the easternmost tip of Long Island, often referred to as the North Fork. Sitting at the edge of Gardiner Bay, makes the farm appropriately named.
The bay side farm grows English and French varieties of [easyazon_link identifier="B019UK34R6″ locale="US" tag="thetravelersway-20″]lavender[/easyazon_link]. Peak blooming season is typically mid-June through mid-July. The varieties of lavender bloom at different times with the [easyazon_link identifier="B01DX99HB2″ locale="US" tag="thetravelersway-20″]English blooming[/easyazon_link] first to reveal waves of pink, white and purple blossoms. [easyazon_link identifier="B005LFQ5QW" locale="US" tag="thetravelersway-20″]French lavender blossoms[/easyazon_link] next beginning its impressive show in early July. Though it is totally dependent on the weather, it is not uncommon for the English lavender to bloom a second time in mid-September. The later blooming mounds of flowers do not stand as tall, still, the fragrance is hearty.
Lavender By the Bay welcomes guests to wander through the 17-acres lined with rows of fragrant flowers. Admission is charged to enter the fields and is slightly higher on weekends and holidays with a portion donated to local charities. During the blooming season, the fields are crowded with onlookers and photographers. Take advantage of the smaller crowds and lower admission price by visiting on a weekday. The fields are family and pet-friendly as long as everyone stays on the pathways and picks up any waste.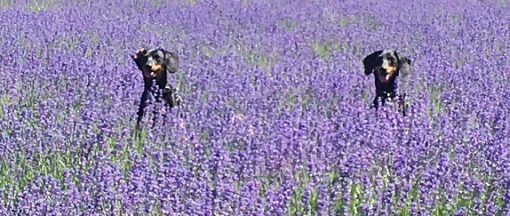 As you walk through the fields and brush up against the mounds of blossoms the [easyazon_link identifier="B007MQ5N20″ locale="US" tag="thetravelersway-20″]scent of lavender[/easyazon_link] wafts through the air. There are numerous chairs scattered about the fields offering a quiet nook to relax and breathe in the fragrant freshness.  A newly constructed pavilion provides another respite and panoramic vantage point.
A word of caution, [easyazon_link identifier="0691160775″ locale="US" tag="thetravelersway-20″]bees[/easyazon_link] are drawn to the lavender blossoms. Allowing them to fly freely around us, we had no incidents. However, if you have a strong phobia or allergy, you might consider avoiding the fields and simply visit the on-site store instead.
The farm is noted for the high quality of lavender produced and offer a wide variety of products based around the herb. An assortment of bath and body items including essential oils, soaps, bath salts and lotion bars are available for purchase in the store. Other culinary items like [easyazon_link identifier="B01I2RKMMI" locale="US" tag="thetravelersway-20″]lavender salt[/easyazon_link] and the very popular lavender honey are available as well. The highly sought after [easyazon_link identifier="B01IPRAAV8″ locale="US" tag="thetravelersway-20″]lavender honey[/easyazon_link] is gathered from resident hives and the same nectar sipping bees that are buzzing about the fields.
Sachets and dried lavender buds are available in bulk as well as fresh cut bundles harvested from the farm. During harvest time, guests who wish to pick their own lavender bunches are supplied with a gathering basket and cutting tool. Phone ahead or visit their Facebook page to learn harvest hours and dates offering the U-pick option.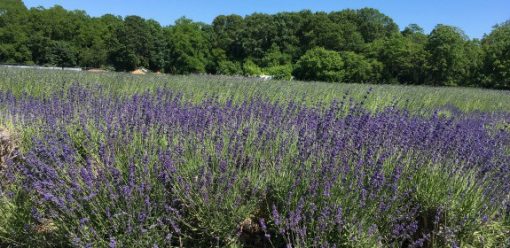 Visitors can reach the farm by driving from New York or my preferred method, arriving via a Long Island ferry. Starting the day with scenic coastal views of the [easyazon_link identifier="0814794009″ locale="US" tag="thetravelersway-20″]Long Island Sound[/easyazon_link] and the added convenience of having your own automobile to later explore the Island is a win-win. Food and beverages are available for purchase on most ferries and dogs are permitted on deck. Please note that you will not be allowed to remain in your vehicle while the ferry is moving so be sure to bring a leash.
After a few hours at Lavender By the Bay, the nearby town of Greenport beckons. Window shop or wander into local stores offering everything from fashion to books, water sports gear, and toys. Take a one-mile self-guided walking tour of the historic village and visit the waterfront Mitchell Park where an antique carousel waits to take you on a spin.
Don't miss a few of the waterside dining spots while you are exploring the historic side of Greenport.  Claudio's Restaurant is the oldest single family owned restaurant in the United States. Housed in an 1845 building, the original waterside restaurant was opened in 1870 and still features the swinging saloon doors, Victorian bar, and prohibition era trap door. Read reviews and get more information about Claudio's by clicking here.
The "Bait & Tackle" sign on the Front Street building might fool you, but inside the former whaling ship wheelhouse, brought ashore in 1880, is Little Creek Oyster Farm & Market. Tucked down Bootleg Alley, the Market serves local light bites and with provided tools and instructions, "Shuck Yourself" oysters.
In addition to lavender and oysters, numerous other farms exist. The maritime climate of the East End has enticed numerous wineries to the area creating the Long Island Wine Region. Winery and vineyard tours are available throughout the North Fork with many being pet-friendly and welcoming families.
Whether it is the lure of the fragrant lavender, the salty sea oysters or the flavorful wines, a day exploring Long Island's North Fork is a day well spent. You can get more information about Lavender by the Bay here.
And if you want to grow your own lavender, you'll find good info here.
Pin this to your favorite travel board on Pinterest: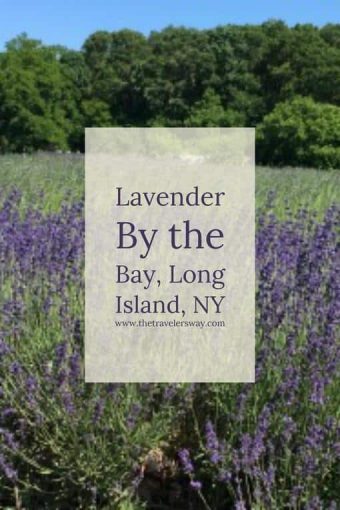 Photo credits: J. Ingersoll
Disclosure:  This post contains affiliate links. If you click through for more information or make a purchase, it may result in a small commission coming our way at no additional expense to you. Doing so helps support this site and we thank you.
Jenni Ingersoll | Having been transplanted numerous times, I have learned to explore the sites around our new found hometown, uncovering hidden gems and attractions. When vacation time rolls around, I enjoy traveling with my family and the occasional weekend escape with my husband, coming home to share our travel experiences with others. You can follow me on Twitter @JAIngersoll. My top three destinations are Walt Disney World Resort, the Midwest and any beach I can walk along.