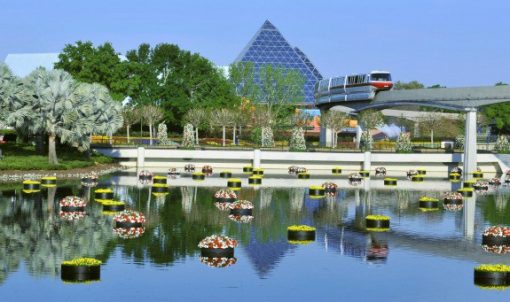 Nothing says spring like the emergence of tiny buds peeking through the cold hard ground.  The return of flowers means that yet again, another winter is down the road and warm weather is around the corner.
While it is no secret that I love to venture to the Happiest Place on Earth, a spring visit during Epcot's International Flower & Garden Festival makes me even happier.  This year will be no exception as the 19th annual Festival will take place for an even longer period of time than before – 75 blooming days.  From March 7 – May 20, 2012,  guests can tip-toe past the topiaries, get advice on how to make your garden grow and groove to the beat at the Flower Power concerts, all included in the admission to Epcot.
Not only is the Festival longer, but it's larger, with over 30 million blooms adorning the 260 acres. Everywhere you turn there are flowers gracing the theme park.  Container gardens of herbs, vegetables and blooms of every shade imaginable have me snapping photos left and right in an attempt to recreate some of these beauties at my own home. I do use the word container loosely as I am not just talking about the traditional round planter, but stunning vertical displays and other non-traditional objects like wagons and bed frames serve host to these potted works of art.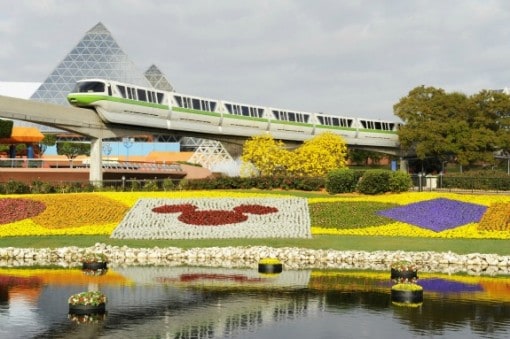 Intricate panel displays, created using a variety of plants and flowers, blanket the banks of the waterways in a quilt of color.  I particularly love the floating gardens of impatiens that polka-dot the World Showcase Lagoon, 240 in all. With more complex topiaries on display this year, the  showcase display at the front entrance and base of  the Spaceship Earth attraction, will steal the show.
Depicting a scene from Fantasia, Sorcerer Mickey stands high atop a floral rock directing a total of 27 other topiaries including ostriches, elephants, alligators and magical mushrooms.  In case you were wanting to create this image in your own backyard, know that it took over 22,615 plugs of over 15 varieties of plants to create the scene.
The first illuminated topiary will be revealed this year with Haiti: Garden of Many Colors.  Located next to the Germany Pavilion, this display showcases the rich heritage of Haitian art and culture.  A produce garden and marketplace will offer refreshments and encouragement toward a  sustainable Haitian economy.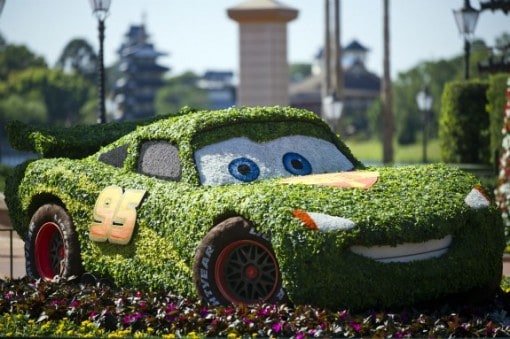 Other whimsical topiaries are scattered throughout the grounds, and showcase characters from Disney films like like Cars, Toy Story and Tinker Bell.  The Pixie Hollow Fairy Garden is very popular with tiny topiaries fairies from the film.  It's a great time to snap photos of the horticultural version of your favorite Disney pals like Goofy, Cinderella, Buzz and Woody.
For the ultimate photo opportunity, plan to arrive early in the morning to watch as the butterflies in the very popular Bambi's Butterfly Garden emerge. Waking and waiting for the sun to dry their wings, these beauties can sit on the calm finger of a willing host.  Visitors might want to don bright apparel in shades of red, yellow and pink to entice one of the more than 1,000 flittering creatures from 10 native varieties to land.
Not only does the festival provide a visual pleasure, it's also a chance to get advice from Disney gardeners in the Festival Center located in Future World.   A daily schedule of events includes talks by local and regional experts, and horticulturists from the University of Florida's Institute of Food and Agricultural Sciences.  If you opt to participate in one of the several hands-on workshops, you may be able to take home your creation.  And, on Friday, Saturday and Sunday, stars from HGTV like Genevieve Gorder, Carter Oosterhouse, and John Gidding of Curb Appeal, will be on hand, doling out their expert opinion.  Open daily from 10 am – 5 pm, the Center hosts the workshops as well as a gift shop of festival merchandise.
Pop hit makers of the 60's and 70's will entertain visitors with Flower Power Concerts, scheduled thrice daily on Friday, Saturday, and Sunday. Scheduled performers include Jose Feliciano, Chubby Checker, Paul Revere and the Raiders, The Guess Who, and Davy Jones from the Monkees.
If you visit Epcot in March or early April, you may want to visit again and take note of the festival transformations.  As the weather begins to change in Central Florida, cool weather plants are replaced with a new crop of flowers that flourish in warmer temperatures.  A special salute to Florida farmer's will take place May 4-6th with Fresh from Florida Farmers Markets.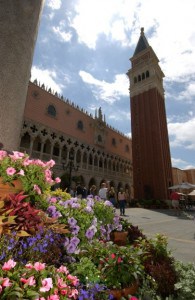 As a special bonus for Florida residents, Walt Disney World is offering several specials including the Wild for 3 Pass.  For $99.00 per person, Florida residents can visit one park per day for any three days through May 24.  NOTE: Some black-out dates may be in effect and proof of residency is required.   Florida residents visiting on Sunday-Thursday nights can take advantage of discounted rates at select Disney Resorts.
Epcot to me, has always been the most relaxing of the theme parks.  I love to stroll through the World Showcase taking time to experience each pavilion and the country that it represents.  During the Flower & Garden Festival, with so many beautiful floral arrangements in view I encourage you to truly stop and smell the roses.
Photo credits:  WDW News
UPDATE:  When the asterisk next to a list of entertainment for an event states performers are  subject to change, you assume that it will be because of a scheduling conflict or at worse, illness. Sadly the untimely death this week of scheduled performer, Davey Jones, lead singer of the 70's made for t.v. sitcom band, The Monkees, will cause a change to the schedule of the Flower Power concert.  Far from the disappointment of Jones' fans in seeing one last performance of the handsome teen-heartthrob is the loss of a well-regarded musician and gentleman. 
Having been transplanted numerous times, I have learned to explore the sites around our new found hometown, uncovering hidden gems and attractions. When vacation time rolls around, I enjoy traveling with my family and the occasional weekend escape with my husband, coming home to share our travel experiences with others. You can follow me on Twitter @JAIngersoll. My top three destinations are Walt Disney World Resort, the Midwest and any beach I can walk along.