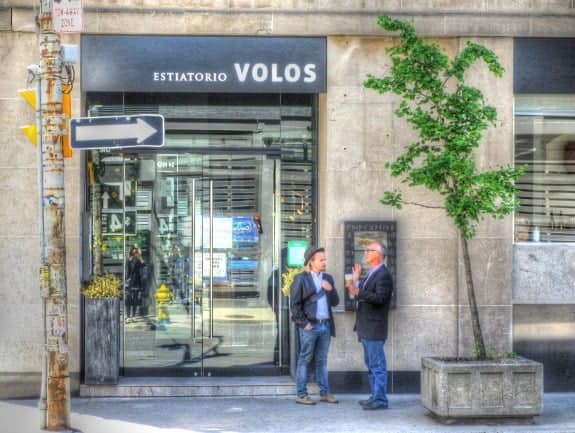 I was beat after TBEX Toronto. Exhausted, tired, hungry, and ready to let my hair down. I need sustenance, but making sense out of all the dining choices in Toronto and making a perfect decision was all Greek to me. What a perfect choice, then, when food blogger Andrew Dobson of Dobbernation Loves arranged for a relaxing and enjoying Greek lunch and one of the top spots around Toronto.
Like most Mediterranean restaurants, Estiatorio Volos focuses on healthy food, presented beautiful – it's the Mediterranean way, after all. Where Volos stand outs is with taking traditional Greek cooking styles, and flavors, and infusing them with a modern twist by incorporating local Canadian ingredients. Local ingredients meet the Greek tradition and the result is an explosion of flavors in your mouth. It was almost enough to make me want to book a trip to those faraway islands where I could eat like that everyday.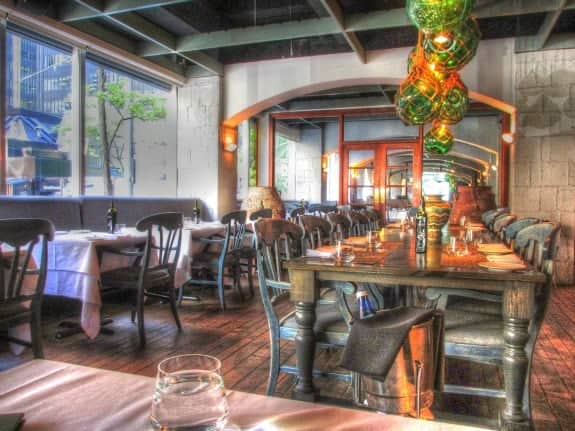 Volos is centered around the concept of Philoxenia, a Greek work meaning hospitable, a concept that is woven into the tapestry of the restaurant's food, service, and ambiance. At times I wasn't sure if I felt like I was dining in an upscale restaurant in Greece or a dear friend's home. Such is the concept of Philoxenia. A 12-person celebration table in the dining room, soon to offer prix-fixe tasting menus, offers a friendly way to get together with friends to enjoy the best the chef has to offer.
So let's take a look at our tasting menu: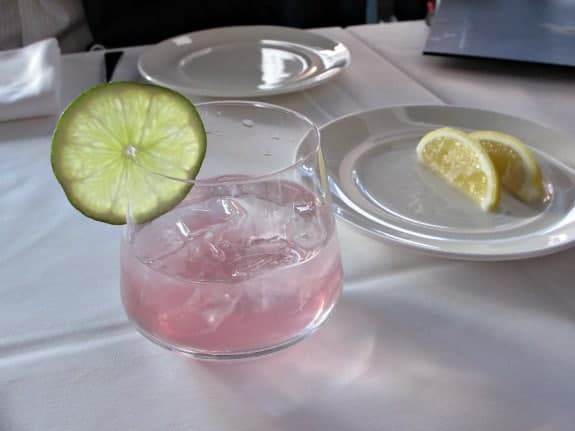 We started off with a Sintorini cocktail made of Skinos (a Greek liquor), Red Passion Alize, lime juice, and soda. The result was a pale pink concoction that acted as a delightful apertif to start things off. It was light and refreshing, although I can't compare it to a familiar taste. I could imagine sitting seaside with friends, sipping Sintorinis, nibbling on olives, and chatting away till the sun went down. Refreshing and fun, I'd order this again.
The First Course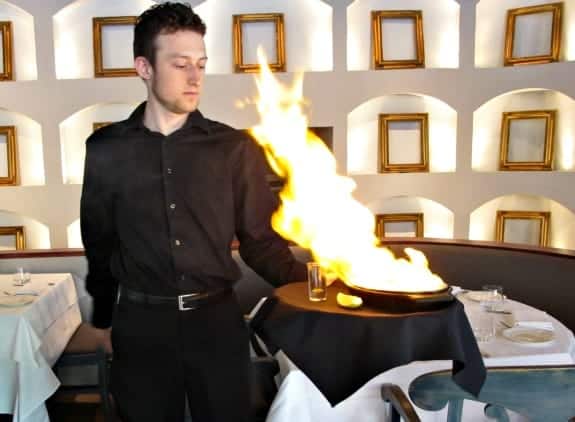 Saganaki cheese – Kefalotyri sheep's milk cheese, flamed with Metaxa brandy and lemon.
This warm, creamy blend of goodness is a traditional Greek dish and has always been one of my favorites. It was delicious, but this is one dish that rarely evokes complaints from me. Yep, I enjoy it that much.
The Second Course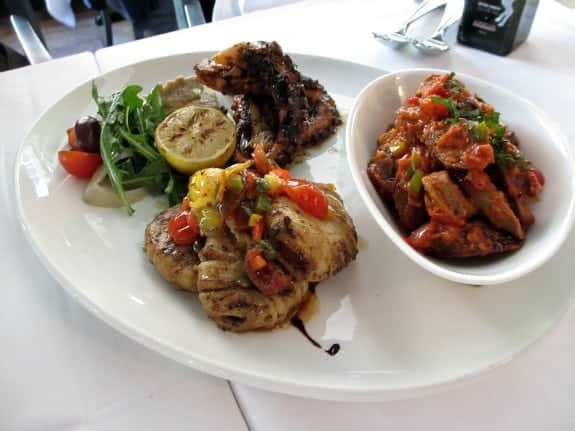 A tasting platter of:
Grilled calamari with tomatoes, capers, oregano, lemon, olive oil, and fig, in a balsamic reduction – If you're expecting light, ringed sliced of calamari, this dish will likely be a disappointment. This is, for lack of a better explanation, a hunk of squid. It was tender and tasty, and perhaps a traditional offering, but I didn't find it aesthetically pleasing. And since our eyes are often the precursor to our taste buds, this was a dish that fell flat for me.
Grilled Moroccan octopus – If the calamari was a decided miss, the octopus was a big hit. It was simply grilled with olive oil and was tender in a way that I have never experienced. No trace of the often bland and chewy here, I remarked to my dining companions that it could easily have passed for chicken. Well, except for those sucker things on the dish. If your not an octopus fan, give this dish a chance to make you one.
Spetzofai – This roasted spicy lamb sausage, with bell peppers, tomato sauce, and mint, is the signature dish of Volos. It was tasty, and well prepared, but I didn't think it was all that spicy. That's a plus for those of you who love these type of dishes, but can't handle the spice. It's not quite so good for those of us who like are sausages with some serious zip to them.
Our tasting platter was paired with a 2012 Assyrtiko "Santorini" Boutari from Santorini, Greece. It was pleasant, complemented the grilled items, but was mostly unremarkable.
The Third Course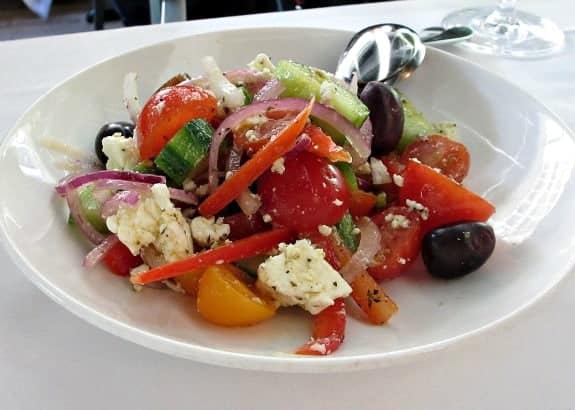 Horiatiki Salad – A traditional Greek salad with cherry tomatoes, cucumber, red onion, bell peppers, Kalamata olives, Feta cheese, tossed with olive oil. As colorful as it was delicious, there's a reason this salad is a staple on Greek menus. Always a good bet to order, and plenty enough to share.
Pistachio Encrusted Rack of Lamb – Sered with warm red potato salad with caper berries, asparagus, Kalamata olives and a mint vinaigrette. I'm not a rack of lamb fan and this dish did nothing to change my mind. If you are a fan, I think you'd like this dish – although I thought it was a little overdone – but it made for a nice presentation and was good enough for a few small nibbles.
Our salad and lamb were paired with a 2011 Agiorgitiko"Agiogitiko" Gaia from Nemea, Greece. I liked it.
The Dessert Course
Baklava – A traditional recipe of phyllo pastry, honey, walnuts, and pistachios. So good I could have licked the plate after eating every tiny little morsel on it. I didn't. But I really, really wanted to.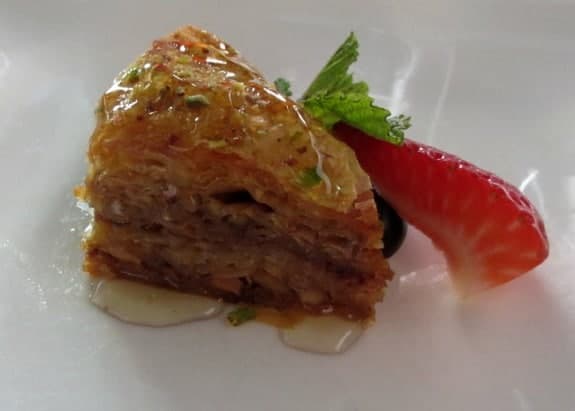 The baklava was paired with a 2008 Vinsanto, Boutari, from Santorini, Greece. I think vin santo is an acquired taste. It's very sweet, bordering on thick, and a bad bottle will remind you of cough syrup. This bottle was a surprising complement to the sweetness of the dessert, yet didn't over power it.  It worked. And I enjoyed it.
Recommendation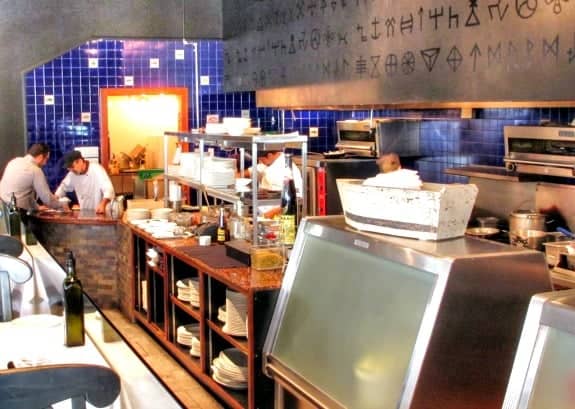 If you like Greek food, you'll definitely want to check out Volos. It's solid and reliable, with just enough of a twist thrown in to keep you coming back to try new dishes, or perhaps to keep ordering your go-to favorites. The atmosphere is open and fun – my guess is that it can get a little loud when the restaurant is full – but that noisy conviviality is party of the reason to go there. It's a solid choice
If you're novice at Greek cuisine, give the menu a careful look over before making up your mind. The choices are delicious, but at this price point, you want to make sure it pleases your palate as much as your budget.
The Details
Location:  133 Richmond Street West, Toronto, Ontario.
Hours:  Open for lunch (Monday-Friday, 11:45-2:30 pm) and dinner (Thursday-Saturday, 5-10:30 pm, and Monday-Wednesday until 10 pm)
Price Range:  Appetizers start at $9 and entrees at $19.  You're going to drop $100 (or more) for dinner for two (including a glass of wine or a cocktail) and tip.
Social Media:  Volos. can be found on Twitter and Facebook.
NOTE:  My meal at Volos was comped for the purpose of a review, as in common in the industry. If you think a free meal can sway my views, you either don't know me well or haven't read this review.
Photo credit:  All courtesy of the author.
Mary Jo Manzanares is a founder and the editor-in-chief of The Traveler's Way, an online travel magazine proving informational and inspirational travel recommendations for curious Baby Boomer travelers. She has been a speaker at various industry events and has a personal travel blog at Traveling with MJ. When she's not traveling, Mary Jo likes lingering over a cup of coffee, wandering in a museum, sipping wine at a cafe, and sharing it all with friends and readers. Mary Jo's top travel destinations are Italy, Portugal, and the Caribbean.