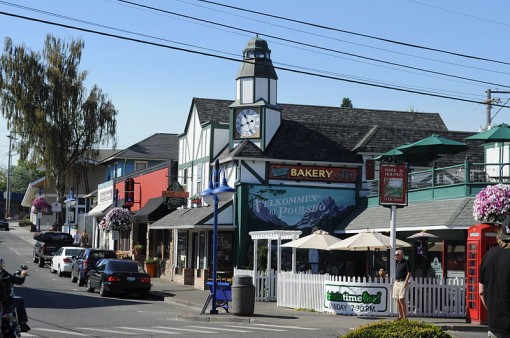 If you take the Washington State Department of Transportation's Bainbridge Island Ferry, and follow Highway 305 to Poulsbo, you will discover that much to your surprise you have arrived in Scandinavia. Well, not really, but it certainly looks like it. The elaborate Velkommen Poulsbo mural outside the Bakery Cafe certainly had you fooled.
The floral patterns that decorate the shutters and doors of the local shops and businesses are an example of rosemaling, a Norwegian folk art. These embellishments help creates the fairy tale ambiance that makes you wonder if you are in the real world, or if you have inadvertently stepped into a Hans Christian Anderson story book. Welcome to the town of Poulsbo Washington, also known as the "Little Norway on the Fjord."
Poulsbo's Scandinavian Roots
The story of Poulsbo unfolds in the 1880s, when Norwegian immigrant Jorgen Eliason arrived in what is now known as Washington's Kitsap Peninsula. Imagine his delight when he discovered land that bore a close resemblance to his native country.  Soon other Norwegian settlers arrived and established a thriving fishing and farming community.
The Town Gets a Name
In 1886, I. B. Moe, one of the earliest Norwegian immigrants, proposed that their new community required a post office and a name. He chose "Paulsbo," meaning "Paul's Place," for the name of the town. The townspeople granted Moe the position of postmaster, but there was one problem. Due to his unreadable handwriting, officials in Washington D.C. misspelled the name, calling it Poulsbo. Nonetheless, the Town of Poulsbo was officially incorporated on December 18, 1907 and despite its unusual spelling, "Paulsbo" is the correct pronunciation.
Since most of its residents were of Norwegian descent, Norwegian remained the primary language of the town of Poulsbo. This changed in World War II, when the United States military used the town's vacant areas to house workers employed at the Puget Sound Naval Shipyard, which was situated in nearby in Bremerton. Many of the workers stayed in Poulsbo after the war, and English gradually became the primary language.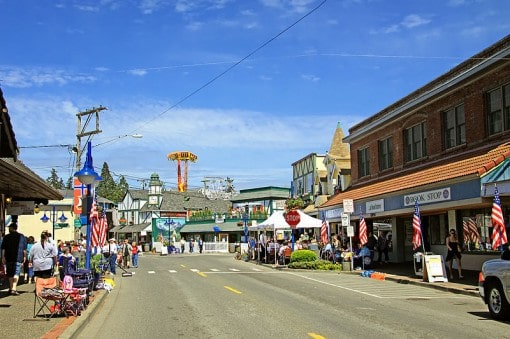 Poulsbo Historical Society and the Martinson Cabin
The Poulsbo Historical Society offers guided tours of the town, as well as tours of the restored Martinson Cabin. The story of the cabin unfolds in 1882 when Norwegian immigrant Michael Martinson arrived in the United States. Three years latter, Martha, another Norwegian immigrant attracted his attention. He proposed, and the couple married in the1890s. They moved to Poulsbo and raised four children. When the older Martinsons died, their son Berger Martinson inherited the land and turned into a dairy farm.
Berger's son, Vern Martinson, resides in Poulsbo to this day. He and his wife bought the dairy farm from his father. Modern dairy farming equipment helped them maintain operations. In 1989, the State of Washington honored the Martinson family farm as one of the state's last remaining centennial farms, an award given to farms under the same family ownership for a century.
The Martinsons eventually donated their cabin to the town of Poulsbo. Local volunteers donated their time. Businesses and individuals donated money. The result of this community effort produced an authentic restoration of the Martinson Cabin, which is now open to the general public.
Those intrigued by Poulsbo's Norwegian heritage can find more information at the Heritage Museum, located in the town's new city hall at 200 Moe Street N.E.
The Sons of Norway
The Sons of Norway was established in 1895 as a means of preserving Norwegian heritage and culture. In February 1916, 36 men of Norwegian descent formed the Poulsbo Lodge. Located at 18891 Front Street (in photo below), the lodge offers classes in Norwegian language, cooking, crafts and dance. Membership to the Sons of Norway is open to men and women of Nordic descent, or anyone interested in exploring the intricacies of Norwegian culture.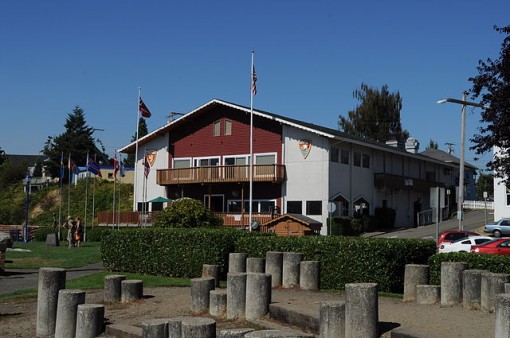 Norwegian Festivals
Poulsbo's commitment to its Norwegian heritage does not end with museums and Scandinavian-style architecture. Throughout the entire year, the town hosts a variety of Norwegian festivities. Here are just a few of them:
Viking Fest: Poulsbo's Viking Fest, held on May 17th, celebrates Norway's Constitution Day. The three-day event features colorful processions, marching bands, fish-eating costumes and Norwegian folk dancing. Norwegian costumes play a prominent role in the celebrations. The festivities last from early in the morning till late in the evening. Even the city officials get into the spirit by donning Viking hats.
This Summer Solstice event takes place in Waterfront Park. It celebrates the longest day of the year with folk dances, sack races, a parade and a bonfire. The festival opens with a parade of men dressed in Viking in fur cloaks, horn hats and fuzzy boots, and ladies adorned in fitted bodices long skirts and aprons.
The Poulsbo Arts Festival:  Held in August, this is an excellent place to find Scandinavian crafts, handiwork and jewelry.
First Lutheran Church Annual Lutefisk Dinner:  Lutefisk is a type of dried whitefish, that is popular in Scandinavian counties. The event takes place in October in the First Lutheran Church of Poulsbo. Lefse, a type of unleavened Scandinavian bread, accompanies the lutefisk. Norwegian cookies are served for dessert.
Julefest:  Julefest is an early December, pre-Christmas celebration, which is held at Poulsbo's Historic Downtown and at the Sons of Norway Lodge. It begins with a bazaar and Christmas music. Then, in the late afternoon, the Vikings, Father Christmas and Lucia Bride arrive by boat. Scandinavian legend has it that in Värmland, Sweden, a young lady dressed in white, wearing a crown of burning candies, delivered food to the starving villagers. She became known as Lucia Bride.
Poulsbo Marine Science Center
The sea played a key role in the Scandinavian lifestyle, so it seems fitting that Poulsbo would have a Marine Science Center. The center's dedicated staff of highly-trained volunteers boasts that they do not believe in "do not touch." A Tidepool touch tank allows visitors to interact with some of the creatures you might encounter as you stroll along the beaches of the Puget Sound. If you've ever wanted to get "up close and personal" with a sea star, urchin, crab or shrimp, this is the place to do it!
The Poulsbohemian Coffeehouse
While not necessarily Norwegian, you can't visit Poulsbo without stopping at the Poulsbohemian Coffeehouse for cup of coffee or tea, a pastry, a cup of homemade soup or a sandwich. Poulsbohemian is not just a coffeehouse. Marianne and her team have created an ambiance that encourages community interaction and intellectual discourse. Picture a West Coast version of Dorothy Parker's Algonquin. Evening events include a Deep Thinkers Club, a Book Club, Poetry Readings, Writer's Workshops and more.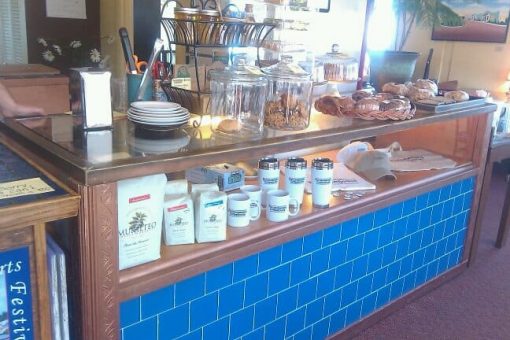 There's life beyond Seattle in Washington State. Don't miss out on Poulsbo!
Photo credits:  Poulsbo Clock and Bakery: Joe Mabel,  Wikimedia Commons; Front Street: Stephen Pavlov, Wikimedia Commons; Sons of Norway: Joe Mabel, Wikimedia Commons; Poulsbohemian Coffeehouse: Courtesy of Poulsbohemian Coffeehouse.
Lisa Marie Mercer specializes in self-reinvention. She spent most of her life as a New York City fitness instructor. A passion for although things Italian delivered her to Perugia Italy, where she studied Italian and traveled throughout the country. Fast forward to 2004, and an addiction to alpine skiing moved her to Colorado, where she opened a ski fitness studio, and worked as a tour guide for the town of Breckenridge. After hopping around North America and most parts of the globe, Lisa and her husband are enjoying the expat life in Uruguay. This is the author of Breckenridge: A Guide to the Sights and Slopes of Summit County. Learn more at her Fit to Travel Website. http://lisamariemercer.wordpress.com/