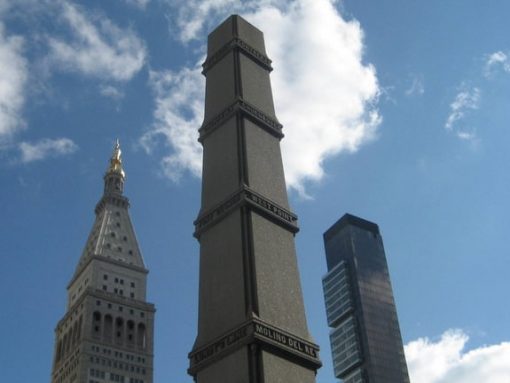 After decades of seeing, hearing and reading about New York City it's easy to have some misconceptions built up in your mind. Here are the top seven things that surprised me on my first visit:
1. Free Tours
Like any big city, a trip to NYC can put a big dent in your wallet if you are not careful. That's why I was surprised to learn how many free tours are available, including ones for such notable places as the New York City Public Library and Grand Central Station, to neighborhoods such as Union Square and Little Italy. Most of these tours are led by passionate locals, eager to share their city's history with visitors.   Here is one good list of Free New York City tours to get you started.
2. Unfiltered Tap Water
I am no wine connoisseur, but when it comes to tap water, I'm a real snob. I'm used to delicious, untreated well water, so when visiting big cities, I stick to the bottled stuff. That's why when my husband and his brother (who both grew up on Long Island) suggested I refill my water bottle right out of a restaurant's tap, I thought they were crazy. Eventually, though, my thirst got the best of me, and I drank from a New York City water fountain. To my surprise, that water tasted great! I've since learned that NYC is one of only five major cities in the United States with water so pure it does not require filtration.
3. Union Square Greenmarket
They may call it the Big Apple, but I did not expect to discover fresh fruit and vegetables in the heart of Manhattan. The Union Square Greenmarket is a full-fledged farmers market open four days a week. It's a great place to find fresh produce, local cider and wines, genuine maple syrup, pure honey, artisanal breads, farmstead cheeses and much more. In fact, with the park right there, you can buy enough to have an impromptu picnic.  The market is open every Monday, Wednesday, Friday and Saturday from 8 a.m. to 6 p.m. For more information, check out the Union Square Greenmarket official website for more information.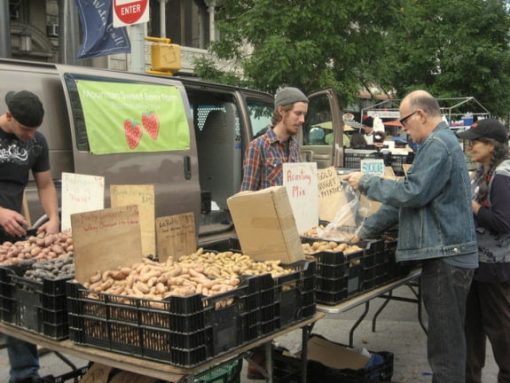 4. Manhattan is Walkable
Much to my surprise, Manhattan is quite walkable, weather permitting. The subway is still handy when you need to to get somewhere in a hurry, but for more leisurely explorations, you can't beat hoofing it. Walking in Manhattan leads to the type of unplanned moments that create the best travel memories. For instance, I never would have had my two celebrity sightings (Deepak Chopra and John Krasinski) or discovered a French cheese showcase (with free samples) if I had taken the subway instead of strolling down Broadway.
5. General Worth is Buried in Manhattan
There are statues all over New York City, but I was surprised to learn that the body of General Williams Jenkins Worth, for whom Fort Worth, Texas is named, is buried at the intersection of Broadway and 5th Avenue, right across from the famous Flatiron Building.  Although well-marked, it is easy to walk right past this 51 foot tall monument without realizing it is a historical grave site (in photo at top). I also found it interesting to learn that the pickets on the cast-iron fence surrounding this monument are replicas of General Worth's Congressional Sword of Honor.
6. Last Minute Broadway Show Tickets
I thought deals on Broadway show tickets were only possible with advance planning, and since we didn't know when we would be in New York City, I crossed that idea off my list. Turns out there are a couple of ways to find last minute Broadway show tickets at good prices. One is through TKTS, which sells discounted tickets (up to 50% off) the day before and the day of any show. The other way to get a last-minute deal is to drop by the theater where the show you want is playing shortly after their box office opens and see what's available. That's how my husband and I snagged box seats to Mamma Mia, and I was able to see my first Broadway show.
7. New Yorkers are Friendly
All my life, I have heard New Yorkers described as a brusque, even rude, group, however, this was not my experience at all. Everywhere I went, locals were warm, friendly and eager to help a gawking tourist such as myself. When we looked lost, strangers were quick to offer directions and at lunch, a passerby pointed us to a great lunch deal. Later, when our pizzeria server overheard that my iPhone battery was low, he brought an extension cord over to our table so that I could charge it up during our meal – yet another pleasant surprise about New York City.
Photos: Courtesy of the author
Tui Snider is passionate about exploring the world, and loves sharing what she finds at home and beyond in her travel writing and photos. You can find her online at Discovering-Dallas-Fort-Worth.com, mentalmosaic.com/blog and on Twitter @mentalmosaic. Her top three travel destinations are Italy, London and anywhere a cruise ship will take her.