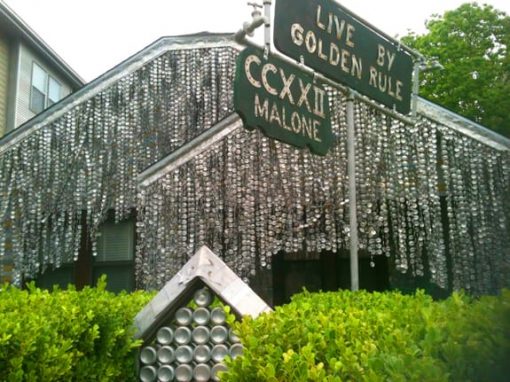 What do thousands of beer cans and a religious dedication to orange juice have in common? A visit to Houston, Texas, is in order to discover the connection. Two men with two different artistic expressions living in two separate neighborhoods, sharing one common goal: to create a shrine to their favorite beverage.
Houston's art scene is one of most vibrant in the country with the Menil Collection, The Museum of Fine Art and Contemporary Arts Museum, but the city is not just about  internationally renowned artists, but also about quirky residential creations.  Throughout American's fourth-largest city, Houston champions the everyday artists – like a Southern Pacific Railroad upholsterer named John Milkovisch, and Jeff McKissack, a former worm farmer and postman.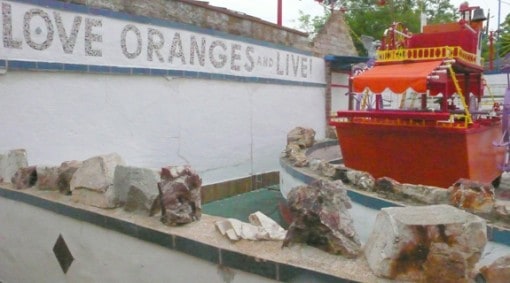 It was 1968 that these two visionaries, complete strangers to each other, began a labor of love to construct temples dedicated to their drink of choice.  John Milkovisch, over 18 years, created what is known today as The Beer Can House. Jeff McKissack erected The Orange Show, resembling a vintage Pee-Wee's Playhouse, of found objects to promote health via the almighty orange.
The Beer Can House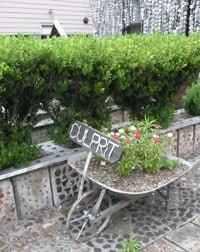 Milkovisch began his project when he was tired of mowing the lawn.  He completely covered the lawn with scavenged rocks, marbles and metal pieces that he carted home in his trusty wheelbarrow, the "Culprit."
Because he intuitively knew aluminum was valuable and not something to throw away, he had been saving his used beer cans for decades. As a prime example of modern green living, he put to good use the term re-purposing and began adorning his entire house with straightened  beer cans.  This recycled home decor method proved eco-friendly in another way – it cut down on the family's energy bills as well. Over 50,000 beer cans are used according to Ripley's Believe it or Not.
Over the next 18 years, Milkovisch's tab-to-can creations adorned the entire house, including intricate cut beer top garlands that make the house look and sound like a giant wind chime. He said once of his genius work, "Some people say this is sculpture but I didn't go to no expensive school to get these crazy notions."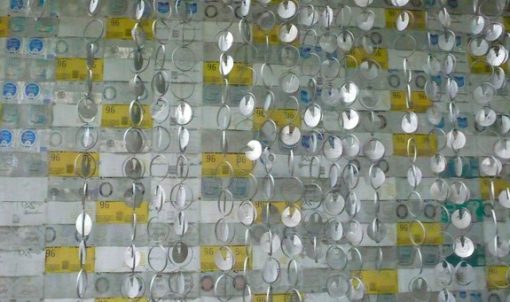 What's most endearing about touring the Beer Can House is getting to know him through the ten-minute video depicting Milkovisch and his wife, Mary, being interviewed on different news programs. His good ol' boy friendly smile and humble approach to his masterpiece are touching as he says, "I don't consider this art. It's just a pastime. But sometimes I lie awake at night trying to figure out why I do it."
The Orange Show
Jeff McKissask had a drastically different opinion of his creation compared to Milkovisch. He said of his monument, "It's the biggest thing to hit Houston since the Domed Stadium. Take 100,000 architects and 100,000 engineers and not one of them could come up with a show like The Orange Show."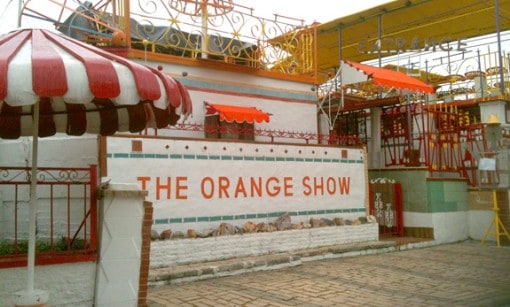 And no doubt, McKissask was right. There is nothing in Houston or the planet for that matter that compares to what he built.
The Orange Show is a playful tribute to his favorite fruit complete with a pond, intricate mosaics with quotes from Aesop and Confucius (spelled Conficious by McKissack), an orange museum and a stage planned for a tap dancer and female organ player to perform.  His mission in building it, in his own words, were "to encourage people to eat oranges, drink oranges and be highly amused."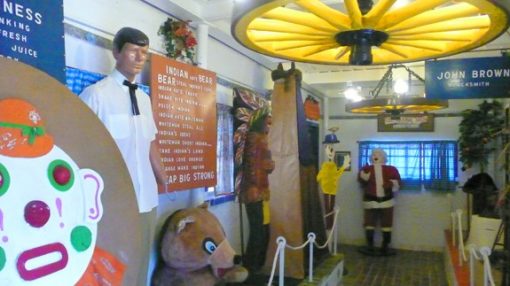 He succeeded with his purpose in the amusement department. You can't help but marvel with joy at one man's eccentric passion to create a place to access your inner child with comedy, color, clowns and citrus of all things.
Orange Show Center's Art Car Parade
Both The Orange Show and The Beer Can House are maintained by Houston's Orange Show Center for Visionary Art, a non-profit institution dedicated to promoting the artistic expression of ordinary people with extraordinary imagination like John Milkovisch and Jeff McKissask.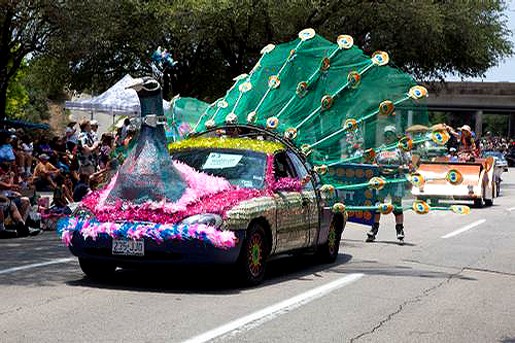 You don't want to miss the 25th Anniversary of the Houston Art Car Parade on May 12, 2012. It's the largest in the country and features cars that look like giant sunflowers, upside down wooden boats, and everything in between. It's folk art meets fine art,with a touch of surreal spectacle.
Visiting Houston's Beverage Memorials
The Beer Can House is located at 222 Malone Street, and can be viewed anytime from the outside.  I highly recommend visiting when on weekends when it's open for tours.  Hours are Saturday and Sunday, noon-5 pm.  Guided tours are $5.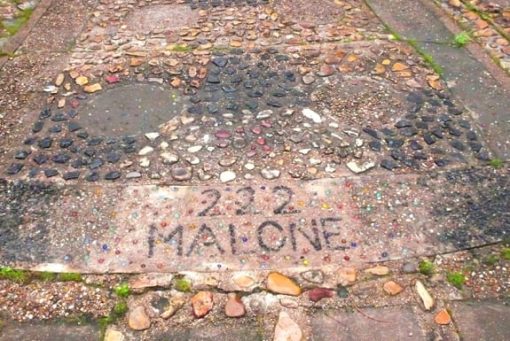 You'll see Milkovisch's craftsmanship and creativity inside the house with the recycled flooring he installed in varying patterns throughout as well as custom built valances. There is also a museum of photos, displays, and a short video.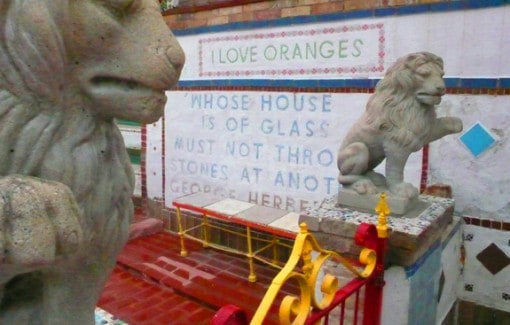 The Orange Show is located at 2402 Munger Street, and is also open only on weekends, noon-5 pm.  Admission is $1, for a self-guided tour.
Photos by author with exception of Art Car Parade image used courtesy of Ed Schipul/Orange Show website.
Lanee Lee is a Los Angeles based writer who uses her craft to pursue her passions – travel, artisanal food/spirits and maximizing quality of life. Lanee has traveled extensively – always in search of those golden moments of bliss. When she's not gallivanting the globe, she enjoys learning cooking tips from her French boyfriend and emulating Grace Kelly style. You can follow her latest adventures: www.laneelee.com, @wanderlushdiary on twitter.