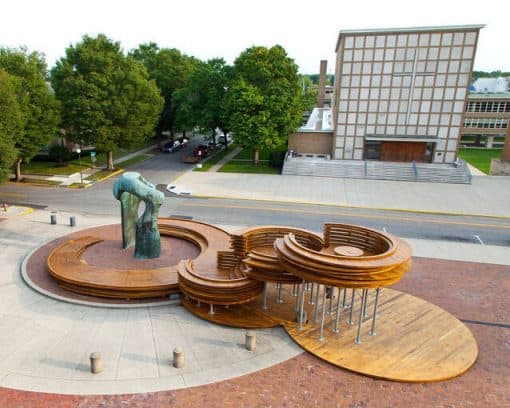 "Exhibit Columbus" is the inaugural edition of a biennal citywide celebration in this southern Indiana community of 45,000. On view through November 26, 2017, are three sets of public art scattered throughout town: Miller prize winners, Washington Street installations, and student works.
Centerpieces are the J. Irwin and Xenia S. Miller Prize installations, five enormous sculptures chosen by juried competition.
The Millers, of course, were two of the 20th century's greatest patrons of architecture (there are some 75 Modernist public buildings ranging from schools and churches to office buildings and factories throughout town). J. Irwin Miller, then CEO of Cummins Inc., which is headquartered in Columbus, set up the Columbus Foundation sixty years ago to pay the architectural fees for local construction if the owners would select from a list of top architects).
Both Mr. and Mrs. Miller are gone now — so how does a small town maintain their design momentum? By creating "Exhibit Columbus", honoring the past while pointing toward the future.


The 2017 Miller Prize winners are Conversation Plinth (above, top) at Cleo Rogers Memorial Library by IKD, and (left to right) Another Circle at Mill Race Park by Aranda\Lasch, Anything can happen in the woods at Cummins Corporate Office Building by Plan B Architecture and Urbanism, The Exchange at Irwin Conference Center by Oyler Wu Collaborative, and Wiikiaami at First Christian Church by studio:indigenous.
In addition to these large-scale works of art, installations along Washington Street (downtown's main drag) from five international design galleries were selected to "create an object or experience that enhances human interaction and connection, and that inspires community conversations about the role of design in daily life".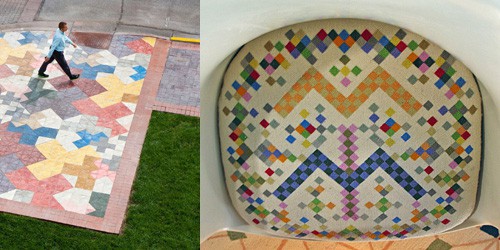 Theoretical Foyer (left) by Cody Hoyt transformed the utilitarian corner of Seventh and Washington streets by replacing the monochromatic sidewalk bricks with brightly colored concrete bricks reflecting the colors of the Alexander Girard-designed seat cushions in the chairs around the Millers' dining room table (right).
PAUSE by Pettersen & Hein are spatial sculptures and concrete benches, although some of them (there are several along Washington Street) seem more comfortable for the anticipated "dialogues" than others. Columbus Circles by Productora dissolve into the built environment. They're nine circular elements attached to building facades and they look organic rather than contrived.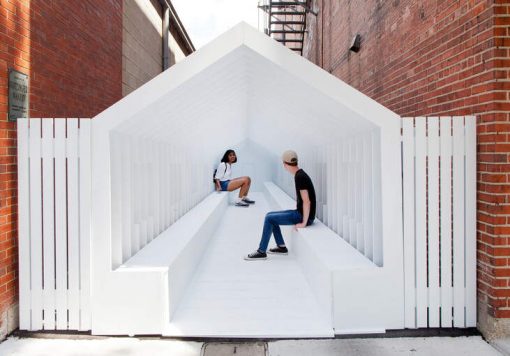 Playhouse (above) by Snarkitecture uses "forced perception to create the illusion of unexpected depth". It's located in the alley next to Kidscommon (the children's museum), so little ones will have great fun exploring the diminishing scale.
Stairway to Columbus by Formafantasma morphed into something different between design and execution because the artists weren't able to cast enough glazed volcanic brick to complete the original conception. It became a Window to Columbus with the inset display serving as a mini-museum, changing every two weeks.
Other installations are by students from Midwestern universities with programs in architecture and design. Students from Columbus high schools created "Between the Threads" (below).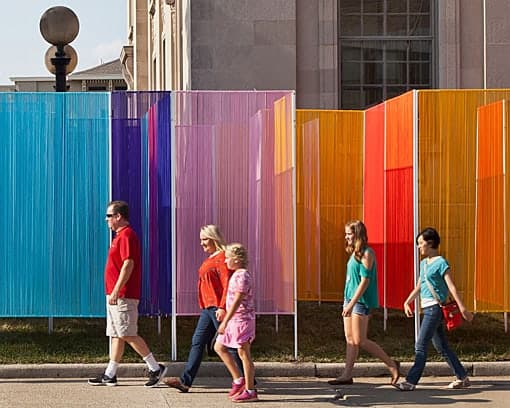 Exhibit Columbus is a project of Landmark Columbus, which (in its turn) is a program of Heritage Fund — the Community Foundation of Bartholomew County.
(Photos by Hadley Fruits for Exhibit Columbus and by Susan McKee)
Susan McKee is an independent scholar and freelance journalist specializing in history, culture and travel.