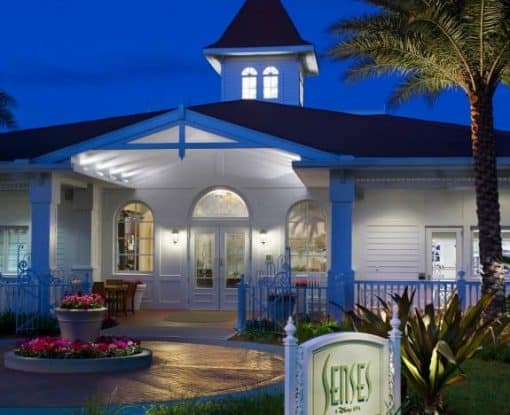 Vacations were created for relaxation, spa treatments for an indulgent escape.  Combine the two and you have an indulgent, relaxing vacation.  Senses – A Disney Spa, located at Walt Disney World's Grand Floridian Resort, provides that perfect combination in one location.
In the past, as much as I had dreamed of a spa treatment for myself while at Disney World, I always felt guilty about taking the time away from the family vacation.  On a recent trip, I put my food down, literally and scheduled an appointment for a pedicure.  With the spa opening at 8:00 am daily, I booked an early morning session allowing the family to leisurely awaken and meet me in the lobby of the Grand Floridian.
With the early hour of my appointment, I opted to take a taxi to the Grand Floridian Resort instead of relying on the complimentary Disney transportation available to registered guests of a Disney Resort.  Arriving by taxi made it necessary to maneuver the parking lot of Magic Kingdom Theme Park.  While this was not a problem for my cab driver, it might have added some inconvenience had I opted to drive myself.  Either way, make sure you have a printed copy of your spa reservation handy as I was requested to present it to the parking attendant. Without it, I was informed, I would have been required to pay for a day of parking at the theme park.
Senses is located in a separate building away from the hotel, but designed to maintain the Victorian-style of the Resort.  Stepping into Senses, the lighting and calming voice of the receptionist put me immediately at ease and before I had the opportunity to turn around, I was warmly greeted by an escort to begin my "journey".
Based upon the themes of Renew, Relax or Imagine each journey, or treatment package, is its own custom experience. From the use of different herbs and organic products to the shades of color used in the treatment room, each journey is carefully created.  My pedicure was selected as an Imagine journey and from the moment I stepped beyond the lobby, my journey truly began.
Through hushed tones, my guide pointed out the rooms designated for massages, facials, aromatherapy and couples retreats as I was led to the dressing area and steam room.  I believe I would have been content to remain in the steam room for the remainder of the day.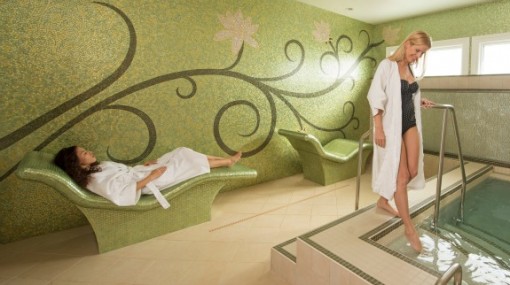 Full of light, the room features a whirlpool, several tiled and heated lounge chairs and separate aromatic steam area.  Heated to 92 degrees, the curved chairs felt heavenly and looking upward, I noticed an intricate mosaic tiled wall.  The longer I stared at the wall flowers, dragonflies and even the occasional Hidden Mickey became more obvious as the wall seemed to pop to life.
Equally as delightful was the waiting area where guests quietly chatted while sipping on cucumber basil water or herbal tea and nibbled on the health muffin of the day, a moist banana muffin with dainty chocolate crunches on top.  The muffins, which are made fresh daily in the Resort's kitchen, alternate in selection.  It was not willpower, but sheer relaxation that kept me from getting out of my lounger to delve deep into the tray of delights.  If it is solitude you seek, sheer drapes between lounge chairs can be drawn for privacy.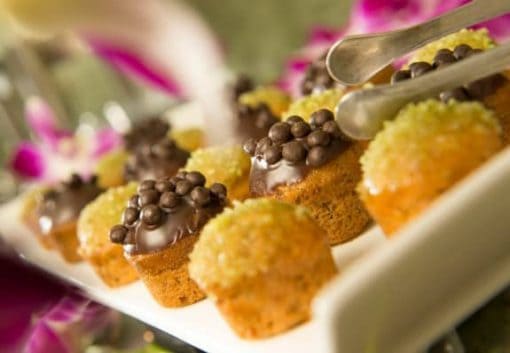 Manicures and Pedicures are performed within the same large room.  Bright with skylights, my eyes immediately settled on a darling little pedicure chair with the back shaped like a throne.  This seat, I was told, is reserved for the younger guests receiving the royal treatment of the My First Pedicure/Manicure package.  While my seat back may not have been in the shape of a throne, I was treated like royalty with individualized care.  I was particularly happy that at the end of my session, I was handed a small bag that contained all of the utensils used to perform my pedicure including the individual bottle of polish reassuring that all was used solely by me.
Alas, with my pampering complete, it was time to return to the dressing room.  Rich with individual wooden "lockers" and high backed leather benches this area is very comfortable, allowing privacy as well as convenience.  Shelves lined with beauty products, allow guests to shower either before or after their spa treatment making it perfect for coming from or heading to the Magic Kingdom or dining at the Resort.
Treatment packages can be scheduled, at either Senses Spa at Disney's Grand Floridian or the recently opened Senses Spa at Disney's Saratoga Springs by contacting Walt Disney World Resort Spas at (407) WDW-SPAS.  Never again will I allow the opportunity to visit a Disney Spa slip through my hands!  Let the kids sleep in, or send them off to the park or pool, while you head to the spa.  After all, if Mama ain't happy. . . .
Photo Credits: WDW News
Disclosure:  The author was given a complimentary spa treatment for the purpose of a review; the opinions expressed are strictly her own.
Having been transplanted numerous times, I have learned to explore the sites around our new found hometown, uncovering hidden gems and attractions. When vacation time rolls around, I enjoy traveling with my family and the occasional weekend escape with my husband, coming home to share our travel experiences with others. You can follow me on Twitter @JAIngersoll. My top three destinations are Walt Disney World Resort, the Midwest and any beach I can walk along.