In the Chinese calendar, 2014 is the Year of the Horse. Throughout history, humans have depended on horses not only for their strength and speed, but for what horses can teach us. Horses are fearless yet sensitive, stubborn yet clever, noble yet playful. Learning to ride is an exercise in communication between horse and rider – those who think it's just about control may soon find themselves literally in the dust – and when you work in harmony, it is truly magical.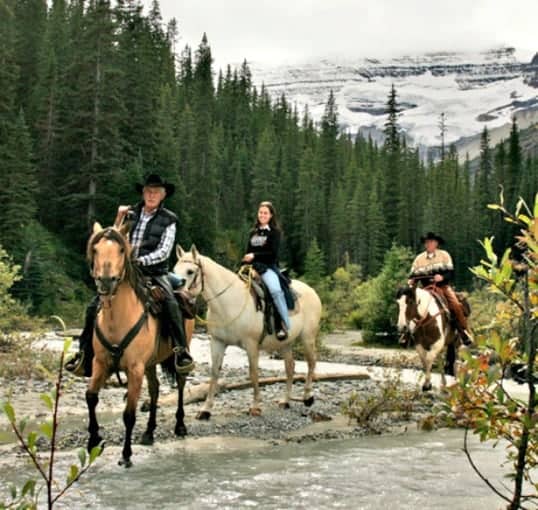 In celebration of the Year of the Horse, many spa and resorts are offering equine experiences to let guests experience the spirit of freedom that only a horse can give you. See if one of these equine themes experiences tickles your fancy.
Oaks at Ojai – This destination health spa is nestled within California's beautiful Ojai Valley and on the doorstep of Los Padres National Forest. Along with its wide array of fitness classes and facilities on site, the Oaks at Ojai offers opportunities to explore the surrounding canyons, trails, and beaches on horseback. A full-service spa awaits to pamper you upon your return, and you can dine on gourmet spa cuisine before you bed down for the night in your private hacienda.
Ste. Anne's – This all-inclusive "spa village" resort on 500 verdant acres above Lake Ontario has everything you need to relax, revitalize, and reflect on what's important in life. Among the historic buildings that house accommodations, spas, and dining are the on-site stables, where you can participate in their Equine Experience. Through practical experiences caring for the horses and learning to ride, you will experience the joy of spending time with these animals and gain greater self-confidence and communication skills. A comprehensive horsemanship program is also offered, which allows you to progress and learn at your own pace.
The Couples Resort and Algonquin Spa – This luxurious resort at the doorstep of Ontario's Algonquin Provincial Park is a romantic spa getaway for two. The outdoor setting offers many activities, including horseback riding, hiking, and water sports, as well as skating, cross-country skiing and snowshoeing in winter. The nearby horse ranch operates year-round, with bookings available through the resort's front desk. In addition to spa treatments at the Alongquin Spa, guests can enjoy walking in the gardens, soaking in the salt-water pool, or relaxing lakeside.
Fairmont Banff Springs, Jasper Park Lodge + Chateau Lake Louise – Located in the Canadian Rockies, each of these resort hotels offer ways to help guests unwind and enjoy the world-famous scenery that surrounds them. Horseback riding is a great way to explore trails to glaciers, lakes and waterfalls, see wildlife and connect with historic Western Canadian traditions. Local guides and outfitters ensure your comfort and safety, and each hotel offers luxurious spas to ease your muscles after a day of riding.
Travaasa Austin – This Texas resort is all about experiences:  adventure, culinary, cultural, health and fitness, and spa. Horseback riding is considered an opportunity to not only improve fitness and strength, but also to bond with the horse you're riding. Experienced cowboys and teachers lead riding lessons and help you connect with these magnificent animals. There is also an Equine Encounters program that uses interaction with horses and guidance from the equine team to help you develop greater self-awareness. No previous horse experience is required. To complete your Texas experience, you can also learn to two-step and take part in the evening campfires – just like a cowboy!
The Hills Health Ranch – Set on over 20,000 acres of rangeland and forest in the Cariboo region of British Columbia, Hills Health Ranch combines horseback riding, spa relaxation, and luxurious accommodations. Guests are carefully matched with horses and there are riding experiences for all levels – from 1-2 hour excursions to all-day cowboy cook-outs and romantic linen and lace luncheons. Workshops on horse care and safety – even horse whispering – are available, and there are riding camps especially for young cowboys and cowgirls, too. This family-friendly resort offers hiking, mountain biking, fitness classes, and barbecues along with relaxation.
Blackberry Farm – Explore the scenic countryside of Blackberry Farm, a resort located in Tennessee's world-famous Great Smoky Mountains, on the back of a well-trained horse. Guided rides are available for guests of any experience level. Every ride includes instruction, a helmet and a Western saddle (English saddles are available upon request). Children under the age of eight can participate in Pony Club or Recreational Riding Instruction. Before or after your ride, you can also treat yourself to the Farmhouse Spa, fitness and yoga classes, and culinary creations featuring farm-fresh products.
Grail Springs – This health spa and wellness retreat is embraced by nature in southern Ontario, next to a curative spring-fed lake, and is situated on deposits of healing quartz crystal and other rock gems. Along with other wellness treatments, guests at the spa can experience the magic of this area on one of the resort's Rocky Mountain horses trained by the resident "horse whisperer," Richard Capener, who also gives regular talks on Equine Wisdom. It's a great chance to connect with nature on these gentle, spiritual animals.
Miraval Arizona -Miraval is a resort and spa situated on 400 acres in the warm shade of Santa Catalina Mountains in northern Tucson, Arizona, The spa is dedicated to Life in Balance, and their equine program is one of the many experiences guests can choose from to enhance their stay. Expert facilitators use specially selected horses to guide you on a journey of discovery about yourself and the obstacles keeping you from living the life you want. The spa also offers art appreciation, meditation, yoga, fitness, and outdoor adventure.
Echo Valley Ranch Ranch & Spa – This five-star ranch retreat is perfect for guest who want a country escape. Echo Valley Ranch pampers guests with spa treatments, gourmet dining with organic produce from the ranch's own gardens, and the opportunity to enjoy British Columbia's natural beauty on horseback. You'll be guided by experienced wranglers on hour long or day long rides into the thousands of acres of trails surrounding the resort. The ranch also has ponies and gentle donkeys for children to ride. Fly-fishing, hiking and gold panning are available, and of course, there is a world-class spa: the Baan Thai, offering traditional Thai treatments as well as Western-style services.
Photo credits:  Spas of America via TravMedia
Mary Jo Manzanares is a founder and the editor-in-chief of The Traveler's Way, an online travel magazine proving informational and inspirational travel recommendations for curious Baby Boomer travelers. She has been a speaker at various industry events and has a personal travel blog at Traveling with MJ. When she's not traveling, Mary Jo likes lingering over a cup of coffee, wandering in a museum, sipping wine at a cafe, and sharing it all with friends and readers. Mary Jo's top travel destinations are Italy, Portugal, and the Caribbean.