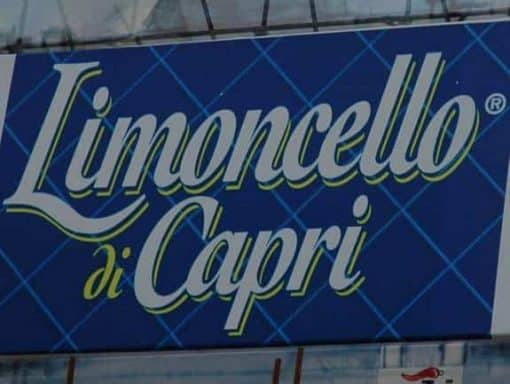 What is Limoncello?
Limoncello (lee-moan-chello) is a popular after dinner digestive in southern Italy. When you visit Naples and other cities along the Amalfi Coast, such as Sorrento, Positano and Ravello, you will see this bright yellow liqueur in decorative bottles on display in shop windows everywhere you go. It's not just for tourists, either. I've sampled this liqueur in Italian homes, and have seen it for sale in small neighborhood grocery stores. And, yes, that neon yellow is the natural color of the drink when made from local Sorrento lemons.
History of Limoncello
The origin of limoncello is rather hazy. Some claim it was first concocted in the 1600's by southern Italian nuns. The fact that a convent in Salerno includes this lemon liqueur in their recipe for sfogliatella (a popular southern Italian pastry) as far back as the 1700's lends this theory some credence. In other lemony lore, people claim that Neapolitan peasants and fisherman drank limoncello to keep warm in the winter, and that soldiers used it to bolster their courage.
More recently, an innkeeper named Vincenza Canale served it to her guests as an after dinner digestive on the island of Capri in the late 1800's. She made her limoncello from an old family recipe. How old this recipe was, we don't know. In any case, the Canale family registered the trademark "Limoncello" in 1988 and her descendants now own and operate a well-known limoncello producing company.
How Limoncello is Made
Compared to wine and beer, limoncello is rather simple to make. Recipes vary, of course, but the basic process involves soaking ground up lemon rinds in a mixture of water, sugar and grain alcohol. This mixture is then steeped for up to three months.
Of course, the final product is only as good as the ingredients you use.
The best limoncello is made from Sorrento lemons which are prized for their aromatic skins. The soil along the Amalfi coast, which includes the town of Sorrento (for which the lemon is named) provides the perfect blend of limestone and tufo rock for this variety of citrus to thrive. In 2000 the Sorrento Lemon earned Italy's prestigious IGP designation. IGP stands for "Protected Geographical Indication" and gives these lemons a protected status.
The flesh of Sorrento lemons is surprisingly sweet, and when I lived in Naples we ate them the way you would a grapefruit, with a bit of sugar sprinkled on top to take the edge off their tartness. Here in the United States, Italian immigrants often make their own limoncello, and recipes I have seen suggest that while Meyer lemons are a good substitute for Sorrento ones, nothing is quite like the real thing.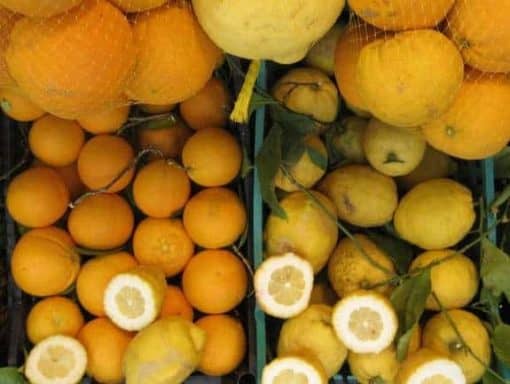 Visit a Limoncello Factory in Naples
Of course, it's always best to see things for yourself, so when planning your visit to Naples, consider adding a stop at Limoné (Piazza S. Gaetano, 72) to your itinerary.
Limoné is a well-known shop where they make high quality limoncello on-site. Here you can enjoy free samples as well as a free tour of their little factory. It's easy to justify a stop here since this part of town, Naples Historic City Center, is a UNESCO World Heritage site, and you are surrounded by many historical spots such as "Christmas Alley" (where they make nativity scenes year-round), the cloister gardens of Santa Chiara, the Naples National Archaeological Museum (home to many artifacts from Pompeii) and several other must-see sites.
Limoné's spotless interior and minimalist decor is a sharp contrast to the ancient city streets of Naples. Photo displays along the wall explaining the history and process of making limoncello make it feel like a museum. Tours are informal but entertaining. These people take their limoncello very seriously and will explain with great pride and passion how their limoncello is made in small batches from organically grown fruit, without any artificial colors, flavors or preservatives.
Limoné makes variations such as Crema di Limoncello (a creamy limoncello), Fragolino (made with strawberries instead of lemons) and more. It's not all booze here, either. Limoné also offers several pastries. I suggest trying their baba, a rum-soaked pastry that is a Neapolitan specialty.
Since the making of limoncello uses only the lemon skins, Limoné ends up with a lot of leftover lemon flesh, which is why you really can't pass up getting a tasty cup of fresh lemon granita (an icy dessert similar to sorbet) when you visit, either.
How to Serve Limoncello
Limoncello is gaining popularity in the United States as an exotic ingredient to cocktails and as a secret weapon to brighten up otherwise bland desserts. It goes particularly well with vodka and (my favorite) champagne. It's wonderful drizzled over ice cream, or better yet, gelato.
In Italy, however, limoncello is usually served after dinner or paired with the dessert course. Keep in mind that you are never meant to gulp limoncello, but to savor it. Since Naples is also known for its Capodimonte ceramic works, limoncello there is often served in cute little ceramic cups. These liqueur cups make great souvenirs and pack better than large bottles of booze.
If you buy limoncello in the states or bring some home from a trip to Italy, make sure to store it in the freezer after opening. That way, it's ready to serve as a digestive after your special meals.
Italians truly believe limoncello helps you digest your food, and perhaps they are right. In any case, sipping a glass of chilly limoncello after dinner on a hot summer day makes a very pleasant ritual whether you are visiting the Amalfi Coast or sitting in your own backyard.
Photos: Courtesy of author
Tui Snider is passionate about exploring the world, and loves sharing what she finds at home and beyond in her travel writing and photos. You can find her online at Discovering-Dallas-Fort-Worth.com, mentalmosaic.com/blog and on Twitter @mentalmosaic. Her top three travel destinations are Italy, London and anywhere a cruise ship will take her.