In the spirit of the Maharajas, Geringer Global Travel is introducing an exclusive 15-day tour of Rajasthan, guided by Durga Singh Ji, a Rajasthani native and hotel proprietor who is from India's royal Mandawa family. This once-in-a-lifetime trip offers a small party of travelers (maximum group of twelve) an intimate look into India's complex dynastic history as seen by journeying though Rajasthan, its "Land of Kings," while staying at special accommodations.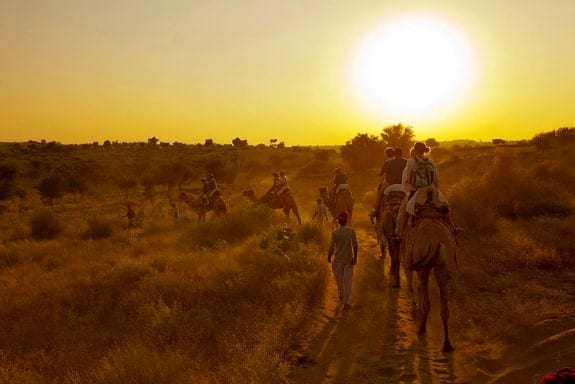 Drawing on Durga Singh Ji's vast store of knowledge, guests will gain insightful commentary into the history and culture of India's most iconic monuments, cities and villages. Travelers will explore the famed Indian cities of Delhi, Agra, Jaipur, the golden city of Jaisalmer, Jodhpur and the "city of dawn," Udaipur, gazing in awe at the wonders built by the Islamic Mughal dynasty who reigned over the area for centuries.
The influence of these dynamic emperors (Akbar, Humayun, Shah Jahan, etc.) can still be traced in the culture and customs of Rajasthan, yet nowhere is their legacy more in evidence than in the breathtaking sites of the Taj Mahal, the Red, Amber and Meharangarh Forts, the Chandni Chowk bazaar and the Palace of the Winds. Travelers will also have the chance to experience village and tribal life by staying at the Chattra Sagar Luxury Tented Camp located in Nimaj, and the Manwar Tented Camp in the midst of the Great Thar Desert. 
Additionally, Durga Singh Ji's extensive royal connections enable him to curate special experiences for his guests, from musical recitals, to village safaris, to behind-the-scenes institutional tours that will enhance the India experience.
Travelers will be entertained royally with a gala dinner and a special performance by a troupe of seven Manganiyar musicians upon arrival at Dera Mandawa, Durga Singh Ji's own boutique heritage hotel. Enjoy safaris by camel and elephant, attend a cooking demonstration, relax on a private boat cruise through the waters of Lake Pichola, and enjoy a visit to SADHANA, a center for empowering village women. Travelers may also enjoy visiting Durga Singh Ji's own alma mater, the Mayo College in Ajmer, an elite boarding school known as the "Eton of India" which counts Indian royals among its alumni.
Highlights Include:
View the Taj Mahal, iconic monument to enduring love, by light of a full moon;
Enjoy a gala welcome dinner and special performance by Manganiyar musicians at Dera Mandawa;
Visit Ajmer's Mayo College, known as the "Eton" of India for its impressive alumni of Indian royals;
Embark on a camel safari from Manwar Tented Camp to see the desert tribes;
Attend a private music recital by Nawab Khan playing the santoor (traditional Indian string instrument);
Visit SADHANA, a center near Delwara for empowering village women
Hotels include:
The Claridges (New Delhi)
ITC Mughal (Agra)
Dera Manadawa (Jaipur)
Chhattra Sagar (Nimaj)
Manwar Tented Camp (Manwar)
Surya Garh (Jaisalmer)
Ratan Vilas (Jodhpur)
Rawla Jojawar (Jojawar)
Hotel Devi Garh Hotel (Delwara).
Dates:  The escorted tour arrives in India on October 6th, 2014
Rates:  Pricing begins at $5,780 per person, double, and includes all meals, domestic flights, transfers, monument entrance fees, and accommodations for 14 nights at 5-star hotels and heritage/boutique hotels. Single pricing starts at $7,999 per person. International airfare, guide's and driver's gratuities and cancellation insurance not included.
Photo credit:  via wikimedia
Mary Jo Manzanares is a founder and the editor-in-chief of The Traveler's Way, an online travel magazine proving informational and inspirational travel recommendations for curious Baby Boomer travelers. She has been a speaker at various industry events and has a personal travel blog at Traveling with MJ. When she's not traveling, Mary Jo likes lingering over a cup of coffee, wandering in a museum, sipping wine at a cafe, and sharing it all with friends and readers. Mary Jo's top travel destinations are Italy, Portugal, and the Caribbean.