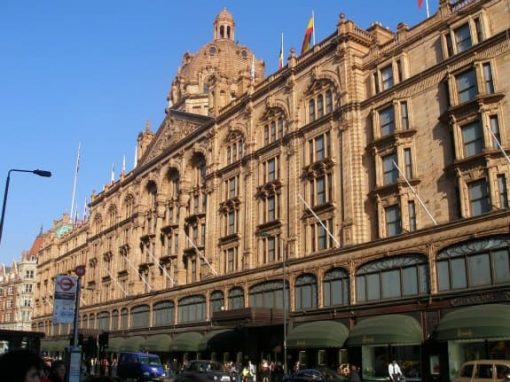 When in London there is one place that most visitors have on their list of places to visit.  The infamous Harrods in Knightsbridge is not only about shopping till you drop, but the store also offers restaurants and a personal shopping service too.
In true Harrods fashion the store even has a dress code that reads:
"Please ensure all clothing is clean and presentable and that the appropriate footwear is worn while in the store. Refrain from wearing clothing which may reveal intimate parts of the body, or which portrays offensive pictures or writing.  Refrain from wearing crash helmets in the store."
Here are a few tips on how to navigate Harrods like a pro.
Shopping at Harrods is not about what you can find, because the fact is there really is nothing you can't find at this store.  It's a matter of what brand you want, maybe Oscar de la Renta or Halston or whomever your favorite designer is (think Alexander McQueen) and how to best navigate the store for efficiency.
The over store encompasses four and a half acres, and each of  Harrods seven floors has a different shopping experience. That's a lot of shopping space to get lost in, isn't it?  From Burberry, Herve Leger, Paul Smith and Vivienne Westwood, the Harrods Designer A-Z has an unequaled assortment of leading designers.  You can shop from around the world in one place whether you're looking for designer collections for women and men, shoes, accessories, children's items, beauty, sports, Harrods Own, food and wine, home, gifts and even souvenirs.
On the ground floor the Egyptian Hall is one of the most popular spots that shoppers visit, and you'll find a variety of handbags on offer.  The Food Hall is also on the ground floor – it's easy to find it because there is always a crowd headed in that direction.  The Food Hall has a gourmet grocer, a wine shop with over 3000 wines and spirits, a chocolatier and confectionery, a  boulangerie and patisserie, a dim sum and sushi bar, a seafood and oyster bar, and more.  It's quite possible you will never want to leave the ground floor.
Of course, keep going up and the food choices become even more diverse.
On the first floor you will find the wedding boutique as well as a variety of women's clothes and shoes.  Veuve Clicquot Champagne Bar celebrates the house of Madame Clicquot with a selection of Champagnes, from signature Yellow Label through to prestigious cuvées. After all, shopping is always a bit more fun with a few bubbles in hand.
The second floor is all about the home with home decoration collections, bed and bath, kitchenware, tableware and travel goods. You will also find a money exchange counter on this floor, the gift shop, and a chocolate bar with chocolate fondues and chocolate drinks – the ultimate chocolate fantasy, you bet!   Harrods offers the Queen's Diamond Jubilee Collection 2012 on this floor as well.
On the third floor there is home entertainment, books, furniture, musical instruments and antiques.  Don't hesitate to check out the Millionaire Gallery –  it's right next to the Harry Potter Shop – which will be in-store until the end of January.
Going up, up and up and the fourth floor will find you at the toy kingdom, children's cloths, more shoes and the pet spa.  Yes, even your pet can be pampered at Harrods.
However, it's the fifth floor where you want to visit for the Urban Retreat Spa and the Perfumerie.
The Personal Shopper Experience at Harrods is for the discerning shopper looking for the true Harrods experience. Located on the fifth floor, it's called BY APPOINTMENT and offers a taste of luxury and a premium shopping service  complimentary in the men's and women's departments.  Need I asked who doesn't want the help of some of the most knowledgeable consultants and stylists in London helping to choose just the right product from each of Harrods seven floors?!
Choosing just the right restaurant and eating at Harrods is as diverse as it can be overwhelming, and there are over 30 eateries in the store to choose from, some are renowned the world over.  With internationally acclaimed chefs at the store's premium restaurants you can expect innovative menus from across the globe and even better, you can enjoy your meal while you're shopping.
Here are a few of my recommendations:
The Georgian Restaurant on the fourth floor and is all about elegance.  It's an a la carte menu and in the afternoon people flock to Harrods' famous afternoon teas at the Georgian.  I recommend the foie gras, and to not watch your calories if you're eating at the Georgian.
The Terrace Restaurant is on the fourth floor and offers breakfast, light lunch, salads, sandwiches and afternoon tea. This is definitely the perfect place to unwind while shopping and to enjoy visiting with friends in a casual environment.
On the ground floor many folks visit Harrods just for the Laduree experience.  If you can't get to Paris then Laduree in London is the next best thing.  Serving up the most iconic macarons straight from the luxurious Parisian tea room of the same name, if you haven't had a Laduree macaron then you haven't really had a macaron at all.
Caffe Florian is located on the third floor and is an 18th century Venetian coffee house that is known for its pastries and light meals and its authentic Venetian style.
While dei Frescobaldi is one of the newer restaurants at Harrods, it's on the ground floor and a big draw for shoppers or folks who just come for the Tuscan menu and experience. Offering the finest wines and gourmet food, for a moment you might believe you have been transported to Italy where the Tuscan cuisine will make you forget all about London.
Location:  87-135 Brompton Road – Knightsbridge – London
Hours:  Monday through  Saturday 10 am-8 pm; Sunday 11:30 am-6 pm.
Getting there:  No matter where you are in London you can find your way to Harrods via the tube or bus.
The nearest tube station to Harrods is Knightsbridge on the Piccadilly line. Use the Brompton Road exit for Harrods.
South Kensington station on the Piccadilly, District and Circle lines and Sloane Square on the District and Circle lines are just a short walk from the store.
For bus transportation Harrods is served by London bus routes: 9, 10, 14, 19, 22, 52, 74, 137, 414, 452, C1.
Photo credits:   Public domain via wikimedia; Herry Lawford via flickr (handbag display); Herry Lawford via flickr (Laduree); Ambernectar via flickr (escalators);

Rita Cook is a writer/editor with over 1000 articles. She can be heard on Insider Mag Radio at KPRO 1570 am and she also reviews cars for the Washington Times Communities (Behind the Wheel). Her most recent published books include "A Brief History of Fort Worth" as well as two haunted books on Dallas and Fort Worth to be published in the fall 2011. Rita's favorite travel destinations are Italy, India and Kenya.