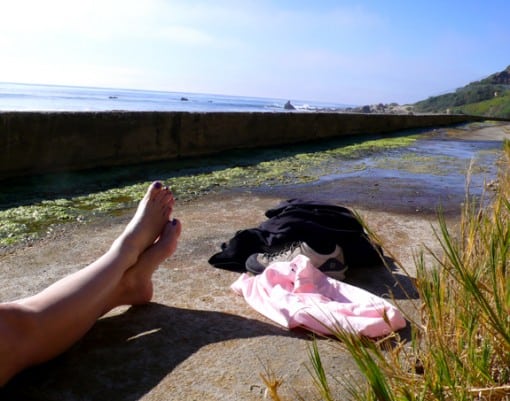 Nude beaches in Malibu? While it sounded intriguing and Malibu is known as a liberal community, I wasn't sure if it was anything more than an urban legend. On a deliciously sunny Sunday in January, my boyfriend and I packed only sunscreen for gear and a picnic for sustenance to investigate.
First stop on the willy-nilly nude beach tour was El Matador Beach, about 10 miles west of Malibu proper. We encountered the rusted No Alcohol sign and had to return a bottle of crisp Rose to the car.  It would have paired nicely with our proscuttio-avocado sandwiches.  Now how was I going to get up the gumption to go nude without a little wine?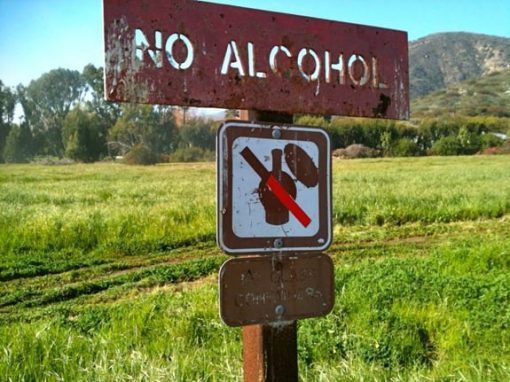 Climbing down the steep, dusty path, I watched for signs of encouragement. Would I see some renegade nude sunbathers on the beach today?
I spotted a couple getting married and a local walking his dog – all fully clothed. Walking south, I spotted a dilapidated concrete slab that looked ideal to try my first Malibu nude sunbathing experiment on.  It was high enough so someone passing by would not to be able to see me.
Pasted to the moss-covered cement slab, I quickly disrobed. Success! Happily I lay in the sun with no interruptions or looky-loos with my boyfriend nearby, apparently more interested in finding tide pools than in my exhibitionism.  The elevated perch, in top photo, that protected me from onlookers also blocked my views of the ocean and I lost interest quickly.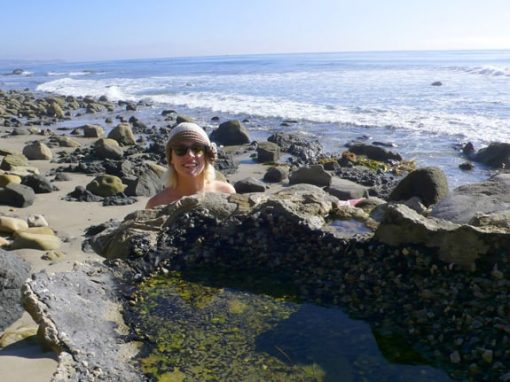 Still curious to find out if there was a secret hotspot for in the buff beach-goers, I ventured on to search other hidden enclaves. Venturing much farther down south, about ten minutes or so, I crawled like a crab into a small entrance that opened into a cathedral-like sea cave (in photo below). It would have been ideal for a 'nake' moment (surfer lingo for nudist), but there was a family visiting from Germany who had claimed the space.
On the return walk back from the failed mission of finding a nude beach in Malibu, I stopped an alluring woman with long, flowing gray hair as she was ascending her private stairs to return home and gingerly asked her if she knew anything about Malibu's nude beaches. With a twinkle in her eye, she said, "Oh, I see some once in awhile here and there. Most locals just turn their cheek, so to speak, and keep walking."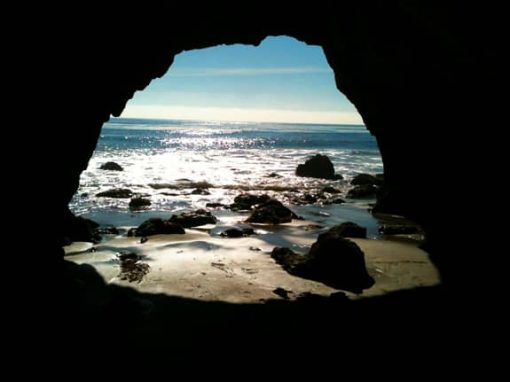 Officially, Malibu has no legal nude beaches. According to a couple, who specializes in nude travel destinations and the authors of the Peel It Off blog, historically Malibu beach nudity has been practiced by a small set of visitors, but due to park ranger crackdowns and appearances, there are very few who brave the birthday suit now.  I certainly didn't see any at El Matador or Pescadores, which are the two rumored non-official nude beaches in Malibu.  And I searched.
If you're a novice or a card-carrying nudist, Kehena Beach on the Big Island of Hawaii is magical bliss. Everyone is of the same mindset. Being clothes-free, with no weirdness, laying out on its jet black sands and swimming with the dolphin pods is the most natural thing in the world to do. It was like a real Garden of Eden.  If you've never swum nude in the ocean before, make it a resolution to do so in 2012. I never felt more alive, liberated and present than when I took my first nude ocean swim.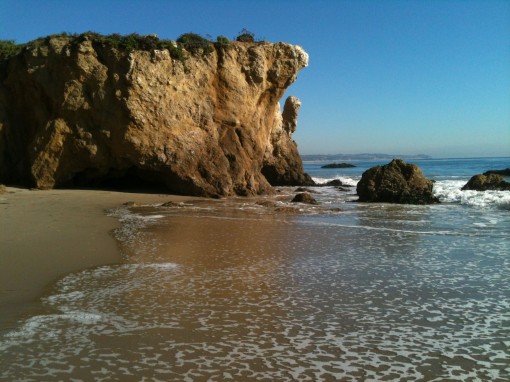 Peel it Off bloggers give these tips if you decide to go in the buff on non-official Malibu nude beaches:
Lay out behind the north side of a rock as that still gives you visibility of who is coming down the beach. Then keep a towel nearby to cover up quickly.
Instead of being nude, wear the skimpiest micro g-string you can find, mesh, see through, etc. They have occasionally witnessed toleration of a few nude bodies by rangers, but there is a risk of getting a ticket.
Best time to go is on the weekdays, as rangers may only come by once in the morning and once in the afternoon, and may not even walk the whole length of the beach.
Since spots in Malibu where being nude could be an option are State Parks or isolated coves, make sure to bring water, drinks, food, and something to read. Don't bring alcohol, this is not tolerated in the least, and you will be cited for drinking in public.  Couple that with being nude in public and you could get yourself in a mess.
For the most part nudists keep to themselves on the Malibu beaches, and you can participate as much or as little as you feel comfortable. As the common saying among the nudist community goes, "Nude is not lewd."
As I discovered, Malibu is not ideal for a nude beach experience, especially if you prefer to observe the laws in a more black and white manner.  If you want something more official you'll have to head south.  After the clothing-optional San Onofre Beach in Orange County became clothing mandatory in 2008, the only remaining official nude beach in Southern California is San Diego's Black's Beach.  And that's only in one spot near the Torrey Pines Gliderport Trail.
Nudist lifestyle travelers suggest the most comfortable way to experience it in Southern California is to do a nakation at a clothing-optional resort in Palm Springs.  Suggested resorts include Terra Cotta Inn, Desert Sun, or Sea Mountain Inn.
For More Information About Nude Recreation
The Naturist Society –  A group promoting clothing-optional, family-friendly recreation on public lands for over 30 years.
American Association of Nude Recreation (AANR) – Find over 267 family-oriented 'nakations' across North America, the Caribbean and Mexico.
The World's Best Nude Beaches and Resorts guide book
Photo credits:  Courtesy of the author.
Lanee Lee is a Los Angeles based writer who uses her craft to pursue her passions – travel, artisanal food/spirits and maximizing quality of life. Lanee has traveled extensively – always in search of those golden moments of bliss. When she's not gallivanting the globe, she enjoys learning cooking tips from her French boyfriend and emulating Grace Kelly style. You can follow her latest adventures: www.laneelee.com, @wanderlushdiary on twitter.