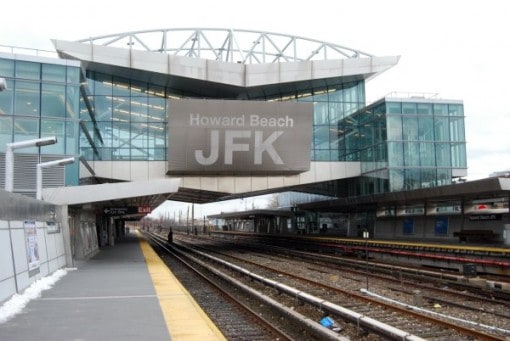 Located in Queens, New York's JFK Airport is just 15 miles from midtown Manhattan on Jamaica Bay.  But depending on your mode of transportation and the time of day it can easily take over an hour to get to a Manhattan destination.
There are a number of ways to get into the city, some cost effective and others not so cost effective.  In fact, you can spend anywhere from $7 to $50-plus depending on your transportation choice. And while it is not recommended to opt for one of the rogue gypsy cabs, you can be sure one of these drivers will approach you to ask if you want a ride.  If you're in a hurry or the taxi stand line is too long and you don't want to take public transportation then a Gypsy cab might be an option.  Negotiate a price before you get in the car.  The one time I decided on this mode of transportation I was in a hurry and decided I might as well give it a try.  I got the driver down to $40 for a trip to the city's Meatpacking District at West 16th Street and 9th Avenue.
More common modes of transportation are the yellow taxi, a limo, a bus or a train/subway option into the city.
Taxi or Limousine
Taxis are always a $45 flat fare and that is not including tolls (normally $4.50 for the Midtown Tunnel toll) to any Manhattan location. Taxis can be found outside any terminal at JFK and rates are based per car not per passenger, and you can have up to four passengers per taxi. Yellow cabs run 24 hours in New York City with the $45 rate plus tolls a flat fee only from the airport into the city.  When you return to JFK from Manhattan taxis charge the metered rate and any additional tolls so prices on your airport return will vary.
You can count on a cab ride to take anywhere from 65 to 75 minutes and the same goes for a car service or limousine.  The limousine ride will almost always cost you more than a taxi, but it is more comfortable, and it also needs to be arranged in advance.  One of the least expensive limousine options to and from JFK Airport is Dial 7 Limo at just $46 plus tolls and a tip. Keep in mind that limo fares vary greatly,though.  If you can't stand the thought of a cab, then the best way to get a good deal on the car service option is to do your research before you arrive at the airport and make reservations for the service accordingly.
Airport Express Bus
The airport express bus operates from the Port Authority Bus Terminal and Grand Central Terminal to JFK Airport and cost from $13 to $15.  One child under 12 can be included in the fare for free and the bus runs every 15 to 30 minutes from 6:15 a.m. to 11:10 p.m. Drive time is normally around one hour and 10 minutes.  In addition to pick up and drop off at Grand Central, Port Authority, or Penn Station, you can also asked to be dropped off at your hotel if it's anywhere between 31st Street and 60th Street.

Subway/Train
Probably the most popular method for most locals, or those looking for a little adventure to and from JFK Airport into the city, is a New York City Subway and Airtrain combo ride.  If you're in a hurry this is also the fastest (albeit not the most glamorous way) to get into Manhattan quick.
During rush hour you are looking at roughly $12, $10 during off peak weekdays, or only $8 on the weekends.  It takes a maximum of about 45 minutes to get to the airport on what is called the LIRR/Airtrain combo and this is one of the best options. After all, traffic and weather do not pose a threat for the LIRR/Airtrain and the MTA and Port Authority have done a good job of making this mode of transportation easy. The Airtrain is free from all stations except the Jamaica and Howard Beach Stations and there is, of course, no cost to use the Airtrain between Terminals 1-8, Federal Circle (rental cars, airport hotel, cargo area and shuttles and Lefferts Boulevard, long term parking, employee parking, Kiss and Fly and the NYC Bus number B15).
The only challenge you will face when using the Airtrain and the subway or LIRR will be to figure out your destination in Manhattan and then plan your connections and subway changes accordingly.  In many cases in order to get to your destination in Manhattan or back to JFK you will need to take the New York City Subway and the Airtrain.  Subways stops are clearly marked and the system is rather easy; it runs 24 hours and costs $2.25.
Here are a few of the best options using the subway and Airtrain to get to and from JFK:
LIRR and the Airtrain to JFK Airport – From Penn Station to JFK International Airport, no matter the day or night, take the LIRR train from Penn Station to LIRR's Jamaica hub. This ride will take about 20 minutes.  From Jamaica Station you will pick up the Airtrain on the upper level – and from there it's a 12-15 minute ride into the city or back to the airport in the reverse the directions. One note of caution – be sure the LIRR train stops at Jamaica Station for your return trip to JFK as some trains do not stop at that station.
A breakdown of cost includes the JFK Airport Airtrain, which is always $5 and payable with a pay-per-ride Metrocard. The LIRR fare varies depending on time of day.  During the afternoon rush hour it is $7 to Jamaica Station and during regular weekday hours the fare is $5. On weekends there is a special city ticket fare from the LIRR to Jamaica for $3.
The LIRR trains run every 15 minutes to Jamaica Station during the day and at night every 30 minutes except from the hours of 2:00 a.m. to 5:00 a.m. when it runs only every hour.
New York Subway and the Airtrain to JFK Airport through Howard Beach – If you need to get to Midtown or back to the airport from Midtown this is a good option.  For this ride you can take the "A" train from any number of Midtown Manhattan locations to Howard Beach.  You will spend most of the time on the subway versus the Airtrain on this one and the Airtrain station is on the upper level at Howard Beach.  Travel time between Howard Beach and Penn Station is 60 minutes.  Take the "A" train to Far Rockaway as the other "A" trains don't stop at Howard Beach.  The Far Rockaway "A" trains run every 15 minutes until midnight and then every 30 minutes after midnight.  From Howard Beach the Airtrain ride is about 12 minutes to the terminals and runs every four to 12 minutes depending on the time of day or night.
Photo credits:  Paul Lowry (exterior) and Marc Flores (interior) both via flickr
Rita Cook is a writer/editor with over 1000 articles. She can be heard on Insider Mag Radio at KPRO 1570 am and she also reviews cars for the Washington Times Communities (Behind the Wheel). Her most recent published books include "A Brief History of Fort Worth" as well as two haunted books on Dallas and Fort Worth to be published in the fall 2011. Rita's favorite travel destinations are Italy, India and Kenya.