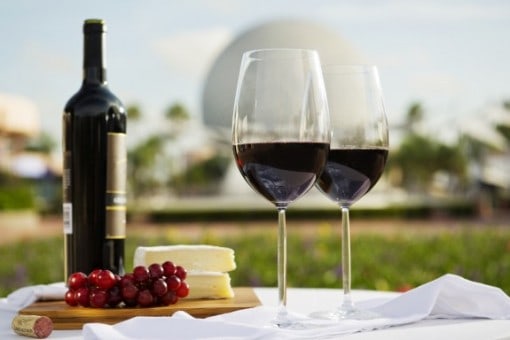 If you are a lover of gourmet food and fine wine, you probably wouldn't think  to head to a theme park for the ultimate in culinary experiences and wine tastings.  Yet, that is exactly where foodies and wine connoisseurs will be heading as Walt Disney World Resort presents the 16th Epcot International Food & Wine Festival, running now through November 13.
More than 25 international marketplace kiosks serve tapas-sized portions of international and regional specialties with recommended wines, cocktails and beers that perfectly pair with each mouthwatering bite.  Guests can literally eat their way around the 40-acre World Showcase Lagoon at Epcot.  After 15 years, this  celebration is far from been there done that, as new marketplaces and experiences are added each year.
For the first time the tastes of  Portugal, Hawaii and the Caribbean Islands will be featured at the Festival.  Marketplace offerings will include calamari salad with olives and smoked paprika paired with Portuguese wines.  Exotic tastes of  the Hawaiian Seven Tiki Mai Tai or a Kona Longboard beer will compliment lotus root chips and Kalua pork sliders. The Caribbean Island Marketplace will offer jerk-spiced chicken with mango salsa and a cooling, frozen Rock Coconut Mojito.  Some returning favorite Marketplaces will include new menu offerings like the Scandinavian Xante pear liqueur cocktail and a new apple ice wine from Canada.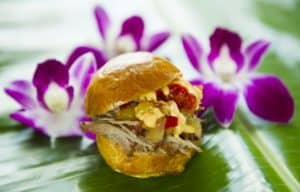 Special Festival Experiences include a series of seminars and demonstrations from renowned winemakers, guest chefs and speakers. With over 270 chefs participating, among the top culinary stars making an appearance will be Jamie Deen, Robert Irvine, Andrew Zimmern and Keegan Gerhard.  Fans of HGTV will have a chance to participate in home entertaining seminars held each Friday, Saturday and Sunday of the Festival.
Additional experiences include cheese seminars, food and wine pairing classes and mixology courses including my personal favorite, a Grand Marnier tasting and cocktail making class.   During Dessert Discoveries, sponsored by DeKuyper, guests  sip cordials, taste desserts and experience Epcot's nightly fireworks event, Illuminations, from a VIP section.  Additional details and updates on all events and seminars are posted at Disney's Food and Wine website.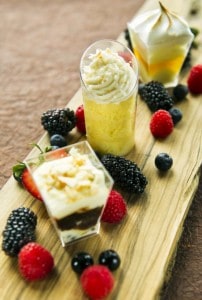 While many of these experiences require reservations and an additional fee, the Festival Welcome Center hosts champagne tastings, wine seminars, book signings, bottle signings and culinary demonstrations at various times throughout the day.  My advice is to make this your first stop and review the schedule.  While at the Center, be sure to pick up a complimentary Marketplace Discovery Passport to be stamped at each international marketplace you visit. I generally grab two, so that I can make notes on the marketplaces I deem warrant a return visit or second helping as it may be. With each destination having its own unique stamp, the Passport makes a great souvenir, especially if you collect a few autographs along the way.
Perhaps the best creation of the entire Festival is the Food & Wine themed mini Disney Gift Card.   The card can be loaded and reloaded with any amount beginning at $5 up to $1,500, sparing guests the trouble of getting out their credit card or cash each time they make a purchase.  By wearing the card on your wrist,  it is fast, easy and secure way to enjoy the Festival.  No more fumbling with a wallet attempting to pay while you are balancing a wine glass and plate of food.  Simply graze, sip and swipe – pure genius!
Curious about how much to add to your Disney card? As a point of reference, most marketplace menu items range from $3 to $8 — remember these are tapas-size portions, giving you room to indulge in several regions.  Cards can be purchased at the Epcot ticket booths, Guest Relations, and the Festival Welcome Center.
Guests looking for a full meal might want to visit several of the new and recently updated restaurants around the World Showcase including Italy and Mexico pavilions.  La Hacienda de San Angel at the  Mexico pavilion offers authentic Mexican dishes and an on-site Tequila ambassador willing to share their knowledge of Tequila as well as unique flavors of Margaritas.  Authentic Neapolitan Pizzas are served at Via Napoli in Italy pavilion.  Using classic Italian ingredients, fresh handmade Mozzarella and baked in wood-fired ovens named after the three volcanoes in Italy, these pizzas are far from the everyday, shop around the corner pie.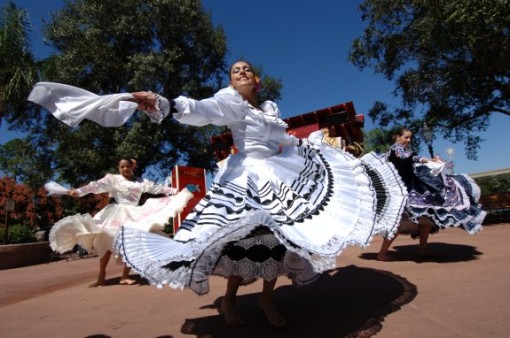 Your taste buds won't be the only things getting a work out during the Festival as your eyes and ears will share in a feast of daily entertainment.  Live entertainment explores various cultures with music, acrobatics and performances at spots along the promenade.  Included in the admission to Epcot, are nightly Eat to the Beat! concerts.  Held three times each evening, the concerts take place at the America Gardens Theatre and features a variety of musical genres.  First time Festival performers include The Pointer Sisters and Gin Blossoms as they join the returning crowd favorites, Hanson, Sugar Ray and Big Bad Voodoo Daddy.
The fall has always been my favorite time to visit Disney World relishing in the smaller crowds and cooler weather.  Top that off with a 45-day food and beverage extravaganza that features international cuisine, culture and entertainment from six continents, and in my book it just doesn't get any better.
Photo credits:  Courtesy of  WDW News
Having been transplanted numerous times, I have learned to explore the sites around our new found hometown, uncovering hidden gems and attractions. When vacation time rolls around, I enjoy traveling with my family and the occasional weekend escape with my husband, coming home to share our travel experiences with others. You can follow me on Twitter @JAIngersoll. My top three destinations are Walt Disney World Resort, the Midwest and any beach I can walk along.