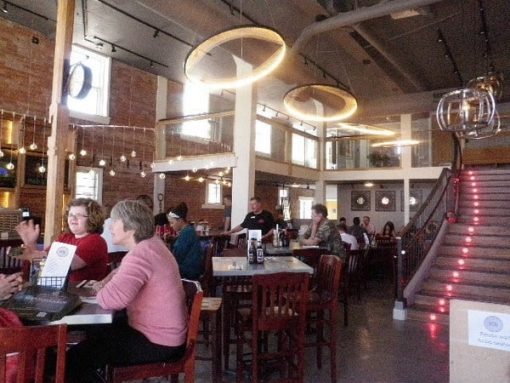 The old alcohol laws that once existed in Utah were changed after hosting the Winter Olympics 2002. You can enjoy craft brews and local wines while visiting Moab. And while the laws may still be a bit different than what you're used to at home, there are plenty of choices – and references to help you figure it out.
On your next visit to Moab, check out some spirited fun.
Blu Pig a BBQ and Blues Joint – Although they have an IPL on tap made special for them, the Blu Pig also serves cocktails and has the largest selection of whiskey, tequila, and beer in the city. They also have live music.
Broken Oar – Proudly serving wines from Moab's Castle Creek Winery in addition to vintages from California, Australia, and New Zealand, along with the house craft draft, Broken Oar Lager. Get a sampler of three draft 6 oz. servings from a nice assortment, or opt for a bottle with selections that include full strength 6.50 brews from Squatters and Wasatch, two Utah breweries.
Canyonlands by Night – A nice vacation twist would be to add this special opportunity for a dinner combined with a boat experience (although dinner is offered as a stand-alone choice). Choose the Boat &  unWine'd & Dine (includes two drinks on the boat) or dinner with the Sound & Light Show. You can add adult beverages at the bar during the Dutch Oven dinner at Canyonlands By Night.
Red Cliffs Lodge Cowboy Grill – Serves beer and non-alcoholic beers by the bottle, and wine and champagne by the glass, in a western environment.
Desert Bistro – Their wine cellar boasts an impressive selection and is available for private dinner parties of six.They also serve beer and spirits.
Eddie Mcstiff's – This place has 12 brews on tap, a few of which are organic, including Utah brews Squatters, Unita, Wsaatch and Red Rock.  By the bottle, get 5.6% – 10.4% strength beers. Martinis and margaritas are their specialties. Ask for a Stiffie – the strongest drinks Utah has to offer – and plan on walking back to your hotel.
Jeffrey's Steakhouse – The wine closet in the Ghost Upstairs Lounge features a spectrum of elegant reds, chardonnay, and other interesting whites. Local wines on offer include Castle Creek and Spanish Valley wineries. Available by the glass, by the bottle.
Miguel's Baja Grill – Stop off here for Margaritas, tequila shots, bottled beer, including the 32 oz. Corona Familiar (limit one per person).
Moab Brewery – This restaurant and offers beer on tap, by the bottle or can, and also has take-home growlers. Their brewery won two prestigious awards:  a Silver Medal at World Beer Cup for Squeaky Bike Nut Brown and a Bronze Medal at the Great American Beer Festival for the Rocket Bike in the American-Style Lager category. All selections are brewed on the premises of Moab Brewery.
Moab Burger and Atomic Lounge – Stop off here for locally made wines, micro-brews on tap or in the bottle, and delicious cocktails. Their juices are all fresh squeezed, in  in-house, along with house-made syrups, and locally made bitters.
Moab Grill – Serving wine including Moab's own Castle Creek Wines, along with Utah brews from Squatters, Uinta and Wasatch.
Pasta Jay's – Premium wine, spirits, and beer, Jay's is known for the Jay's Famous Margarita. Give it a try. And buy a jar of marinara sauce to take home for dinner tomorrow.
Peace Tree Juice Bar – This is juice of the adult variety and includes Margaritas, Martinis, Mojitos and more. Local beers include Moab Brewery Scorpion Pale Ale and Over the Top Hefeweizen; local wine is also available.
Sabuku Sushi – A variety of traditional spirits, along with Sabuku, a Gluten free beer, with an emphasis on Asian flavors.
Sunset Grill – Offers a selection of Utah Micro beers from Epic Brewing Company, Squatters, Uinta, Wasatch, and Moab Brewery's Squeaky Bike Nut Brown Ale. Several of the delectable spirits come from a Utah distillery, including vodka and rye from Ogden's Five Wives Distillery and Park City's High West Distillery.
Susie's Branding Iron – Traditional selections with the occasional local or unusual offering.
The River Grill – Domestic and international selections served up in the Epic Bar at Sorrel River Ranch.
The Spoke on Center – With specialties like a bacon bloody Mary, and a Moab Mule with wild turkey, lime juice, and ginger beer, it's easy to see why this is a favorite. There is also a short wine list, along with a variety of beers that include a Nitro Polygamy Porter. (Nitrogen makes smaller bubbles and a smooth, creamy texture.)
Trail Bar at Twisted Sistas Café – Specialty cocktails that include the Tall and Tasty and the Colorado River Rum Runner round out the list of specialty drinks. Also serving bill and wine, including locally bottled Castle Creek Wines.
Zax Restaurant and the Watering Hole Tavern – A large selection of Utah Micro Brews along with specialty drinks.
When you're visiting Moab you don't have to wonder who serves what liquor and where, and yes, it may still be a bit confusing, just pick up a free copy of the Moab Menu Guide. The guide can be found in the lobbies of hotels, offices of campgrounds, foyers or doorways of shops, and the Moab Information Center.
Pin this to your favorite Pinterest Boards.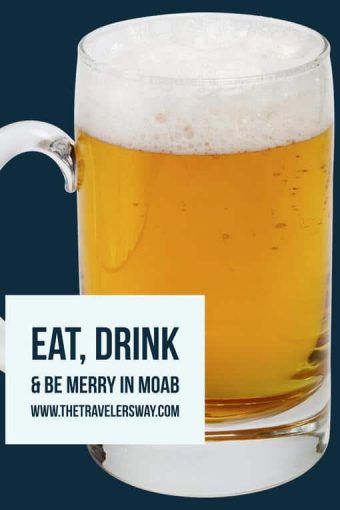 Photo credit:  Discover Moab
Anthony has found travel provides a healthy balance to his day job as a criminal defense attorney. Living on the periphery of blogging for years, he's now decided to flex his creative muscles with a little writing and photography of his own. Anthony's favorite travel destinations are the Caribbean, Italy, and Ireland.