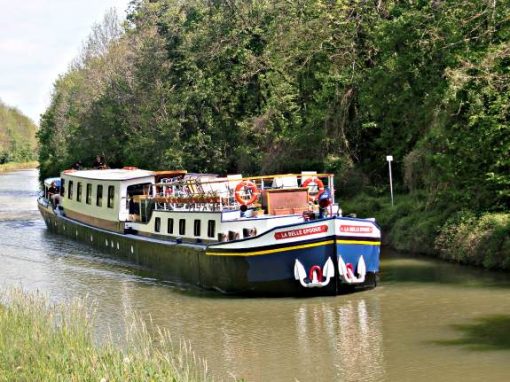 Cruising in France's Burgundy region is an experience that rivals the best cruises in the world.  While the boat I was on, Europeans Waterways' La Belle Epoque, was slow going down the French canals, the scenery and world class service meant drinks within moments of asking, biking on the banks of the shallow canal, lounging as desired, and the captain even let me drive the boat for a few minutes too.
The barge was built in 1930 and was converted into a floating, luxury hotel in 1995. The maximum speed is 10 knots, but we never cruised that fast down the canal, instead we took it slow and easy.  Just like life on any French barge should be, right?
Life Onboard
The barge holds 12 people with six staterooms, but I lucked out with only six guests including myself and my colleague.  And with six crew members it meant that we each had our own crewmember.  I chose the chef.  After all, he was one of the most important component to the trip.
The cabins range in size from 165 square feet to 125 square feet all with bathroom.  Overall, I found there was plenty of room to move around in my cabin, but I never stayed in it much beyond to sleep and to change clothes for dinner.
The public rooms on the boat are the saloon/dining room with a well-stocked bar and your pick of music.  While we enjoyed cruising down the canal listening to French songs, I also discovered a few other pieces of music that will make me pause in the future and remember my wonderful experience.
Spending time outdoors is what most guests want to do and there is a hot tub, lots of bikes for getting off at the locks and riding to the next lock for pickup, or just lounging on the sundeck with chairs, umbrellas and a table for outdoor dining.
Gourmet Food
Speaking of dining, of  just French food overall, I am never one to turn down my two favorite food groups – cheese and wine.  The fact that we had it at ever meal (except the wine at breakfast) meant I was happy from morning until night when I laid my head down on the comfy little pillow in my cabin.  French regional cuisine and wine is always served including salad, pates, soups, delicious French entrees (frog legs, chicken, my mouth is watering again)  and desserts that I couldn't say no to – at least a few bites. And there was that amazing cheese.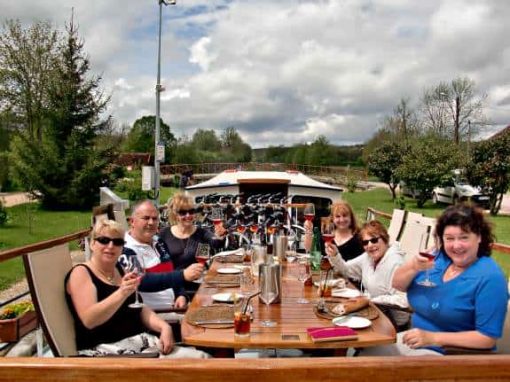 I didn't gain even a pound either, even with all the bread and wine and cheese, since I did what the French women do and ate only half of everything and didn't keep eating when I was full. I still got the best-of-the-best cuisine, but well, I did drink my entire glass of wine versus just half of it.
On the final evening we had a wonderful captain's dinner in which our captain, Rudy.  He sat with us and talked nonstop about life onboard in his fast-talking, broken English with a sexy little French accent.  Who can resist enjoying an evening with a French captain?  I know none of us on board could.
Barge dining reminded me that drinks before dinner is a pleasure that we all should undertake daily and that a Pimms in the afternoon (fresh fruit and gin included) is a luxury that anyone can afford.  Kate, crewmember extraordinaire, was the maker and the bringer of the Pimms each day and f0r that we loved her even more.
Excursions
During most of the seven days on board we got off the boat for short excursions.  The first day I visited Chateau de Tanlay within walking distance from where the boat was docked.  That excursion was followed the next day by a visit to the 16th century Renaissance palace and gardens of Chateau d'Ancy le Franc.
One day we went on a morning excursion with the captain to a small town where he bought lunch including cheese, wine, fish and local produce.  Another day we had lunch in a small town at a lovely restaurant serving French cuisine then stopped in for a wine tasting in the town of Chablis where we had four wines to taste and were given the task to choose one for the evening's dinner.
Another highlight was the Fontenay Abbey, a World Heritage Unesco site founded in 1118.  It's Cistercian architecture still offers a glimpse of life back and also offers great   hideouts where you can sit and meditate for a few minutes.
Finally, the day I had been waiting for, the reason I had chosen this cruise.  We stopped in and spent time in the village of Flavigny sur Ozerain where the film "Chocolate" was filmed (and that just happens to be my favorite film of all time).  It's a hilltop village and you can still visit some of the film locations, but better, you can enjoy a glimpse into medieval French village life as it is today.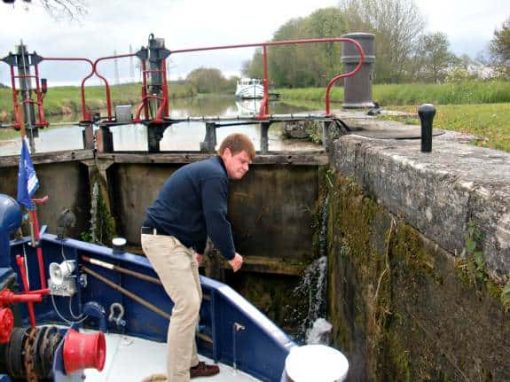 While the boat was cruising slowly down the canal I opted to get off and walk a few miles from one lock to the next (and there are many locks we stopped at along the way).  Other passengers biked the path instead.  Whatever you choose to do, expect a relaxing experience.  No hurries at all – just a glimpse of life in France's Burgundy countryside with folks fishing, walking and enjoying a slow paced life along the banks.
How You Can Do it Too
I landed in France one day before the cruise so I could acclimate to the French time zone and enjoy Paris for a day.
The folks from European Waterways' La Belle Epoque have one pick-up location in Paris and that is at the Westminster hotel.  You can either stay there (I didn't) or get there at pickup time and hop on board the van for a two-hour ride to where the Belle Epoque awaits.  Captain Rudy also drove us back to Hotel Westminster when the cruise was over seven days later, another two-hour drive.
Overall, getting to the hotel and back to Paris' Charles De Gaulle airport is easy – it is located in the center of Paris, about 16 miles away from the airport.  The hotel is 1.5 miles from the Gare Du Nord train station where you can catch the Eurostar, three miles from Montparnasse station, and three miles from Gare De Lyon station as well.
It's an easy in and easy out and a relaxing way to spend a week of your life.
Photo Credit: Rita Cook
NOTE:  The cruise was complimentary and hosted by European Waterways, but the opinions and recommendation regarding the cruise are the writer's own.
Rita Cook is a writer/editor with over 1000 articles. She can be heard on Insider Mag Radio at KPRO 1570 am and she also reviews cars for the Washington Times Communities (Behind the Wheel). Her most recent published books include "A Brief History of Fort Worth" as well as two haunted books on Dallas and Fort Worth to be published in the fall 2011. Rita's favorite travel destinations are Italy, India and Kenya.