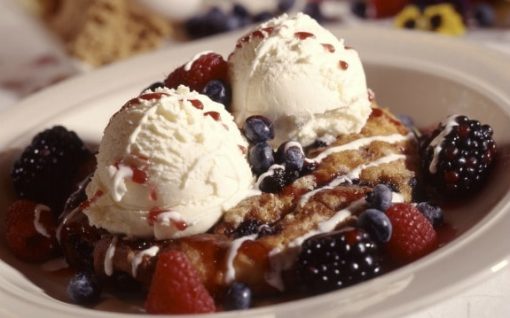 When I'm handed a restaurant menu, I excitedly fling it open.  My eyes don't start with the customary appetizers, salads or entrees.  No, my eyes head straight to the bottom right corner looking for one word that sets the tone for my meal – DESSERTS!
Saving room for dessert is key to my dining pleasure.  If I discover an end-of-the-meal treasure, then I order a salad or appetizer as my entree, ensuring space to savor the grand finale.  Please know that if you are ever my dining companion, when the dessert arrives, it is your cue to  now dominate the conversation. The only sounds I will be uttering will be reassuring "mmm's" and deep sighs of delight.
No where is this menu rule more carefully observed than while dining at Walt Disney World Resort.  But nothing is as disappointing to me as when I dig into a dessert that  sounds and looks heavenly, but is instead not worthy of the calories heaped upon it.  If you are as discriminating as I am when it comes to a sweet ending to a meal, I happily share my list of Disney desserts worth every calorie:
Beaches and Cream (Disney's Beach Club Resort) offers one of my extreme weaknesses, ice cream delights.  Delicious selections like Classic Sundaes, Banana Splits, a Fudge Mudslide(ice cream and hot fudge served atop a fresh baked Brownie), or Strawberry Shortcake with vanilla ice cream and strawberry sauce served upon Angel Food Cake, are more than tempting.  If you can convince your companions to join you in dessert, then I suggest ordering the Kitchen Sink made with eight scoops of ice cream, all the available toppings and capped in a mountain of whipped cream.
Kouzzina (Boardwalk), the restaurant of celebrity chef Cat Cora, serves a variety of dishes influenced by recipes from her grandmother's kitchen, including crispy sweet Baklava with Pistachio Gelato. Another traditional favorite served here is the pop in your mouth Loukoumades, a Greek style doughnut dripping with warm honey. Fortunately for me, Kouzzina also serves a nice selection of appetizers and Greek Salads, so I can always save room for dessert.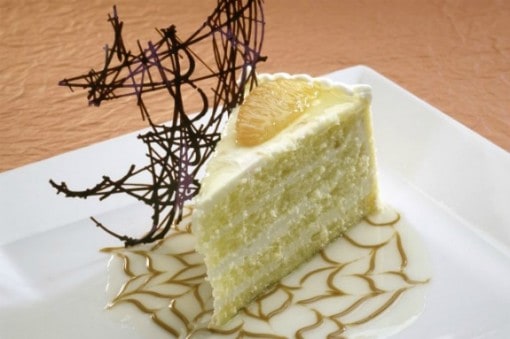 Hollywood Brown Derby (Hollywood Studios) offers the best of both menu worlds.  The original Cobb Salad, created by the owner of the LA based restaurant famous for serving Hollywood legends, is loaded with all the extras and dressed with a tart lemon sauce. This salad is large enough to split and probably still leave you with room for dessert.  The big decision here is whether to order the famous Grapefruit Cake with Cream Cheese Frosting or the Chocolate Three Ways, a chocolate cake with chocolate mousse filling and white chocolate sauce.
Fresh fruit flavors always entice me, especially when served up a new way.  Yak & Yeti (Animal Kingdom) offers diners a fruity slice of heaven – Mango Pie served in a shortbread cookie crust and topped with fresh whipped cream and raspberry sauce.  Occasionally, I prefer to drink my dessert.  Among the specialty drinks served here, The Yak Attack is a mango daiquiri with wildberries that hits the spot on a hot summer day.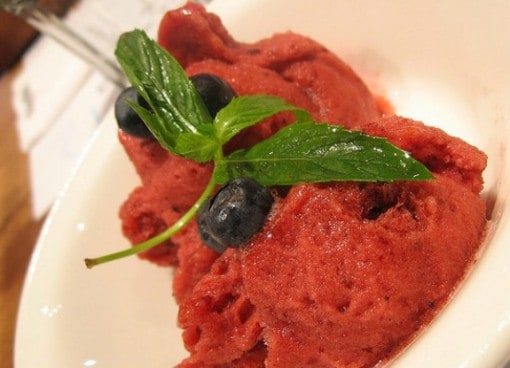 Speaking of heat, most of the Disney restaurants also serve refreshingly tart house-made sorbet in an assortment of fruit flavors. The best anytime fruity treat is the Dole Whip – a soft-served pineapple cream from Aloha Isle (Magic Kingdom) served in a cup or cone, twisted with vanilla or orange soft-serve or heaped in a pineapple juice float.  For those that like their pineapple served straight up,fresh pineapple spears are also doled out here.
No matter how full I am after dining on the endless skewers of savory meats and sides served family style at O'hana (Polynesian Resort), I manage to find a little extra room for the signature bread pudding served warm and ala mode with bananas and caramel sauce.  Don't worry if you are a little too full from dinner, participating in the coconut races or taking a hula lesson will help you create a little room.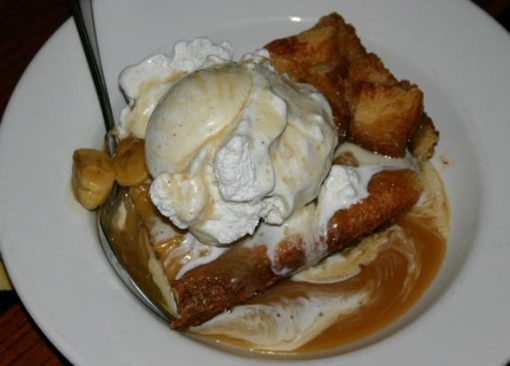 Ghiradelli Soda Fountain and Chocolate Shop (Downtown Disney) offers two of my favorites rolled into one — ice cream and chocolate.  Offering overindulgent sundaes, shakes and floats, they also serve up deliciously rich hot cocoa and coffee drinks.
Sometimes when I am walking around Downtown Disney enjoying the shops and live entertainment I prefer to get my dessert to go.  A visit to Goofy's Candy Kitchen allows me to select the treat of my choice, made to order right in front of me.   The process includes selecting a base item (apple, pretzel rod, rice krispy treat, to name a few) then choosing a dipping chocolate (milk, dark or white), and then finishing up with a list of topping choices like nuts, mini chocolate chips, M&Ms or sprinkles.  Through the glass panel, I watch as the skilled workers carefully create each individual order, anxiously hoping mine will be next.
No matter where you go at Walt Disney World Resort, a dessert worth every calorie is waiting for you around every corner.
Fun Fact:  Pastry chefs at Disney World use over 865,000 pounds of sugar annually.
Photo Source: wdw news, flickr:  Ruth Ellison (berry sorbet) ;   Edward Russell  (Ohana Bread Pudding)
Having been transplanted numerous times, I have learned to explore the sites around our new found hometown, uncovering hidden gems and attractions. When vacation time rolls around, I enjoy traveling with my family and the occasional weekend escape with my husband, coming home to share our travel experiences with others. You can follow me on Twitter @JAIngersoll. My top three destinations are Walt Disney World Resort, the Midwest and any beach I can walk along.