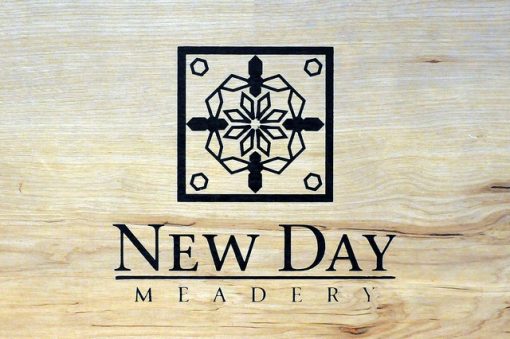 I had heard of Mead.  I knew it was a drink and I knew it had been around for a very long time, but I really didn't know much more than that.
Turns out that Mead is a wine made of fermented honey. Some medieval accounts stated that Mead is linked to the term "honey-moon."  Women were often taken from their homes by a neighboring clan and held for length of a new moon.  During that time they were plied with a generous supply of Mead with the hopes they would fall in love and not want to return home.
Curiosity being what it is, I wanted to investigate further and experience a beverage so tasty it would make you fall in love.  New Day Meadery is located in the revitalizing Fountain Square neighborhood, one of the six cultural districts of Indianapolis.  Set on a corner, the Meadery stands out as a fresh addition to the neighborhood.
Walking in we discovered an open and airy public tasting room with a mix of rustic exposed bricks and modern furniture.  A long tasting bar runs nearly the length of the room, and a cluster of low couches and tables create intimate conversation areas on the opposite wall.  A handful of dining tables near the back cater to patrons sharing light refreshments or playing one of the many available games from the shelves.  Since this is a tasting establishment, not a liquor store or bar, per Indiana state law, well behaved minors are welcome to accompany their parents.
We were cheerfully greeted by a young man and as we explained to him that we were novices to Mead beverages, though I am sure it was obvious, he introduced himself as Brett Canaday, the brewer and along with his wife, the owner of New Day Meadery.  He quickly set a bright sheet of paper in front of us listing a variety of  carbonated wines, still wines and hard ciders. After a short explanation on the subtleties of each, and following his suggestion, we participated in a tasting of six different varieties.  For a nominal price we were able to  individually select the six offerings we wanted to sample.  Additional or single tastes may also be purchased for $1 each.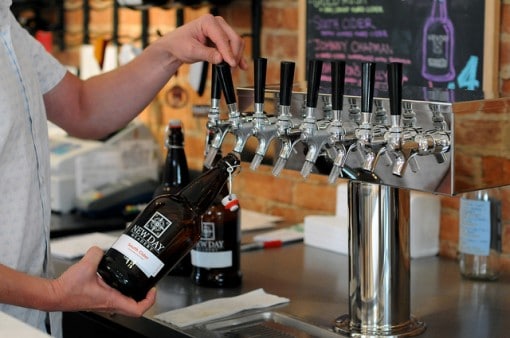 The list began with several varieties of hard cider made using cider pressed from 1,000 pounds of Indiana grown apples, hand selected for their flavor.  With an early pressing taking place in August, the bulk of the cider is produced in the fall and must last throughout the year as different types of hard cider are made.  Becoming more popular, Brett stated they have increased the amount of apples pressed three-fold.
Of the three varieties being offered this day, I selected Gold Rush for my first taste.  Described as llike an old world cider I imagined the beverages would be dark and sweet.  I found it to be very dry, and was shocked by its very light appearance and taste.    The best seller, according to Canaday, is the South Cider which is slightly sweetened by honey.
The next group in our tasting was the carbonated wines,  which are produced like wine, but finished like beer.  With many of the ingredients listed as cherry, blueberry and raspberry, I again feared they would be too sweet.  Once again, I was proved wrong.
Washington's Folly, a carbonated cherry honey wine was light and very tart.  The bright red Live Currant, made with black currants, was one of my favorites with a sweet, but tart finish.  By far my favorite was the Rethinker, a lightly hoppy, blueberry honey carbonated wine that reminded me of a light pale ale.
The still wines are served like a table wine.  Suggested food pairings are listed  ranging from select cheeses, ethnic foods, main courses and desserts.  Ranked in order from a drier Rose to Blush and sweet dessert wine, I opted to taste the Dry Blueberry Honey Wine.  I found this wine to be very subtle and light.   I thought I would prefer the still wine, but was surprised to discover my real interest was in the carbonated wines.
Shelves line the walls with bottles of New Day wine along with empty growlers waiting to be filled and carried home.  Wine, we were informed would stay indefinitely, the growlers however should be enjoyed within three weeks.  Then returned for a refill, of course.
During our tasting, a group of ladies had begun to gather at the back tables, quickly ordering up their favorite beverages and pulling out needlework.  It was one of New Day's special themed nights, this one affectionately known as "Stitch and Bitch".  Other themes include "Mead and Knead" — featuring chair massages, and the First Fridays art gallery tours.
An over-sized chalkboard proudly lists the latest creations on tap as well as the current food offerings (catered by independent and usually neighborhood establishments), and a selection of specialty cocktails created using Mead. While my first visit was focused on tasting, I'd definitely return to savor the other available items.
With the extensive information we were given about the brewing process of each, the history of the winery, and food pairing suggestions, out tasting turned into an extremely economical and entertaining afternoon. Having discovered a new favorite beverage, I purchased a growler to enjoy at home ($4 for the growler, $12-15 for a fill) adding in the price of the tasting, who knew you could have so much fun for under $25 ?!
Location:  1102 Prospect Street, Indianapolis
Hours:  Tuesday – Friday  2-9 pm, Saturday noon-9 pm, Sunday noon-4 pm
Price: Tasting- $5 for six pours, $1 for each additional pour
Photo Credits:  flickr: used with permission of Seegullmedia.com, Adam Sturm, photographer
Having been transplanted numerous times, I have learned to explore the sites around our new found hometown, uncovering hidden gems and attractions. When vacation time rolls around, I enjoy traveling with my family and the occasional weekend escape with my husband, coming home to share our travel experiences with others. You can follow me on Twitter @JAIngersoll. My top three destinations are Walt Disney World Resort, the Midwest and any beach I can walk along.