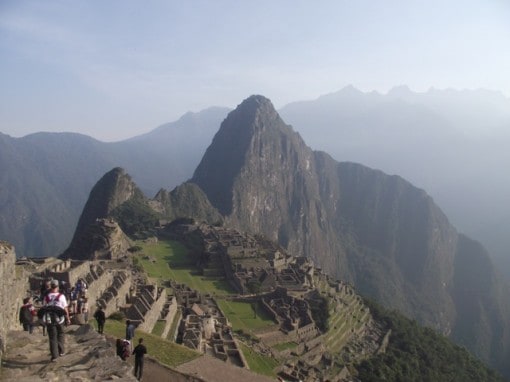 For most visitors to Peru, the thought of leaving without seeing Machu Picchu is practically inconceivable. This "lost" Inca citadel has captured the world's imagination since its discovery by Hiram Bingham exactly 100 years ago, in 1911. It is now very easy to reach the sacred site, with shuttle buses running from the town of Aguas Calientes to the entrance almost constantly. The shuttle service takes about 15 minutes and costs $9 for a return ticket, with buses departing from outside the train station. Trains run between Cuzco and Aguas Calientes (Machu Picchu Town) regularly, a journey which takes 3-4 hours.  This makes it is perfectly possible to stay in Cuzco and visit Machu Picchu in a day.
It's shuttle service is a good option if you are not in perfect health, particularly given the altitude, or if you are seriously short on time.  But it couldn't be more different from how Hiram Bingham originally discovered the site. After weeks of hiking through the densely forested mountains, he arrived at a small village where a young boy led him to this perfectly preserved city in beautiful and silent surroundings. If you are in any way inclined toward adventure, that kind of story just makes you tingle with excitement. By hiking to Machu Picchu, you get a sense of what Hiram Bingham must have felt and begin to understand how isolated it truly is. The Incas did not build it to be easily accessible to outsiders – the reason why generations of Spanish conquerors never stumbled across it.
The Inca Trail
There are several trails to choose from when hiking to Machu Picchu, from the 5-day Salkantay trek to a shortened two-day hike. I opted for the Classic Inca Trail, a four-day, three-night trek which has to be booked at least three months in advance. Its attraction lies in the fact that for much of the path you are following an old Inca route and the route that Hiram Bingham took. It is also the most historically interesting trek, with plenty of other Inca ruins to see along the way.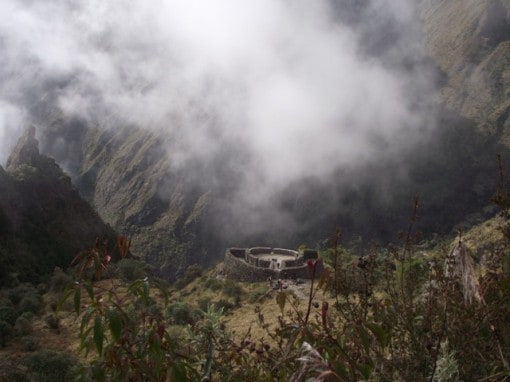 Choosing A Tour
Ethics, and in particular the welfare of the porters, is a key consideration when choosing from the myriad of agencies offering Inca Trail packages. You should expect to pay a minimum of $450 for a basic Inca Trail package, including  transfers to and from Cuzco, entry to the trail and to Machu Picchu, all meals and camping accommodation for the duration, the guides, cooks and porters. If you find a package for less than this, the chances are it is cutting corners on staff pay. I booked my trek with Karikuy, a company which emphasizes welfare, and I couldn't have wished for a better experience. However, this is truly the trip of a lifetime and there are lots of variations – group size, route timetable, optional extras – so spend some time researching based on your preferences and don't be afraid to email agencies with questions before making a final decision. For this reason, you need to start researching about 5-6 months before you plan to go.
To ensure fair treatment of the porters, bear the following in mind: it is now a legal limit for the amount that porters can carry – 20kg (about 44 pounds). Make sure that the company you travel with doesn't try and get around this rule. Tipping the porters is expected, there is even a special ceremony during the trip to do this. The amount is up to you. Take more coca leaves and snacks than you personally need; the porters are always incredibly grateful if you offer them something as you pass each other along the way.
The Challenge
Because of its huge popularity, many people think that the Inca Trail can't be that difficult. This is not true. It's a pretty challenging hike at high altitude, so you need to be reasonably fit and well-acclimatized to the altitude. Altitude sickness can affect anyone, no matter how fit or healthy, so it's essential to spend a few days in Cuzco beforehand to get used to the low oxygen levels. The Inca Trail is about 27 miles long with tough uphill climbs and knee-destroying descents.
If it sounds horrible, don't despair. As long as you have a reasonable level of fitness, you can do it. There were people of all ages on the trail, from 10 to 70. It's important to break the trail up in your mind, so you focus on the next rest point, or the next step. As you enter the clouds on day two, Machu Picchu is like a faraway dream. You just keep putting one foot in front of the other to get to the top of that mountain. Nothing else matters. When you reach a rest point, a summit, or even, at last, the campsite, it is the most incredible rush of achievement. Before long, you are ready to start again.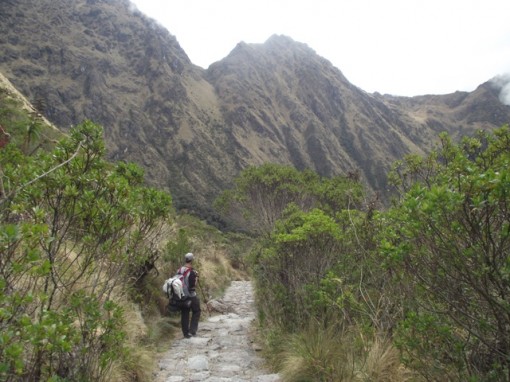 Why Do It?
If that's the reality of the Inca trail, why on earth would you do it? You will get blisters, sore knees and you will be sleep-deprived. However, you will also get spectacular views, unbelievable landscapes, mystical Inca ruins and great group camaraderie. I don't think I will ever forget walking through the cloud-forests dripping with beautiful flowers and hearing the sound of absolute silence. Nor will I forget arriving at Dead Woman's Pass, still feeling very much alive and realizing that I had climbed to the top of a mountain. At that moment, I felt invincible.
When it got tough, I would just look at the porters racing past with huge packs on their backs, dripping with sweat and not having any of the luxuries that we had; to stop when we wanted and drink in the atmosphere. Every Inca site we came across was more impressive than the last. Sitting atop a castle wall, looking out at the mountains, I understood why the Incas had gone to such lengths to protect these places, even to the point of abandoning them and having a pact of silence so that the Spanish would never find them. There is no other way to access these places or to appreciate these stories except by hiking the trail.
When dawn broke on the fourth day, we were already racing up the last mountainside with renewed energy, unable to contain our excitement to see Machu Picchu. When we arrived at the Sun Gate, the last three days suddenly made sense. The citadel was laid out before us, cradled in the mountainside, distant and still in shadow. We felt like the first people ever to set eyes on it. As the sun rose, it was illuminated while everything around it remained in darkness. We wound our way down into the city, where we arrived at that view you see on every postcard. At that moment, only the Inca Trail hikers were around, less than 200 people. The site absorbs up to 2,500 people a day so at that moment, it was amazingly tranquil and empty – and completely overwhelming.
That is the reward for the long, long walk, while day-trippers are just beginning to arrive far below you, entering through turnstiles into the middle of the city. They have to climb up to reach this view, when the site is already swarming with people, while you have arrived at Machu Picchu the way the Incas planned it and the way Hiram Bingham discovered it. Why wouldn't you do it?
Photo Credit: Photos are Katy's own. 
Katy is a writer with wanderlust. Originally from the UK, she has lived in France, danced in Argentina and stargazed in Chile. She writes for numerous travel sites and you can always find her at www.starryeyedtravels.com.