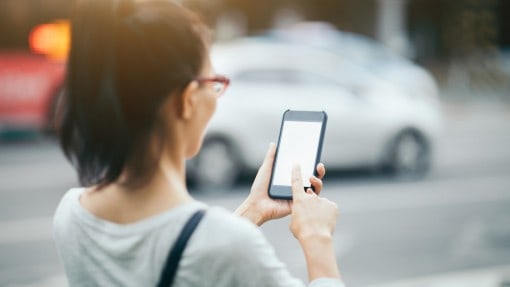 Traveling on a budget? It might not sound glamorous, but that's how thousands of people (if not more) around the globe manage to experience everything our amazing, multi-cultural world has to offer without breaking the bank. Plus, budget traveling lets you enjoy vacations that last over a month. No need to settle for one or two weeks, only to come back home full of regret that there was so much left that you didn't get to experience.
Even the most extreme budget traveler has a smartphone with them nowadays. Let's face it – travel apps are what make budget vacations possible and safe for most of us. So what cheap but quality apps can you pack into that little device to make your trip 100 times better?
Let's take a look at these budget-friendly apps:
1. MAPS.ME
Navigating a new city can be a cool adventure, but also a nightmare if you're in a hurry, arrived late at night, or have tons of luggage with you. That's especially true if you don't speak the language, or are in a country with an alphabet that's foreign to you (like Japan where many street signs are in Kanji, not the Latin alphabet).
In that situation, an app that displays a map of your surroundings and tracks your location is a godsend. Google Maps usually gets the job done fairly well, but what if you don't have a local SIM card or enough mobile data? Sure, you can download maps offline, but they look pretty janky.
That's where MAPS.ME comes into play. It's specifically designed to let you download offline maps, and it's very, very good at tracking your GPS location in the remotest places even if you don't have web access. Plus, the map design is really good and chock-full of useful info about nearby places and
landmarks.
The app also gives you access to useful guides for all sorts of activities – road trips, hiking, city walks, photo spots. The list goes on and on. You can also get a City + Outdoor Pass subscription to get unlimited access to all the travel guides.
Price: Free to use. Guides cost around $1 or a bit more, and the subscription costs around $8/month or $24/year. Available for iOS and Android.
2. VPN
A VPN is an online tool that hides your IP address and encrypts your traffic. Here's a quick overview of how it works:
You download a VPN app to your device and use it to connect to a VPN server.
The app and the server establish a secure connection (also called a "tunnel").
Whenever you visit a site, your requests will go through that VPN tunnel and the VPN server. Basically, the server will act as a middleman between you and the web.
Any data that goes through the VPN tunnel is encrypted end-to-end. Only the VPN app and server can encrypt/decrypt your traffic, and nobody can spy on it.
When you browse websites, they will see the requests coming from the VPN server, not your device. So they'll only see the server's IP address, not your address.
What does that mean for you as a traveler, though? Well, it means that you can:
Unblock your favorite movies and shows anywhere in the world (like Netflix, Hulu, BBC iPlayer, and more).
Get around government censorship to use different web services (like Gmail in China, for example).
Enjoy free public WiFi without having to worry about hackers eavesdropping on your online communications.
Download torrents on hotel or hostel WiFi without getting kicked off the network.
And here's the best part – with a VPN, you can actually save money when making online bookings, renting cars, or buying flight tickets. Don't expect huge discounts, but you should see prices drop by around $20-$40 (sometimes even more if you're lucky). Definitely not something to overlook when traveling on a budget.
Price: On average, a VPN subscription costs around $5 per month or $60 per year. You can use this guide from ProPrivacy to find the best VPN deal out there. Warning, though, steer clear of free VPNs – they often don't work well, they may sell your data, and/or offer a subpar experience. Available for iOS and Android.
3. Voice Translator
Not everyone is lucky enough to speak multiple languages fluently, or even know how to say some basic expressions in another language. That's especially true for people who often travel to multiple countries every year. Keeping track of all the languages you deal with and trying to learn to say something in all of them gets tiring fast. And you've already got tons of planning to deal with, your probably don't have time to dedicate to really learning a language.
Wouldn't it be great if you could just use an app to could instantly translate what you're saying, or what the person you're speaking to is saying?
Luckily, you can. Voice Translators can help get the job done. They're simple to use, and let you translate real-time communications.
Price: Free, with ads and some in-app purchase options. Voie Translator is available on Android; Voice Translator App on iOS. The Android version has ads, the iOS version has in-app purchases ranging $8-50. The iOS version also lets you translate texts from your photos, which really comes in handy.
4. XE Currency Converter
You can't always exchange currencies before reaching your destination. Sometimes you need to do it right when you enter a country. A bit of a hassle, but usually not a huge problem. Still, you're traveling on a budget, so you need to make sure you don't get ripped off.
With the XE Currency Converter app, you don't need to worry about that. It offers you accurate exchange rates for over 170 global currencies on the spot. Even better, the app also lets you set up alerts for the rates you want, and send international money transfers.
Price: Completely free with in-app purchases (around $1.39 according to Google Play) to get the XE Currency Pro version that can monitor up to 20 different currencies at the same time and has no third-party ads. Available on Android and iOS.
What Other Budget-Friendly Apps Would You Recommend?
Tell us all about them in the comments or on social media. Oh, and if you'd like to share any budget-traveling tips with us, please go ahead. We're all ears!
Save this to your favorite travel and money-saving Pinterest boards.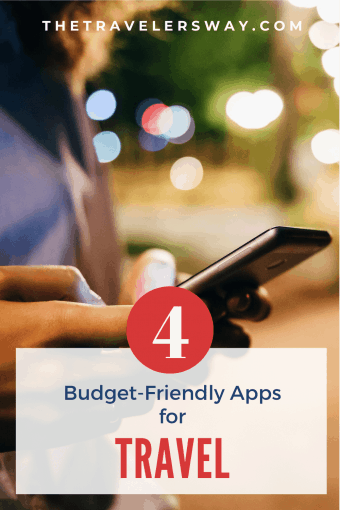 The Travelers Way occasionally accepts guest posts from fellow travel bloggers, friends within the travel industry, and as advertorial content.