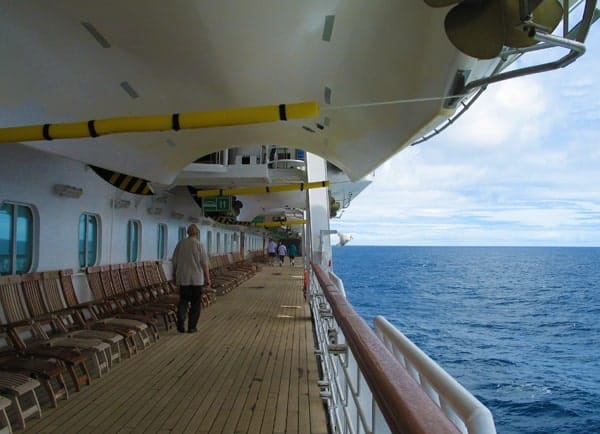 With a cruise, it's just as much about the journey as the destination. When you're on a floating hotel for a 14-day circumnavigation of New Zealand, the accommodations, the meals, the diversions on board all take on heightened significance.
This voyage on the ms Volendam (a Holland-America ship) was my first experience with a "real" cruise. Oh, I'd done the Norwegian Coastal Voyage, but that was more like taking a freighter (the ship's main role was to deliver mail, goods and passengers to Norway's seaside towns).
To get to embarkation, I had to fly to Sydney, Australia. The cruise line puts up long-distance passengers at a nice in-town hotel, and I had just enough time to wander the oldest part of the city, The Rocks — that strip of land where European settlers chose to step ashore in 1788. It's now a trendy neighborhood with pubs, cafés, shops and, the afternoon I was there, an arts and crafts festival.
Boarding was admittedly less tedious than I feared, considering that there were some 2000 people, including passengers and crew. I found my outside cabin easily, and my suitcase awaited me.
On the way out of the harbor, we went right by the iconic Sydney Opera House and headed for open sea: three days with no land lay ahead. What would I do with all that time?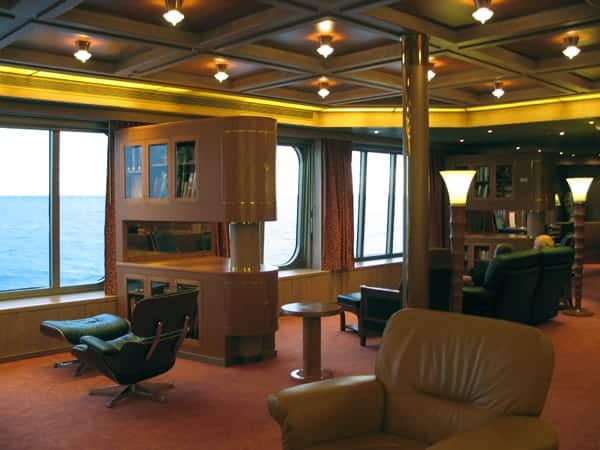 In fact, there never was a dull moment on board. There was internet access via satellite, game tables for chess and checkers (not to mention a whole cabinet of board games), jig-saw puzzles, jewelry shops, a casino (this was the only indoor smoking area on board), daily trivia and bingo games, a library, DVDs for the television in the cabins), presentations on everything from "eating right" to the aboriginal culture of Australia, two swimming pools, a hot tub, ping-pong table, spa, art auctions, gym, yoga classes, Tai Chi, religious services and AA meetings.
The library had a wide range of books, from bestsellers and popular fiction to the classics. Chairs here were Charles Eames leather loungers oriented to look out the capacious windows.
I could do power walking laps on the deck, or just sit there and gaze at the water.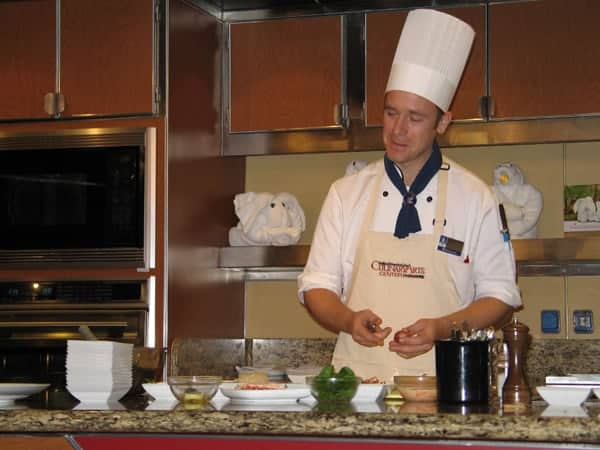 My personal favorites were the frequent demonstrations in the Culinary Center. Ever heard of Lamingtons? I thought not! This Aussie specialty is a sinfully rich dessert that starts with an egg-and-butter cake dipped in chocolate and layered with icing, whipped cream embellishments such as coconut, banana and honey.
On subsequent trips to the Culinary Center, I learned how to create marzipan roses and fold towels into fanciful animals during the demos.
Speaking of food…confections abounded on this cruise. Not only were the desserts varied each meal, but there was an ice cream bar offering sundaes and cones open every afternoon.  On one evening during the cruise, the culinary staff whipped up a dessert extravaganza with massive ice carvings, chocolate sculptures and all sorts of fanciful sweets served buffet-style at the unusual hour of 10:30 p.m.
I found a range of dining opportunities on board. There was the usual: a cafeteria-style buffet with everything from sushi and salads to prime rib and sandwiches.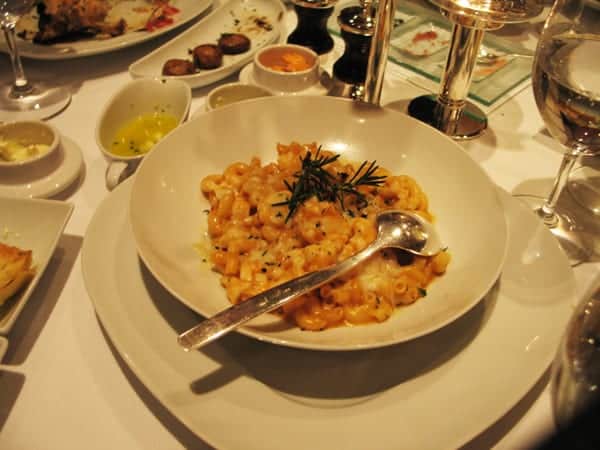 But there was also a white-tablecloth restaurant with flowers and candles and a menu that varied each day, a small bistro featuring Italian delights — and the Pinnacle. As its name suggests, this was the fine-dining option (with a small surcharge – the other locations were included in the cruise price). Here's where I found lobster macaroni and cheese, lamb grilled on a skewer, baked Alaska and chocolate truffles served with after-dinner coffee.
Kids (and grownups) celebrating birthdays during the cruise were serenaded at dinner by the mostly Indonesian dining room crew with a traditional Southeast Asian song (thereby avoiding all the "Happy Birthday" copyright issues).
The primary lure of the cruise for me, however, was the chance to explore both the north and the south islands of New Zealand. Port stops began at Oban on Stewart Island (off the country's extreme southern tip) and continued at Port Chalmers, Akaroa, Wellington, Napier, Tauranga and Auckland.
Rain interrupted my visit to Auckland, New Zealand's largest city, obscuring the signature skyline with fog. By the time I got back on board, I was soaked through.
Unfortunately, the last scheduled stop, Bay of Isles, had to be scrubbed because of high seas. A storm to the north of us meant that we'd need the extra time to steam around the high winds and waves on our way back to Sydney. Total distance round trip? 3290 nautical miles.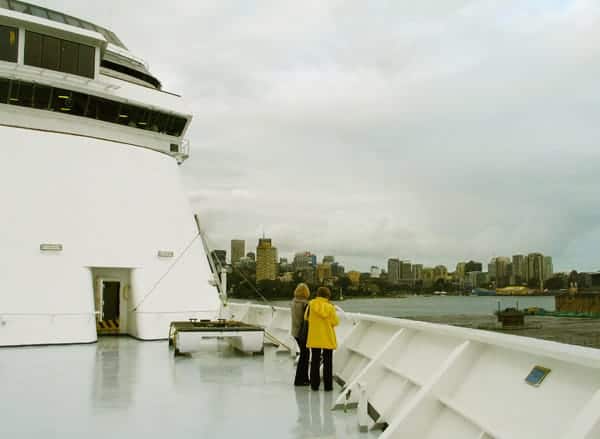 Photo credit:  All courtesy of the author.
NOTE:  Full disclosure: I was the guest of Holland America Line aboard the ms Volendam on its 14-day New Zealand & Australia cruise last December.
Susan McKee is an independent scholar and freelance journalist specializing in history, culture and travel.