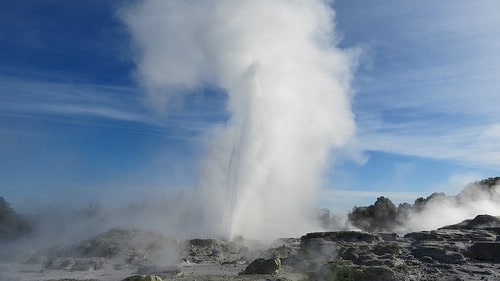 Planning a trip to New Zealand or just wondering what the top highlights are? You are going to discover that this southwestern Pacific Ocean country has plenty of breathtaking scenes – some of them second to none on Earth! It has more than enough both for adventure lovers and those who were hoping for some romantic factor. But, don't get lost in the dreams and remember to take proper care of the financial side of the travel, as it might be quite expensive. Look for special deals on flight fares and check Discountrue.com for coupons for Sears or Kohl's to buy luggage in a special price. And now on to more pleasant things – read further to learn more about the five highlights in New Zealand!
1. Fiordland National Park
This park is not only New Zealand's largest, but also one of the biggest in the world. The scenery and the heritage there are stunning to say the least. You are sure to be awe-struck by the deep fiords, steep mountains, powerful waterfalls and plush rain forests. This is where you will meet face to face with what is acclaimed as the Eighth Wonder of the World – the Milford Sound. Additionally, Milford Track is one of the world's greatest walks. If that is not enough, Routeburn and Kepler walks will cap it off for you. Those are, of course, only some of the park's countless attractions!
2. Rotorua
This attraction site is known for its volcanic activity (in photo). Situated close to New Zealand's biggest city, Rotorua is also home to world s great geothermal reserves – Wamangu, Waiotapu and Te Puia. They are surrounded by beautiful natural sights, not to mention spectacular boiling pools, hot springs, volcanic terraces, fumeroles and craters. If you are a swimming enthusiast, the place doesn't disappoint – there are plenty of lakes ideal for swimming and fishing. In addition, the native bushes are the perfect place for trekking.
3. Queenstown
Billed as New Zealand's premier tourist attraction, Queenstown is indeed fit for the queen and consequently the king. The lake side town is encircled by awe-inspiring mountains ideal for action adventure. Looking forward to bungee jumping? Queenstown is the place! Other breathtaking activities include white water rafting and parapenting. If you are not looking for high energy activities, you will be able to enjoy the exquisite local food in numerous cafes and restaurants.
4. Bay of Islands
Enjoy the beaches and bays of about 150 islands. Doubtlessly, this is the premium maritime park in New Zealand. You will encounter plenty of marine life – marlin, whales, penguins, and dolphins. The bay is suitable for everyone: fishermen, golfers, and marine lovers all. If you care about history, one of the Islands is the heartland of New Zealand's origin – the signing of the famous Treaty of Waitangi liberated New Zealand from British rule. Additionally, the bay hosts the 19th century whaling port of Russell, which beachfront walkway contains remnants dating 200 years back.
5. Kaikoura
Sitting on the east coast of South Island, Kaikoura offers a wonderful viewpoint of the snowcapped mountains overlooking it during the winter. There are plenty of maritime mammals in the waters off the coast. This is also the place where you will be overjoyed by the sounds of the seabirds. Apart from that, Kaikoura is among the few places where whales can be seen throughout the whole year. If you are craving for crayfish, Kaikoura is defninitely the place you're looking for – its name itself means crayfish food! You can already start looking forward to enjoying yourself in one of the many restaurants and cafes in the town.
Photo credit: Bob Linsdell
Mary Jo Manzanares is a founder and the editor-in-chief of The Traveler's Way, an online travel magazine proving informational and inspirational travel recommendations for curious Baby Boomer travelers. She has been a speaker at various industry events and has a personal travel blog at Traveling with MJ. When she's not traveling, Mary Jo likes lingering over a cup of coffee, wandering in a museum, sipping wine at a cafe, and sharing it all with friends and readers. Mary Jo's top travel destinations are Italy, Portugal, and the Caribbean.