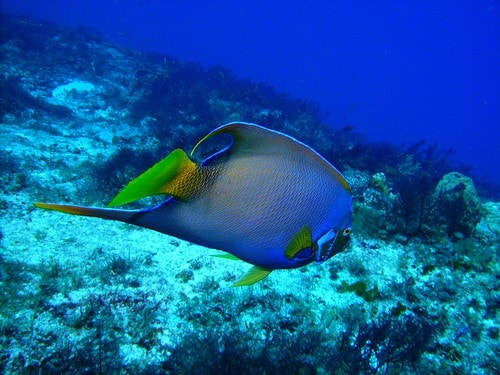 The dates of Mexico's extraordinary dive event, Scuba Fest, have been announced. The Fourth Annual Cozumel Scuba Fest will be held December 8-13, 2015.
While the Fest is geared for all levels of divers, including beginners, this year it features new products and routes focusing on advanced-level diving off the Mexican Caribbean Island of Cozumel, and also introduces special advanced diving tours on the Yucatan Peninsula.
New at Cozumel Scuba Fest this year is the Route for Advanced Divers a group of nine dives for highly experienced and intrepid divers. It requires love of adventure as well as AOWD (Advanced Open Water Diver) Certification. This route visits reefs in the area north of Cozumel, the sunken ship Xicotencatl (sunk in 1999, 82 feet deep), as well as cenotes of Cozumel. Advanced divers will be fascinated by adventurous challenges and astonished by unexpected surprises along the way.
[tweetthis]Cozumel Scuba Fest adds 9 routes for advanced divers to its Dec. 8-13 event.[/tweetthis]
Scuba Fest transcends its original boundaries which a brilliantly-research dive route of the  Yucatan Peninsula, the first of its kind in Mexico. It is geared for advanced divers with at least two weeks to explore the challenging underground freshwater world of the Yucatan Peninsula (including the Riviera Maya area) — labyrinths ofcenotes (cave-like crystal-clear pools), rivers, submerged passageways, and geologically wondrous caves with air-filled "ceilings".
These esoteric and challenging dive itineraries were researched, designed, and made possible by the underwater archeologist and cave diver-explorer Dr. Guillermo de Anda, designated Official Collaborator with National Geographic. The dive route covers underground heritage sites of the Yucatan Peninsula that are full of secrets and discoveries within the mythical and mysterious underworld known to the Ancient Maya as Xibalbá.
The traditional, ongoing highlight of the Scuba Fest will still be the famed "Cozumel Scuba Fest Route of Jean-Michel Cousteau." This route was inaugurated in 2013 when Jean-Michel unveiled an offshore bronze sculpture of his father, Jacques-Yves Cousteau. Jean-Michel designed this route following several of the favorite reefs and magnificent undersea treasures that so enthralled his father who first visited Cozumel in the 1960s. With Cozumel's favorable year-round conditions, local guides and dive shops offer this "Scuba Fest Route of Jean-Michel Cousteau" throughout the year.
Photo credit: Skinned Mink
Mary Jo Manzanares is a founder and the editor-in-chief of The Traveler's Way, an online travel magazine proving informational and inspirational travel recommendations for curious Baby Boomer travelers. She has been a speaker at various industry events and has a personal travel blog at Traveling with MJ. When she's not traveling, Mary Jo likes lingering over a cup of coffee, wandering in a museum, sipping wine at a cafe, and sharing it all with friends and readers. Mary Jo's top travel destinations are Italy, Portugal, and the Caribbean.